Critical Role has announced a new partnership with Sideshow Collectibles and they are coming out with a bang with not only an art piece, but two new character statues as well. Critical Role has partnered with a number of companies including Penguin Random House, McFarlane Toys, Funko Pop, Hot Topic, and now Sideshow Collectibles.
Critical Role has announced a slew of new merchandise from these partnerships that have Critters excited. Funko Pop has released Funkos of the Campaign 1 Vox Machina, including a Comic Con exclusive "Vex on a Broom". McFarlane Toys released a limited edition Mollymauk figurine and joining these ranks are new Sideshow Collectibles statues of Beau and Fjord. Sideshow Collectibles is not only releasing these statues, but a fine art piece by artist Ian MacDonald.
Ian MacDonald's art piece features the adventuring party of campaign 2 and is titled "The Mighty Nein: This Is How We Roll!" The print is available for pre-order now. "The Mighty Nein: This Is How We Roll!" costs $70 unframed and $245 framed. The stunning piece features the members of the Mighty Nein, Caleb and his feline familiar Frumpkin, Yasha, Nott, Beau, Jester, Fjord, and Caduceus at a tavern.
RELATED: CRITICAL ROLE PARTNERED WITH MCFARLANE TOYS TO RELEASE A LIMITED EDITION MOLLYMAUK FIGURE
The art piece features "character details hidden throughout the image, including the hint of a familiar storyteller in the foreground, cheering on The Mighty Nein after another incredible quest." Each "The Mighty Nein: This Is How We Roll!" features an authorized, automated artist signature (Ian MacDonald) and an embossed Seal of Authenticity as part of Sideshow's Critical Role collection.
CRITICAL ROLE BEAU AND FJORD STATUES
Along with "The Mighty Nein: This Is How We Roll!" art piece, Sideshow has also announced two statues of Mighty Nein characters. The Beau and Fjord statues will be available for pre-order January 14, 2021 and Critters can RSVP for Beau and Fjord now. Beau is a human monk and expositor of the Cobalt Soul played by Marisha Ray. Fjord is a half-orc former warlock of Uk'otoa who became a paladin of The Wildmother played by Travis Willingham. Hopefully more is to come from this partnership.
RELATED: CRITICAL ROLE ANNOUNCES THE TALES OF EXANDRIA A NEW COMIC MINI-SERIES COMIGN IN 2021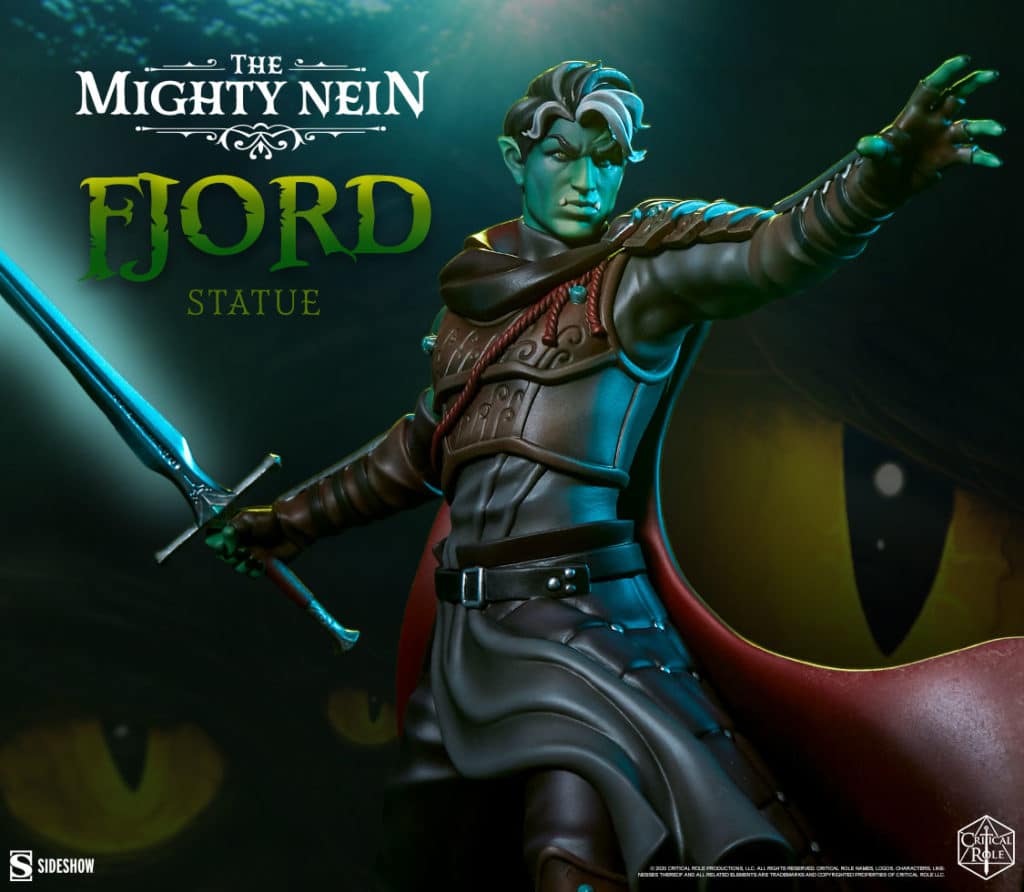 Sideshow Collectible is clearly excited about this partnership. Sideshow Brand Director, Anna Van Slee, had this to say in a press release.
"As fans and tabletop gamers ourselves, Sideshow is extremely excited to be partnered with Critical Role to bring Critters around the globe new premium-quality, limited-edition collectibles of Vox Machina and the Mighty Nein," says Anna Van Slee. "Working closely with the cast to stay faithful to fan-favorite, canonical representations of the characters, we are hoping to make these wondrous items as glorious as any goods Shaun Gilmore or Pumat Sol would sell to adventurers."
Critical Role has grown into a worldwide phenomenon with not only the weekly livestream that started it all, but multiple comics, collectibles, and even an upcoming animated series, The Legends of Vox Machina. The Legend of Vox Machina does not yet have a release date, but will stream on Amazon Prime. Critical Role broke records by raising over $11 million on Kickstarter for what started as an animated special, but has grown into a series that has already been ordered for two 12-episode seasons for Amazon Prime.
Are you going to pre-order "The Mighty Nein: This Is How We Roll!" art? Do you want the Beau statue? How about the Fjord statue? Leave your thoughts in the comments below or on our social media.
KEEP READING: CRITICAL ROLE ANNOUNCES THE MIGHTY NEIN ORIGINS GRAPHIC NOVESL COMING IN 2021
Source: Sideshow