Royal Rumble could host a special match type between Randy Orton and Fiend/Bray Wyatt which has only been seen once before.
The Wrestling Observer is reporting that WWE is planning a big match between Orton and Wyatt and using a special match type. If reports are true Royal Rumble will host the second ever Firefly Fun House match.
The first Firefly Fun House match took place at WrestleMania 36 between Wyatt and John Cena. What makes the match so special is what Wyatt does to his opponent during the match.  
John Cena, This Is Your [Wrestling] Life
Throughout the match Wyatt takes the wrestler through their wrestling career.  Cena went back to his WWE debut and on the giant fist SmackDown set, the thuganomics era and the current version of Cena. However, what makes the match so strange is that Wyatt can travel to any era of wrestling. At one point Cena was in the NWO and the pair were too sweeting.
RELATED: HULK HOGAN BELIEVES WWE HAS A NEW "NEXT BIG THING"
Fiend and Orton last met at TLC a few weeks ago in a Firefly Inferno match. The objective of the match was to light the opponent on fire. Fiend lost the match and as the PPV ended, Fiend was lying motionless on the mat. Orton poured gasoline on Fiend and lit him on fire. As TLC ended Fiend was engulfed in flames while lying on the mat. This was the last time we saw Wyatt/Fiend. It was unclear if this was a plan to write Wyatt off TV for a little while. However, WWE may be bringing Wyatt back very soon for this special match.
Bliss Is A Wildcard Orton May Not Be Willing To Deal With
Just to spice up this possible match, we have Alexa Bliss. Bliss has been the right-hand woman of Wyatt/Fiend for a while now. This past RAW she covered herself in gasoline and begged Orton to "do to me what you did to him." As RAW ended it looked like Orton may have lit her on fire. However, Bliss warned Orton that when Fiend comes back from Hell, he will be more powerful than ever. Could sending Bliss to Hell change her as well?
RELATED: CHARLOTTE FLAIR AND ANDRADE MAY RETURN TO WWE AS A COUPLE
I really hope we do get a Firefly Fun House match at Royal Rumble. I would love to see Orton have to relive his career and Wyatt take him to different eras of wrestling. However, what I am most interested in is seeing how Bliss factors in. She is the wildcard and can be the ace up Wyatt's sleeve.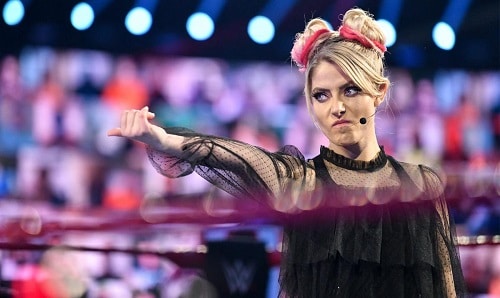 Firefly Fun House Match Is The Only Way I Could Stand Another Orton Vs Wyatt Match
Royal Rumble will air Sunday Jan. 31 so we have plenty of time to set up this match. I think things will be slowly hinted at and ramp up quickly as the PPV approaches. Time will tell if these rumors are true, but I really hope so. I am really tired of Orton vs Fiend and Orton in general, but I can take one more match if it's a Firefly Fun House match.
What did you think of the first Firefly Fun House match? Are you excited for another Orton vs Fiend/Wyatt match?  Do you think it should be a Firefly Fun House match? Who else would you like to see in a Firefly Fun House match?  How do you think Bliss will factor in? Drop a comment below.  It's really easy all you have to do is, LET ME IN…bye see you next time.
KEEP READING: AEW TNT BELT IS BEING RETIRED, NOT CHAMPIONSHIP
Sources: SportsKeeda, Wrestling Observer