Robert Downey Jr. has been the face of the Marvel Cinematic Universe for 10 years, and he is also considered the face and pioneer of the Infinity Saga, but he may be transferring to a galaxy far, far away soon.
He appeared in 10 Marvel Cinematic Universe films and, in all of his appearance, was met with love and praise from fans. From his debut in Iron Man – not to mention his cameo in The Incredible Hulk – all the way through his final bow in Avengers: Endgame, he has been the backbone of the MCU.
RELATED: ROSARIO DAWSON REVEALS THE INCREDIBLE MOMENT SHE "DISAPPEARED" INTO HER AHSOKA CHARACTER
His portrayal as Iron Man is considered one the greatest superhero performances of our time, but after his epic final appearance, fans of Robert Downey Jr. are wondering what will be his next big project. Granted, he did star in Dolittle (a new take on the novels rather than a direct remake of the film starring Eddie Murphy), but it was considered a box office flop and received negative reviews.
However, we could now potentially see Robert Downey Jr. joining the Star Wars universe. According to multiple rumors and reports, Lucasfilm and Disney are eyeing him to starring as the live-action Grand Admiral Thrawn, after his recent mention on The Mandalorian.
Robert Downey Jr. As Grand Admiral Thrawn?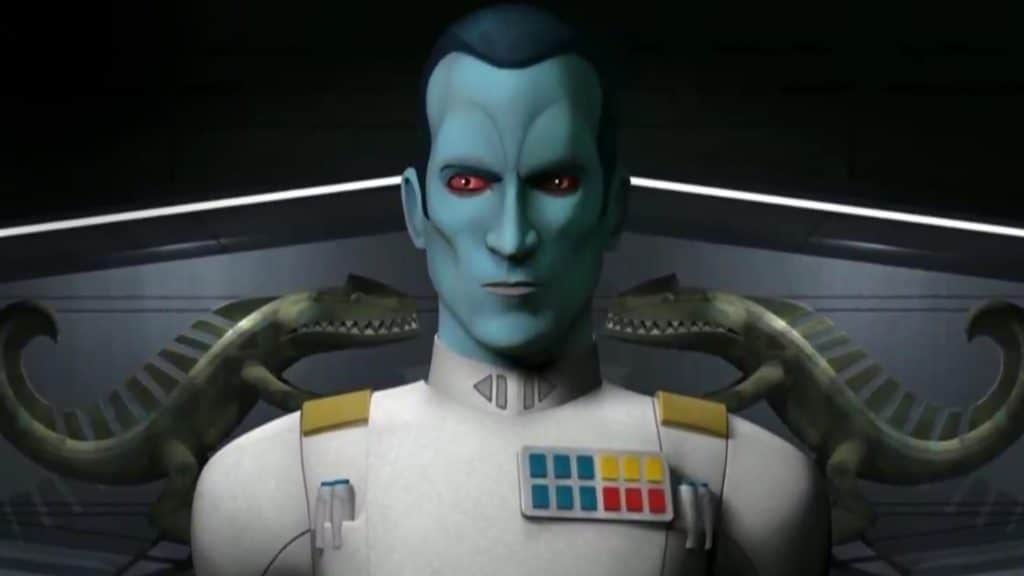 Admiral Thrawn is a fictional character in the Star Wars Universe who was first introduced in 1991 in Timothy Zahn's novel Heir To The Empire. The character was a central figure and a main antagonist in the Star Wars Legends Universe. Thrawn is a military commander for the imperial army. The character was described as diabolical, brilliant, and ruthless – among many other adjectives.
Thrawn is considered one of the greatest Star Wars villains of all time and would intimidate his enemies through tactical means. Thrawn is also considered the smartest and most brilliant minion that Emperor Palpatine has ever had, even rivaling that of Darth Vader. In the Legends Canon, Thrawn took over command of the Galactic Empire after Return Of The Jedi. The character faced several iconic Star Wars characters such as Lando Calrissian, Princess Leia, Chewbacca, Han Solo, and Luke Skywalker.
Admiral Thrawn faced the iconic Star Wars heroes mentioned in his own trilogy called  "Thrawn". The trilogy lasted from 1991 till 1993. The character's backstory and history was explored in multiple books, video games, comics, short stories, and other novels in the Star Wars Expanded Universe.
Ever since Disney bought Star Wars, Lucasfilm always wanted to bring Admiral Thrawn in their new canon of the Star Wars Universe. He finally made his first onscreen debut on the Star Wars: Rebels animated show as a main antagonist, then starred in the novel trilogy called Star Wars: Thrawn.
The character is also mentioned in The Mandalorian Season 2 when Ahsoka (played by Rosario Dawson) name drops him in episode 5, titled "The Jedi". This means we can expect the character making an appearance in in her upcoming series.
Robert Downey Jr. being rumored to play Thrawn is not a surprise, mainly because Thrawn is known for his tactical genius and cunning leadership – both character traits that Downey Jr portrayed in his role as Iron Man. Seeing Downey Jr in the Star Wars universe would sure bring huge excitement to audiences.
However, when this rumor of him potentially joining the Star Wars universe came out, fans had mixed reactions. There are a majority of Star Wars that love the idea of Robert Downey Jr. joining Star Wars and potentially playing Thrawn, but some are hesitant. As of now, Robert Downey Jr. himself has not spoken up about the rumors, and we are betting that Lucasfilm will decline to comment in any news regarding it if mentioned or asked.
The Star Wars franchise is back in resurgence and has a bright future after the success of The Mandalorian, as Lucasfilm and Disney decided to give fans hard more shows and content. If Robert Downey Jr. does get asked to be part of a Star Wars series, fans can be excited no matter what role he is asked to play as he could make that galaxy shine even more brightly.
KEEP READING: KEVIN FEIGE'S STAR WARS MOVIE: LOKI AND DOCTOR STRANGE 2 WRITER HIRED TO PEN LUCASFILM BLOCKBUSTER
Source: Comic Book Movie