WWE Executive Vice President of Global Talent Strategy and Development Triple H talks about if he thinks John Cena will wrestle at this year's WrestleMania.
This Sunday is the Royal Rumble and with that PPV we enter WrestleMania season. I'd say WrestleMania season is my favorite season. Summer's cool and spring is pretty or whatever, but WrestleMania season is hands down the best season.
RELATED: WWE'S STEPHANIE MCMAHON IS PLANNING FOR LIVE FANS AT WRESTLEMANIA 37
One of the things that I enjoy so much about WrestleMania are the dream matches that happen during the biggest wrestling PPV of the year. Also many wrestlers will only wrestle at this one PPV every year. Undertaker did it for years, so did The Rock and recently John Cena has done it. However, Undertaker is now retired and The Rock might as well be. Will John Cena make an appearance at this year's WrestleMania?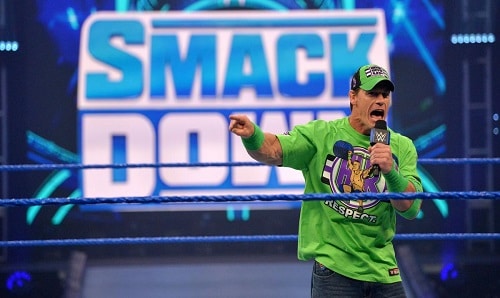 Well that is exactly what Triple H had to say to Sports Illustrated:
"I won't put words in John's mouth, but I can speak to his passion and it's WWE and WrestleMania. Once you do this at a high level and John does it at the highest, it's very hard to put down. If there is a way for him to be there, he will be there," Triple H said.
John Cena Never Actually Retired
John Cena never officially retired. He just stepped away and started filming movies and got more involved in acting. If Cena can find time to take a break from the movie set I don't see why he wouldn't at least appear at the PPV if not wrestle. Like Triple H said, once a wrestler gets a taste for wrestling they have a hard time staying away.  Just look at how long Ric Flair wrestled for, or Edge risking serious injury to get back in the ring. John Cena will wrestle at WrestleMania if he can make it.
RELATED: ROYAL RUMBLE: 2ND EVER MATCH TYPE BETWEEN ORTON AND FIEND MAY HAPPEN
At last year's WrestleMania Cena was in a very special match with The Fiend Bray Wyatt in a Firefly Fun House match. The match saw Wyatt taking Cena through both Cena's wrestling past and wrestling's past in general. Cena even joined the NWO.
The Door's Open But Will Cena Step Through?
According to Triple H, the door is wide open for Cena and a return match. Cena has been a part of the PPV, and WWE in general, for so long that I kind of miss him. I hope that we get to see him wrestle at WrestleMania, even if it is just a squash match. However, I want to see him have a full match and develop a feud with someone to lead into the match.
Do you think John Cena will make it to WrestleMania? Do you want to see him make a return at this year's event? Who would you want to see John Cena wrestle this year at the PPV? Drop a few comments and tell us what you think.
KEEP READING: DREW MCINTYRE REVEALS WHO HE WANTS TO WIN ROYAL RUMBLE
Sources: ProWrestling, Sports Illustrated