The trailer for the new Bruce Willis-led sci-fi action film Cosmic Sin showcases the action star teaming up with Frank Grillo to fight aliens.
Bruce Willis who is known for his action films doesn't seem to stop making action flicks any time soon. In his latest movie titled Cosmic Sin, Willis is up against space invaders once again and he is still strapping on spacesuits and heading into the great unknown.
Bruce Willis (Die Hard, Unbreakable, The Sixth Sense) stars in Cosmic Sin, a new sci-fi action flick from Saban Films, in which he has to go off into outer space to fight alien invaders. Even though he is familiar with battling aliens this time he is getting help from another great action star Frank Grillo (Captain America: The Winter Soldier) who is also a B-movie king.
RELATED: RESIDENT EVIL REBOOT KEEPS RACCOON CITY CLOSED UNTIL SEPTEMBER 2021
Willis is turning this into a habit, starring in direct-to-VOD action and sci-fi thriller movies. Willis's recent film Breach from Saban Films, which was released last December, also a sci-fi action film in which he and the survivors of Earth come under attack from aliens on an interstellar ark, and now he's back with the same studio for the same genre film.
Cosmic Sin Trailer
The film is set 400 years after humans started colonizing the outer planets. On a remote planet being attacked by a hostile alien fleet, Willis' retired General James Ford is called back to service to eliminate the threat to the human race before it escalates into an interstellar war. So seven rogue soldiers launch a pre-emptive strike against the newly discovered alien civilization with the power to infect and take over human hosts.
RELATED: BLADE: MARVEL STUDIOS HAS FOUND AN EXCITING NEW WRITER FOR UPCOMING MOVIE
The film also stars Brandon Thomas Lee (Sierra Burgess Is a Loser), Luke Wilson (Star Girl, Zombieland: Double Tap), CJ Perry aka WWE superstar Lana, Corey Large (Breach, Broil), Perrey Reeves, Lochlyn Munro (Riverdale), Costas Mandylor (Saw 5), Johnny Messner (Breach), Eva De Dominici (You Shall Not Sleep), and Adelaide Kane (Teen Wolf, The Purge).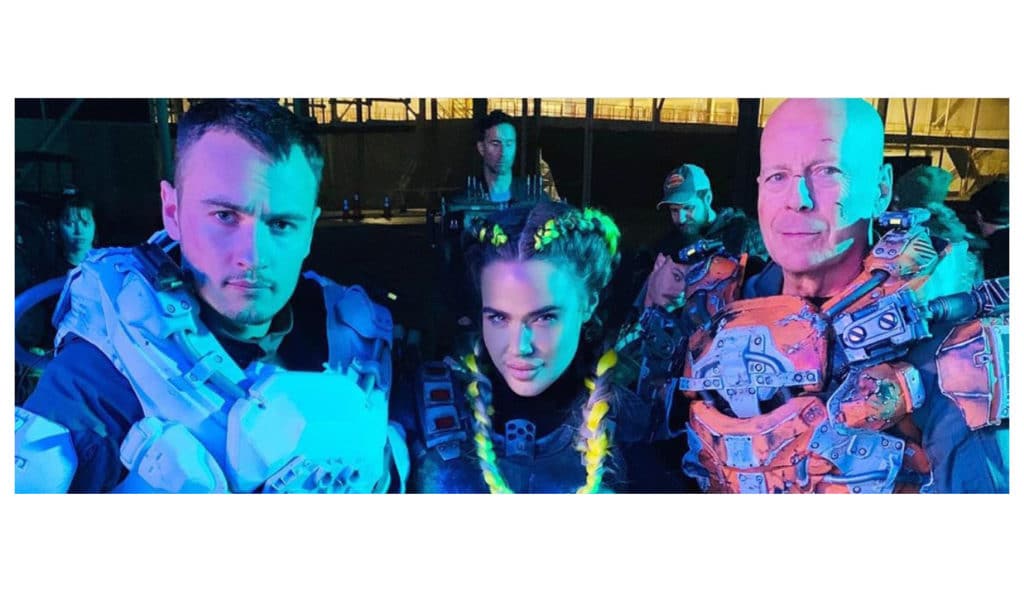 Cosmic Sin seems to be cut from the same cloth as Breach but looks more action-heavy than it. The premise of this movie is not new, but the trailer promises cool visuals and action sequences, it can turn out to be a fun watch.
Considering how VOD releases these days are becoming more usual due to the pandemic, this film may get more attention than normal just with the star power of Willis and Grillo. Cosmic Sin definitely seems to be a dumb entertaining action popcorn flick for all action and sci-fi lovers.
RELATED: NEW SCI-FI MOVIE COSMIC SIN ADDS FRANK GRILLO, ADELAIDE KANE, & LUKE WILSON TO BRUCE WILLIS LED CAST
Cosmic Sin is directed by Edward Drake (Broil), which he co-wrote with Corey Large who also produced it. Stephen Eads and Matthew Helderman serve as executive producers.
Cosmic Sin Synopsis
In this film, "Bruce Willis and Frank Grillo star in the new epic sci-fi adventure set in the year 2524, four hundred years after humans started colonizing the outer planets. Retired Military General James Ford (Willis) is called back into service after soldiers on a remote planet are attacked by a hostile alien fleet. The threat against the human race escalates into an inevitable interstellar war. General Ford teams up with General Eron Ryle (Grillo) and a team of elite soldiers in a race to stop the imminent attack before it is too late."
Cosmic Sin is set to debut in select theaters, On Demand and Digital on March 12, 2021. Are you excited for Bruce Willis and Frank Grillo's Cosmic Sin? What do you think about this trailer? Let us know your thoughts in the comments below or on our social media and be sure to come back to The Illuminerdi for more movie news.
KEEP READING: LOKI STAR OWEN WILSON SHARES HOW TOM HIDDLESTON METHODICALLY PREPARED HIM FOR THE NEW SERIES