Woman In Motion is a documentary about Nichelle Nichols, the famous Star Trek actress who played Lieutenant Uhura and later used her fame to campaign to help NASA recruit new astronauts, specifically women and minorities.
It's an amazing story that shows just how instrumental Nichols has been in changing history, be it on the television screen or the actual space program.
The Illuminerdi had the opportunity to speak with Woman In Motion director Todd Thompson about the process of making the documentary.
Todd Thompson Shares Woman In Motion's Significance
"It was purely a labor of love I gotta tell you in every aspect of the word." Thompson revealed.

"And it's surprising that people don't know of it because it's such a big deal. But, I mean of course I knew Star Trek, I knew Nichelle Nichols, I knew Lieutenant Uhura from afar, you know, admiring her from afar. But I had no idea about her involvement in the space program and it wasn't until November of 2014, I got the phone call from uh my producing partner Tim Franta … and he's like 'hey I'm calling you about something new' and so they pitched me this idea. And it was literally probably a 15-20-minute pitch and I was just instantly hooked.

I mean I'm a sucker for great stories and Nichelle's story probably ranks right up there in the top five for me. So, it was just it was just an incredible hero's journey and what she was able to accomplish in such a short period of time just blew me away. … when you sit down and really look at the entire story form beginning to end and how it transpired it was pretty phenomenal, pretty unbelievable.
Thompson discussed how this was the first documentary that he has directed, although it won't be the last, as he has a number of documentaries he is working on. Thompson talked about how he mapped out the story of Woman In Motion and how his background outside of documentaries effected his storytelling.
RELATED: STAR TREK: STRANGE NEW WORLDS CASTING SERIES REGULARS: EXCLUSIVE
"It was a long process it was my first documentary, first of all my very first documentary film… we're retelling a piece of history so we knew the beginning, middle, and end. That was easy to identify and then it was just a matter of figuring out who we were going to talk to based on those parameters. When it started, where it ended up, and where we reached a middle point, the midpoint of the story, so putting that long list of interviews together the subjects for the interviews was very time consuming.

But I think overall, we kind of broke it up into three different phases. We have our story development phase where we took the story and really mapped it out. I come from more of a feature film background and a traditional story telling background so I insisted on organizing and structuring the story in an Act 1, Act 2, Act 3 sort of lay out."
Thompson also recalled how the production took about three and a half to four years, largely because of the number of people they interviewed for Woman In Motion. Thompson was also sure to credit the hard work of the post production team and the countless hours they spent going through interview and archival footage to put the story of Woman In Motion together.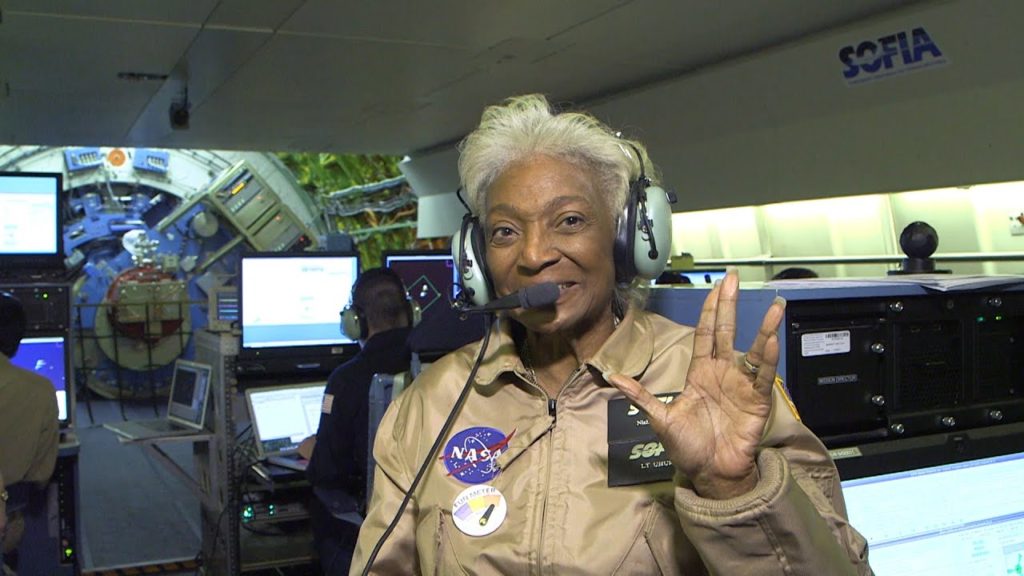 "We knew what we wanted this story to be and that's a testament not just to Nichelle and her influence on the project but our producing partners Benjamin Crump who brought in a very important like civil rights aspect to the project. We really touched upon a lot of things in this film and yet they seamlessly sort of are orchestrated together so nicely, like a symphony so all these different voices speaking out with one common message it really worked out nice."
Woman In Motion featured not only interviews with Nichelle Nichols, but Neil deGrasse Tyson, George Takei, Martin Luther King III, astronauts Frederick Gregory and Charles F. Bolden Jr. and many more. Director Todd Thompson couldn't pick just one favorite from the many artists, astronauts, and scientists that they interviewed who were directly impacted by Nichols work on Star Trek and recruiting for NASA.
"I can't pinpoint one that was better than the other, I mean they were all just so phenomenal. I mean obviously Nichelle. I mean we spent a lot of time with Nichelle during this process, but everyone that we sat down with we sat down with for a reason because they either had something directly to do with the story or were influences by the story or were a byproduct of the story.

Like for example the astronauts and the family members of the astronauts that we interviewed, so they all just had their own special little place in the production timeline and they hold a special place in my heart. Really because you spend time with these people and you talk to them, you get to know them, and they open themselves up to you, which is just so beautiful. It's such a beautiful experience and it's almost like we got to bond with each and every member of the cast every time we sat down with somebody new it was a new bonding experience."
WOMAN IN MOTION TRAILER AND SYNOPSIS
The inspiring true story of how renowned Star Trek actress Nichelle Nichols pioneered the NASA recruiting program to hire people of color and the first female astronauts for the space agency in the late 1970s and 1980s, Woman in Motion: Nichelle Nichols, Star Trek and the Remaking of NASA will come to home theaters on digital and on demand everywhere on February 16, 2021. Fans who preorder from Apple will also have access to exclusive bonus features, including an extended "The Story Behind the Story" featurette, deleted scenes, teasers and trailers.

Directed by Todd Thompson (The Highwaymen, PRE FAB!), the film chronicles how Nichols transformed her sci-fi television stardom into a real-life science career when, in 1977, she embarked on a campaign to bring diversity to NASA. Nichols formed the company Women In Motion, Inc. and recruited more than 8,000 African American, Asian and Latino women and men for the agency.

Nichelle and her program continue to influence the younger generation of astronauts as well, including Mae Jemison, the first female African American astronaut in space. Despite an uphill battle against a bureaucracy that was hesitant to let her get involved, Nichols persevered and is credited by NASA for turning it into one of the most diverse independent agencies in the United States Federal Government.

In addition to Nichols, Woman In Motion features notable celebrities, activists, scientists and astronauts including Neil deGrasse Tyson, George Takei, Pharrell Williams, Martin Luther King III, Al Sharpton, Vivica A. Fox, Walter Koenig, Rod Roddenberry, Michael Dorn, Guy Bluford, Charles Bolden, Ivor Dawson, Frederik Gregory and Benjamin Crump.
Woman In Motion is available on Video On Demand February 16, 2021. Are you going to watch Woman In Motion: Nichelle Nichols, Star Trek And The Remaking Of NASA? Are you a Star Trek and Lieutenant Uhura fan? Leave your thoughts in the comments below or on our social media.
KEEP READING: WOMAN IN MOTION DIRECTOR SHARES WHAT HE LOVES ABOUT STAR TREK AND WHY IT HAS SURVIVED SO LONG