Disney Legend artist Charles Boyer passed away on February 8, 2021 in Ontario, California.
Charles Boyer began at Disney when he accepted a "temporary" job as a portrait sketch artist at Disneyland in the fall of 1960. However, he remained there for 39 years before retiring in 1999. Charles Boyer was Disneyland's first full-time artist before becoming Disneyland's master illustrator.
D23 describes his work, "He captured in his work the unique and fanciful spirit of Disney characters and theme park environments."
"You always remember the early days," Charles Boyer recalled his earliest time at Disneyland. "Mine were very memorable because it was all new. Disneyland was only 5 years old when I started. We had a family atmosphere… the feeling of the park is still carried on by the cast members. I'm proud to be a part of that."
Charles Boyer's art career began with art classes in high school where he "nurtured a love for the beautiful desert landscape". While Boyer was a teenager he won first place at the Imperial County Fair and developed a passion for the work of famed painter Vincent Van Gogh.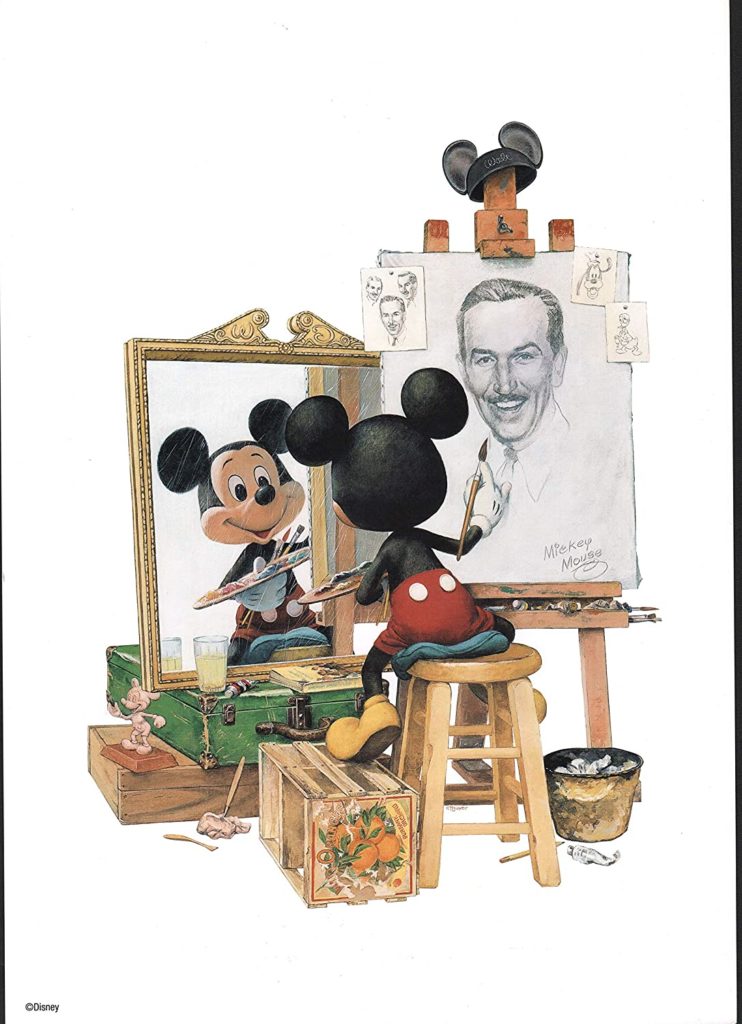 Not long after, he enrolled at Chouinard Art Institute where he received a "working scholarship. While attending art classes Boyer served double duty as a janitor. Charles Boyer began to contemplate commercial art instead of fine art while taking classes in design and cartooning.
"I know people can do things that they like," Charles Boyer once remembered. "I wasn't very good when I came out of school. I spent 40 years at this getting good."
RELATED: RAYA AND THE LAST DRAGON TAKES FLIGHT ON THE NEW COVER OF D23
Only six months after he began working at Disneyland, Charles Boyer joined the marketing and advertising art department as an illustrator. "We did everything—design, production, illustration," Boyer once said. During his nearly 40-year Disneyland career Charles Boyer produced nearly 50 collectible lithographs, and a diverse range of artwork for everything from brochures, flyers, magazine covers, and even Company-commissioned oil portraits for employees who were retiring.
CHARLES BOYER'S ICONIC WORK
Boyer has worked in all media including oils, pastels, gouache, watercolors, acrylics, ink, and pencil. Some of his most well-known and beloved pieces include the 1981 painting "Partners" which features Walt Disney hand in hand with Mickey Mouse, although shown in a different pose than the statue of the same name at Disneyland.
Charles Boyer's 1978 work "Triple Self-Portrait" is based on the Norman Rockwell's similarly titled painting, which features Walt Disney looking in a mirror and painting Mickey Mouse, and the 1989 "Self Portrait: Mickey Mouse" which references the 1978 piece. One of Charles Boyers' most iconic works is "A Disneyland Tribute to Fire Fighters" which was created to honor the heroic effort of fire fighters during the 1993 Southland fires.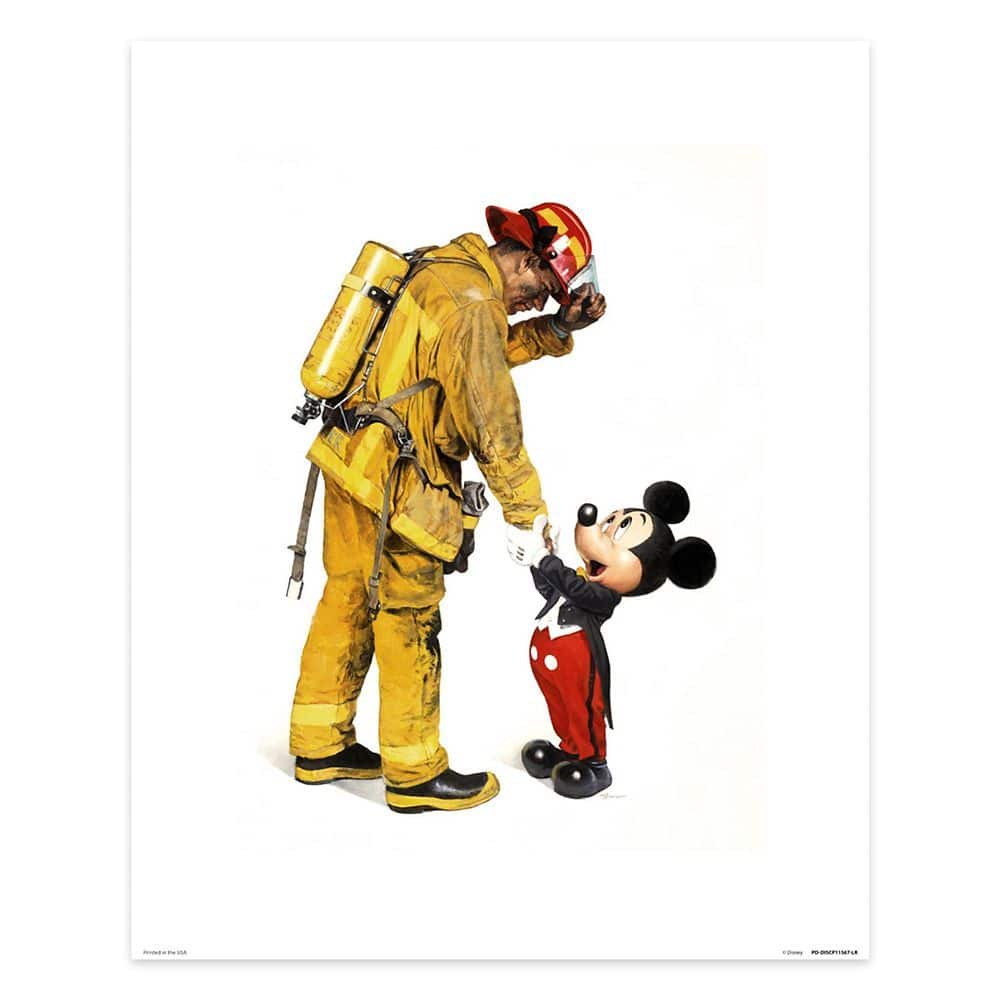 In the Los Angeles Times' report about the passing of the Disney legend they spoke with his son, Bruce Boyer who talked about his father's impact on Disney's art.
"Dad was the first artist who could make Mickey look real, in the real world," said Bruce Boyer. "That was the gift my dad gave to Disney, bringing Mickey to life. That's what he loved to do; he loved to paint realistically. Goofy, Donald, he brought them to life, too."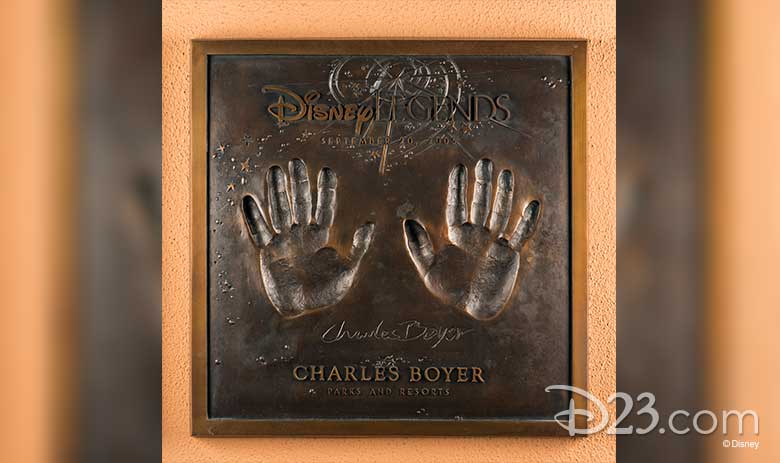 Bruce also recalled his father's love for Disney and how he shared that love with his family.
"He loved the fact that he was able to support his family, working for Disney. He would always take us to Disneyland and sometimes he would take us behind the scenes to show us the magic that was there. He was more of a desert painter, but the Americana that was Disney brought a little sparkle to his art," Bruce Boyer told The Los Angeles Times.

"He did a cover for The L.A. Times Magazine and with the money he earned from it, he was able to buy a house in Anaheim near his work. He would come home from work to eat lunch with me and my mother and my sister. Whenever there was a Disney event, he loved bringing his wife and kids."
When speaking about his retirement in 1999, the artist reflected, "I've worked with such great people. My wife used to ask if I was actually getting any work done, because I was having so much fun." Charles Boyer is survived by two children, Bruce and Naomi. His wife, Ellen, preceded him in death. Charles Boyer's art will forever hold an important place in the history of Disney's art. The Disney Legend created iconic images that Disney fans will recognize and love forever.
KEEP READING: ASSEMBLED MARVEL ANNOUNCES A NEW DISNEY PLUS SHOW TO DEBUT AFTER WANDAVISION
Source: D23, Los Angeles Times