AEW Executive Vice President Cody Rhodes says only WWE is stopping a future crossover between AEW and WWE.
In the last few months we have seen a lot of partnerships with AEW and other promotions. We saw a crossover with NWA, the shocking betrayal by Kenny Omega which brought in IMPACT Wrestling and recently a crossover with NJPW with KENTA giving Jon Moxley the GTS.
Cody Rhodes Comments On A Crossover
Cody Rhodes sat down with the New York Post and was asked about working with other promotions.
" I think of 'All In' itself. 'All In' is a show that ROH (Ring of Honor) helped us with that Matt (Jackson), Nick (Jackson), myself did all the work for outside of that initial production element and the reason it was important that the three of us do it was we were able to let all these old rules go away. That's a very dangerous and powerful precedent to set if you literally do put down all the bridges and you do put down all the doors.

Again, this is all hypothetical, but there is no reason AEW couldn't work with New Japan. We're aware of the world outside. Bullet Club is a big part of our blood in AEW. So there's no reason we couldn't work with New Japan. There's no reason Jacob Fatu couldn't take a step over from MLW and stand across the ring from me," Rhodes said.
The New Era Of Pro wrestling
One of the big reasons AEW is so successful and is the talk of the town is this mindset. AEW is a new-school type of promotion. The rules of traditional wrestling promotions are out the window. However, it hasn't lost its connection to the old school era with Jake The Snake, Arn Anderson and Tully Blanchard, or the Monday Night Wars era of pro wrestling with Chris Jericho and Dustin Rhodes formerly known as Goldust.
A partnership with any and every promotion brings a lot of excitement to AEW. One of the best parts of the Monday Night Wars era was seeing your favorite WCW wrestler show up on RAW or vice versa. We would finally get to see how our guy or gal did against the other promotion's roster.
RELATED: KENNY OMEGA EXTENDS AN INVITATION TO TAG WITH KENTA
However, there is one big promotion AEW hasn't had any interactions with and it is the biggest of all time, WWE. Surprisingly a AEW crossover with WWE isn't out of the question according to Cody Rhodes and neither is trying to bring back the territory system.
"There's no reason that there couldn't be a potential WWE crossover one day. And I don't mean that's a thing that's been discussed or happening, but none of those rules that exist for other places exist for us. Wrestling is really this universal industry. The territory reference that you made, that's fairly accurate, but the part of it that's most accurate was there was a genuine trust.

Eddie Graham and Vince (McMahon) Sr. they traded people all the time and made prolific pieces of business out of it and they did it in a way where they introduced these characters in New York and then next thing you know they introduce these characters in Florida and it kept things fresh because above all, Wednesday Night War or not the main thing we have to do for fans for the rest of this run and I want this company to be around forever is keep it fresh. It can't ever get stale.

Our doors are open if the business is right, if the moment is right, if the time [is] right. Our bridges are down. I'll be the one curmudgeon AEW guy to make sure it's all good," Rhodes said.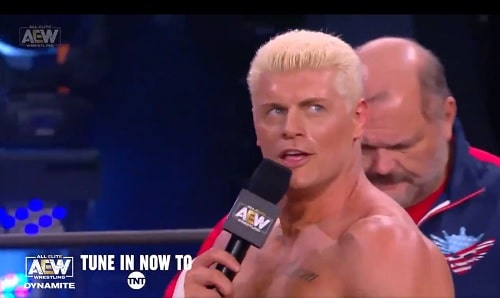 What Does WWE Get In Return?
The thing about partnering with WWE or some kind of crossover with WWE Cody Rhodes isn't talking about is who benefits. IMPACT Wrestling and NWA benefit because almost no one watches either of those promotions so they gain an audience. NJPW benefits because even though they are huge in Japan they don't have a huge American audience so they could also gain fans. AEW gets to use up-and-coming talent and scout future talent.
RELATED: STEPHEN AMELL'S WRESTLING SHOW ANNOUNCES BIG TIME HEEL
However, none of this is true for WWE. WWE doesn't gain any viewers from AEW.  If they are watching AEW then they are already watching or at least fully aware of WWE. Casual wrestling fans watch WWE, but very few casual wrestling fans watch AEW.  If you watch AEW then you are a diehard wrestling fan.
The worst part of the deal for WWE is that they could lose fans to AEW. It is a lose-lose situation for WWE. WWE doesn't want to help the competition even if they don't see them as a threat. Crossing over with AEW could give them the notoriety to casual fans to make AEW a threat.
Because of this, I don't think we will ever see WWE crossing over with AEW. At best WWE will have a friendly co-existence with AEW.
Do you think WWE will ever crossover with AEW? Are there any WWE Superstars you want to see go against a NWA, NJPW or AEW wrestler? What do you think of Cody Rhodes' comments? Let us know what you think of AEW wanting to work with WWE in the comment section below or over on Twitter.
KEEP READING: BLACK TAURUS IS UNLEASHED IN IMPACT WRESTING
Sources: RingsideNews, New York Post