Our review of the newest Apple original film Cherry, which was directed by the Russo Brothers and stars Tom Holland in his most dramatic turn yet.
Premiering in theaters on Friday before arriving on the streaming platform, Cherry is an epic odyssey of romance, war, drug addiction, and crime, a young man (Tom Holland) struggles to find his place in the world.
Two years ago the directors Anthony and Joe Russo made cinematic history with Avengers: Endgame, which became the highest grossing movie ever made. Now they're back with Cherry, a drama about a young man, who suffers from PTSD, after he returns from the Iraq.
No Rose or Cherry-Colored Glasses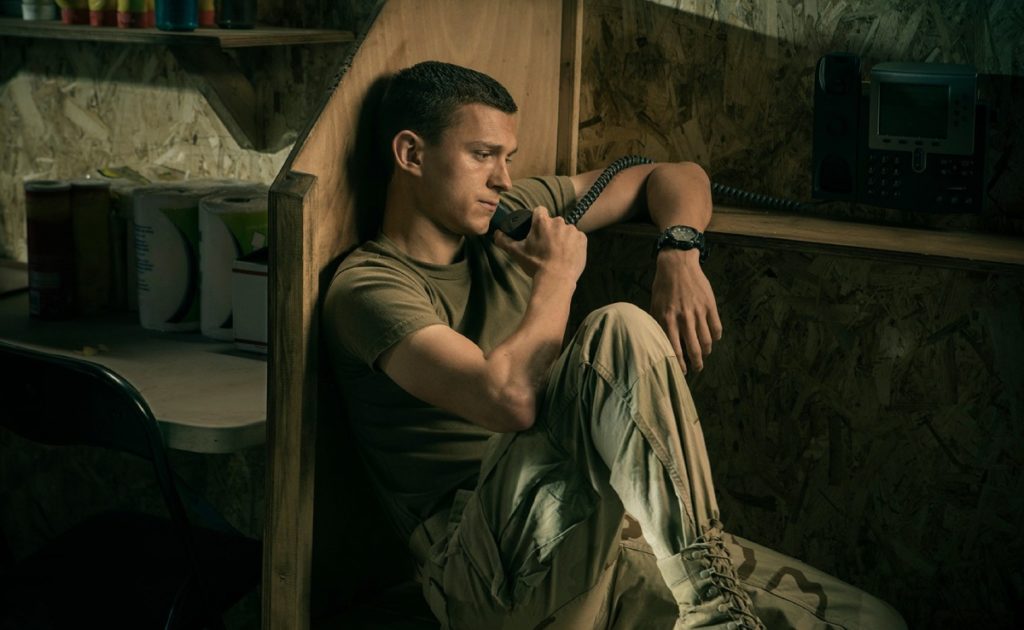 Back home, he gets addicted to heroin and becomes a serial bank robber after his addiction puts him in debt. This film is a lot. It tackles plenty of themes and does this in a unique way, as the Russo Brothers made some bold stylistic decisions that will definitely divide critics and general audiences.
Cherry is based on the book with the same name by Nico Walker. As someone who read the book, I can say that Angela Russo-Otstot and Jessica Goldberg adapted it pretty well. Some of the dialogue is exactly ripped out of the page, which makes for some great callbacks to the book.
In terms of the narrative, they definitely left quite a few things out of the movie, but that mostly comes to the fact that the movie's focus rests on other topics of the source material, so to put that in a great cinematic narrative, they didn't include some parts of the book. While the movie definitely is pretty dark and a heavy watch, it doesn't reach the dark heaviness of the book. It doesn't have to do so, it's just worth noting.
One thing the movie directly adapted from the book are the chapters. Cherry is divided in six chapters, each featuring different camera lenses, stylistic approach and even aspect ratios. It also uses a pretty unique stylistic choice for this genre: the breaking of the fourth wall. Holland's character Cherry does speak with the audiences a few times, which fits perfectly into the scenes and helps to give audiences a look into his mind and his thoughts about the current situation.
Yet that's also where it gets divisive, as some critics call it over-stylized. I see where that criticism comes from, as there are parts where I was wondering if they really had to do it this way. But despite the daring stylistic choices, the one-two punch of direction and performance still managed to let it be accessible for general audiences, and most of the time the bold decisions pay off.
The Russo Brothers definitely crafted a unique movie and made some bold decisions. Their directing is magnificient and definitely differs from their work in the Marvel Cinematic Universe. Tom Holland fully dissappears in his role. He delivers a riveting and also deeply honest performance, showing his broad range, once again proving that he is one of the most exciting actors of his generation. Ciara Bravo delivered one of my favourite supporting performances of the past year. She is the heart of the movie and shows in an revelatory performance, that she is someone to look out for in the future.
Cherry also shines on the technical side. The cinematography by Newton Thomas Sigel is always on point and Henry Jackman delivers a atmospheric score, with one single titled 'The Comedown' standing out as it will stay with you even days after you've watched the movie.
Through its bold stylistic decision, Cherry stands out in the masses of book adaptions and proves that The Russo Brothers are able to helm more dramatic stories outside the superhero genre. Holland and Bravo are mesmerizing and when Henry Jackman's last brilliant theme 'The Comedown' starts playing, it really feels like you've reached the end of an "epic odyssey".
4.5/5
Cherry is Rated R for for graphic drug abuse, disturbing and violent images, pervasive language, and sexual content. It will hit select theatres February 26 and will be available on Apple TV+ March 12, 2021.
It's based on the book with the same name by Nico Walker and was directed by Anthony and Joe Russo. It stars: Tom Holland, Ciara Bravo, Jack Reynor, Forrest Goodluck, Jeff Wahlberg and Michael Rispoli.
What do you guys think? Are you excited for Cherry? Are you planning to watch it? Let's discuss everything in the comments down below and on our Twitter.
KEEP READING: EDDIE MURPHY REVEALS HOW COMING 2 AMERICA AND BLACK PANTHER SHARE A SPECIAL CONNECTION