AEW just announced Paul Wight has signed with them and is now #AllElite.
 Paul Wight may not be a household name, but I can assure you that if you have watched wrestling in the last 20 years you are well aware of this giant in wrestling.  Wight may be best known from his WWE tenure as Big Show.
This is the biggest get by AEW since Chris Jericho signed. Wight's signing surpasses Sting's because Wight is set to return to the ring and wrestle. 
RELATED: CODY RHODES IS OPEN TO AN EPIC CROSSOVER WITH WWE
Paul "Big Show" Wight commented on his signing and what he thinks of the promotion in an AEW press release.
"It's been amazing to watch what AEW has built in just a couple of years. AEW Dark is an incredible platform to hone the skills of up-and-coming wrestlers, but I also love that established AEW talent can build out their personalities and showcase themselves in new ways on Dark. It's no exaggeration when they say that AEW is boundless," Wight said.
Paul Wight Commentating And Mentoring
The primary job of Wight seems to be as a commentator on AEW's new YouTube wrestling program, AEW Dark: Elevation, which will air Mondays 7 p.m. EST. The new program will showcase younger and up-and-coming talent. It will complement AEW Dark, but will also feature indie talent unsigned by AEW. This show will most likely be a way to scout indie talent and see how they perform on a bigger stage.
There's little doubt that part of Paul Wight's new job will be mentoring younger talent and sharing the knowledge he has learned from his long wrestling career.
President of All Elite Wrestling Tony Khan spoke on what Wight brings to AEW and what it means to have him be a part of this young promotion.
"Paul Wight is one of the most recognizable and impressive professional athletes in the world. He wanted to come to AEW because he believes that we're the best promotion in wrestling, and we believe that he has a lot to offer us, both in the ring as a wrestler, and also outside the ring as a commentator, host and ambassador for AEW.

Paul is one of the most experienced stars in all of wrestling, and he's eager to work with our diverse roster. He can benefit and guide our young talent with his mentorship, and his expert commentary on AEW Dark: Elevation will educate and entertain our fans, and also educate the younger wrestlers on the roster. Furthermore, Paul enters AEW as a licensed wrestler, and he's very much looking forward to studying our talent firsthand from the commentary desk in preparation for his return to the ring," Khan said.
It All Started Way Back In WCW
Paul Wight started his long career back in 1995 with WCW.  He started his WCW career under the name Giant and was the kayfabe son of Andre the Giant. Even though he was only in WCW for four years and he had almost zero wrestling training beforehand he enjoyed a great WCW run.
RELATED: KENNY OMEGA EXTENDS AN INVITATION TO TAG WITH KENTA
While there Wight joined the NWO, won the WCW World Heavyweight Championship twice and the tag championships three times.
However, Wight's career truly took off in 1999 when he interrupted a Stone Cold Steve Austin match at the behest of Vince McMahon. He eventually started wrestling under the name Big Show and used that name for his 22 years with WWE.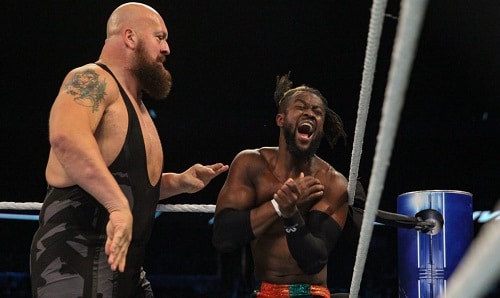 While with WWE he amassed quite a list of accomplishments.  Wight won every title available to him including the ECW, WWE and WWF Tag Championships, and André the Giant Memorial Battle Royal. The only title he didn't win was the Universal Championship.
In the last few years Wight had wrestled only a few times a year or maybe less. His last match was against Randy Orton in July and his last WWE appearance was at last month's Legends Night.
Wight Vs Shaq?
Paul Wight's signing with AEW may reignite a rivalry with Shaq. In WWE they had met multiple times and with Shaq making his in-ring debut next month in a tag match. The stars have seemed to align to set off another battle of the giant athletes, but this time in a AEW ring.
What do you think of Paul Wight signing with AEW?  Do you think Wight should have just retired?  Do you think he will be a good commentator?  Is there anyone you would like to see Wight face in AEW? Or perhaps form a tag team with, like maybe another run for JeriShow? Chokeslam those comments below.
KEEP READING: CHRIS HERO SAYS VINCE MCMAHON ISN'T INTERESTED WITH BEING CURRENT WITH WRESTLING
Sources: AEW, BleacherReport