Zazie Beetz and Gillian Jacobs are part of the star-studded cast of the highly anticipated animated Invincible series. Adapted from the comic book series co-created by Robert Kirkman and Cory Walker, Invincible ran for fifteen years from 2003-2018, over 144 issues.
The Illuminerdi's Caitlin Tyrrell was able to participate in a roundtable interview with Zazie Beetz and Gillian Jacobs about the upcoming Amazon Prime series, Invincible. During the roundtable interview, Zazie Beetz revealed what she thinks makes Invincible stand out among all of the other superhero series.
"I think that Invincible is, I think what's sort of new about it is that it feels to me like real people dealing with these heightened circumstances. So, if you took this superpower thing and that crazy things can attack the world and just really put it into our world, I feel like Invincible would be a reflection of that. And I see that sort of in how they represent death and how they represent consequences essentially.

If something happens in an episode it carries over into following episodes and, I don't know, I don't think that is totally present in a lot of comic series. I think when people die sometimes they come back due to some glitch in the blah-blah-blah or whatever and that has its own space, but I think that Invincible to me just feels very, very real. And then they just happen to have superpowers, but Mark is just some teenager and he's like, 'I don't know how to deal with this and I still have issues with my Dad'. To me, I felt very drawn to that part of the story."
Having the characters deal with the consequences of their actions and incorporating the more real life drama into the series is an exciting aspect of Invincible. Zazie Beetz has experience in a number of comic book adaptations including not only Invincible, but Deadpool 2 and Joker as well. Zazie Beetz and Gillian Jacobs also shared what they are most excited for fans to see in Invincible during the roundtable interview.
RELATED: INVINCIBLE TRAILER: WATCH AMAZON DELIVER A BLOODY AND ACTION-PACKED NEW SUPERHERO SERIES
Zazie Beetz revealed, "I think I'm excited for fans to, I don't know, I'm into the family drama stuff in this show. I really think it's been, it's really interesting to see how Mark and Nolan, Omni-Man and Invincible, kind of have to square their relationship with each other and how that arc is throughout the whole season. I just think it is a really interesting kind of collision of the super world, but then also the really basic sort of father son story. And yeah, it encapsulates to me sort of where their relationship goes a lot of what this show is about and the energy of the show."

Gillian Jacobs then added, "And I also think for people who were fans of the comic to see these big sequences come to life in an animated form, I think will be really exciting. And I think that because Robert is so involved in the show that it will feel, hopefully, like the comic that they loved they just get to see it animated now in motion."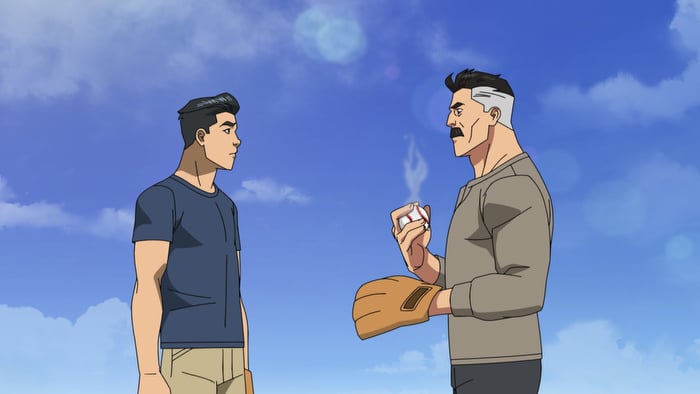 Combining very grounded family drama and huge superhero storylines and sequences is one part of what may make Invincible stand out. The fact that Gillian Jacobs is excited for the superhero action is no surprise given the fact that she voices Samantha Eve Wilkins, aka the superhero Atom Eve. Zazie Beetz voices Amber Bennet who will likely be more involved in the family and high school drama given her non-superpowered character.
Fans will get a bit of everything with Invincible when it premieres Friday, March 26.
INVINCIBLE OFFICIAL SYNOPSIS AND TRAILER
From The Walking Dead creator Robert Kirkman, and based on the Skybound/Image comic of the same name by Kirkman, Cory Walker, and Ryan Ottley, Invincible is an hour-long, adult animated superhero show that revolves around seventeen-year-old Mark Grayson (Steven Yeun), who's just like every other guy his age — except that his father is the most powerful superhero on the planet, Omni-Man (J.K. Simmons). But as Mark develops powers of his own, he discovers that his father's legacy may not be as heroic as it seems.

Invincible will also star Sandra Oh (Killing Eve), Seth Rogen (This is the End), Gillian Jacobs (Community), Andrew Rannells (Black Monday, Girls), Zazie Beetz (Deadpool 2), Mark Hamill (Star Wars: The Last Jedi), Walton Goggins (Justified), Jason Mantzoukas (Brooklyn Nine-Nine), Zachary Quinto (Star Trek), Mahershala Ali (Moonlight), Melise (The Flash), Kevin Michael Richardson (The Simpsons), Grey Griffin (Avengers Assemble), Khary Payton (The Walking Dead) and more.

Invincible is produced by Skybound and executive produced by Kirkman, Simon Racioppa, David Alpert (The Walking Dead, Fear the Walking Dead), Catherine Winder (The Angry Birds Movie, Star Wars: The Clone Wars) with Supervising Director Jeff Allen (Avengers Assemble, Ultimate Spider-Man), and Linda Lamontagne serving as casting director. Invincible, Kirkman's second-longest comic-book series, concluded in February 2018 after a 15-year run.
The first three episodes of Invincible premiere on Amazon Prime March 26, 2021 with subsequent episodes debuting every Friday. Are you excited to watch Invincible? Leave your thoughts in the comments below or on our social media.
KEEP READING: KEEP READING: BAD TRIP'S LIL REL HOWERY WAS ATTACHED TO STAR IN GAMBIT WITH CHANNING TATUM: EXCLUSIVE