Critical Role is expanding their storytelling once more, first with comics, then an upcoming animated series, and now the first official Critical Role novel.
Critical Role's partnership with Penguin Random House was announced in 2019 and the first creation of this partnership was The World Of Critical Role which dives into the history of Critical Role from back when it was a home game to where it is going now. This also includes quotes from the players and inside looks into some of the biggest moment of Critical Role.
Now Critical Role is breaking into a new realm of storytelling with their first novel published by Penguin Random House's imprint Del Rey. Critical Role: Vox Machina – Kith & Kin will follow twins Vex and Vax, and Trinket of course, on an adventure long before they met the other members of Vox Machina.
CRITICAL ROLE: VOX MACHINA – KITH & KIN OFFICIAL SYNOPSIS
Written by the #1 New York Times bestselling author Marieke Nijkamp, Critical Role: Vox Machina – Kith & Kin will follow a brand-new story, featuring the cunning ranger Vex'ahlia and the conning rogue Vax'ildan (and, of course, Trinket) years before they meet Vox Machina. After leaving the unwelcoming refuge of Syngorn, the twins become entangled in a web spun by the Clasp, and for the first time Vex and Vax find themselves on opposite sides of a conflict that threatens the home they have carried with each other for years.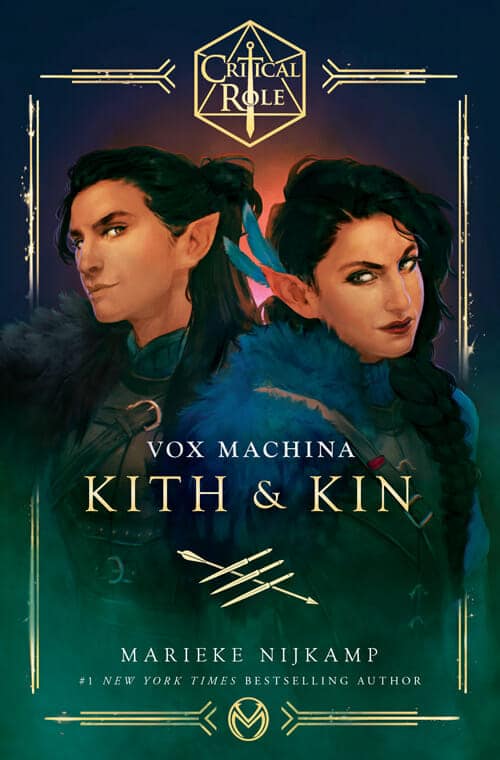 Critical Role: Vox Machina – Kith & Kin is written by Marieke Nijkamp(This Is Where It Ends, Even If We Break, The Oracle Code). Laura Bailey who played Vex'ahlia "Vex" Vessar and Liam O'Brien who played Vax'ildan "Vax" Vessar during the first campaign of Critical Role are clearly excited about sharing this story.
RELATED: CRITICAL ROLE VOX MACHINA ORIGINS SERIES III ISSUE I AVAILABLE NOW
"No matter how many stories we tell or characters we play, the twins are always going to be near and dear. For me, they're the bedrock that so much of all this is built on. I'm always thrilled to spend time with them again." —Liam O'Brien (Vax'ildan)
"I've always been an avid reader and specifically a huge fan of fantasy novels. It means so much to me to be able to do a deep dive with the twins and explore their relationship in this new way. I can't wait to curl up with this book again and again." —Laura Bailey (Vex'ahlia)
Vax and Vex, the half elven twins, are core members of the Vox Machina adventuring party who have had amazing adventures with their friends. However, before the campaign began the pair did not have an easy life. Vax and Vex initially lived with their human mother for the first ten years of their life before their elven father came to collect them. While living in Syngorn, the Elven city, with their father Vex and Vax underwent training to become assassins.
RELATED: CRITICAL ROLE ANNOUNCES THE MIGHTY NEIN ORIGINS: YASHA NYDOORIN SET FOR SEPTEMBER 15TH RELEASE
Vex and Vax lived in derision of the Elves within the city because they were half elves, and after a few years they set out on their own. After wandering for a few years, they returned to their Mother's village only to find it had been destroyed by a dragon. Vax became a rogue while Vex became a Ranger. Vex was at one point captured by poachers and when she escaped she found and saved a bear cub from poachers who she named Trinket.
Critical Role: Vox Machina – Kith & Kin is set before the comic books Vox Machina Origins which cover when Vox Machina first came together as an adventuring party and events from the home game. Critters will be able to learn more about our favorite half elven twins and new fans can find out more about these beloved characters. With The Legend Of Vox Machina animated series coming in the future fans can read this upcoming Kith & Kin novel and the Vox Machina Origins comics to learn more about Vox Machina's backgrounds and origins.
Critical Role: Vox Machina – Kith & Kin is available for pre-order now and is set for release October 26, 2021. Are you going to buy Critical Role: Vox Machina – Kith & Kin? Are you excited about this new Vax and Vex adventure? What other characters do you want to see featured in other novels? Leave your thoughts in the comments below or on our social media.
KEEP READING: FIRST LOOK AT THE LEGEND OF VOX MACHINA ANIMATED SERIES IN NEW BTS FEATURETTE FROM CRITICAL ROLE
Source: CritRole.com