Bad Trip's Lil Rel Howery explains what NBA superstar Kyrie Irving needs to do to get a sequel and he pitches his amazing idea for Uncle Drew 2.
Actor and comedian Lil Rel Howery is having a fantastic run in Hollywood. In the past two months he has two new releases, the hilarious road trip adventure Bad Trip and a small role in the Academy Award nominated Judas and the Black Messiah. As well as a string of releases on the horizon, including the science-fiction videogame romp Free Guy with Ryan Reynolds.
However, one of the actor's more notable starring roles was in 2018's unexpected basketball comedy, Uncle Drew. The film stars NBA superstar Kyrie Irving as the titular character, a senior citizen street basketball legend. Howery plays his unlikely coach, Dax, who helps Drew gather his elderly teammates – played by former and current NBA stars such as Shaquille O'Neal, Reggie Miller, and Chris Webber – to relive their wonder years in one last basketball tournament.
Lil Rel Howery on Uncle Drew 2
While promoting his latest film, Bad Trip, Howery sat down with The Illuminerdi's Braxter Timberlake to talk about the new release, his desire to appear in Cobra Kai and The Mandalorian, as well as evaluating the chances of an Uncle Drew 2 feature film.
Here is what Howery had to say about the chances for Uncle Drew 2:
"Here we go. [Uncle Drew] 2 was talked about and it is… You know what's funny? Movies like that especially basketball movies based off the basketball player… Kyrie's having another great season and if Brooklyn wins another championship, I can see us doing another movie. Because he was injured for a little, right? Especially after Uncle Drew when he went to Boston. Man, if the way Brooklyn looks now…he's balling…I wouldn't be surprised. I was actually thinking about that the other day. Ah, they probably going to hit me up. Because… what I think we should do is take the old guys overseas…"
It seems that the ball is still up in the air, but Howery doesn't seem discouraged. In fact, his comments seem to indicate that the wheels haven't stopped turning behind the scenes. Kyrie Irving's Brooklyn Nets are indeed one of a handful of legitimate contenders for the NBA championship, so it will be interesting to see how the NBA post-season plays out.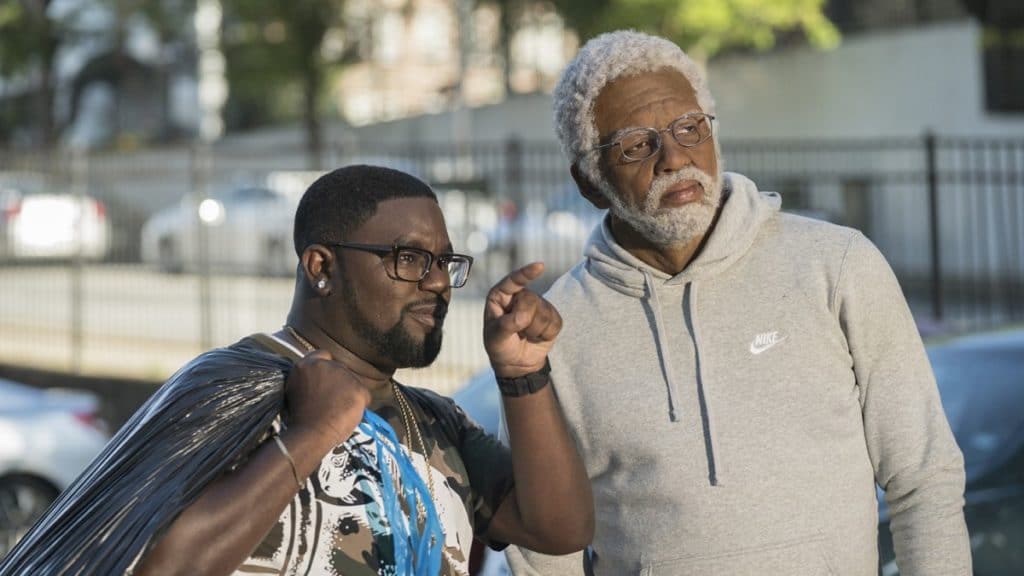 The original film had an unexpected amount of heart and belly laughs, despite being centered around athletes, not actors. Howery's improvisational nature is the perfect foil for the untrained hoopers and an Uncle Drew 2 would only increase the opportunities for laughs.
His suggestion to take the basketball team overseas would be great thematically and holds a lot of commercial promise as well, as basketball is one of the most popular sports in the world. Now all we need is for Kyrie Irving, Kevin Durant, and James Harden to bring home a championship for the Brooklyn Nets to make all the pieces fall into place. We will be watching.
RELATED: BAD TRIP MOVIE REVIEW: ERIC ANDRE BRINGS BIG LAUGHS IN WILD ROAD COMEDY
Until then, you can catch Lil Rel in his latest new release, Bad Trip, on Netflix.
BAD TRIP OFFICIAL SYNOPSIS
This hidden camera comedy follows two best friends as they go on a cross-country road trip full of hilarious, inventive pranks, pulling its real-life audience into the mayhem. Bad Trip stars Eric Andre, Lil Rel Howery, Tiffany Haddish, and Michaela Conlin. The film is directed by Kitao Sakurai from the minds of Dan Curry, Kitao Sakurai, and Andre – and produced by Andre, Jeff Tremaine, David Bernad, and Ruben Fleischer.
Bad Trip is available on Netflix right now. What do you think of Lil Rel Howery's thoughts on Uncle Drew 2? What other basketball stars would you like to see in Uncle Drew 2? What did you think of Bad Trip? Let us know what you thought in the comment section below or on our social media!
KEEP READING: BAD TRIP: LIL REL HOWERY REVEALS A SCARY SCENE GONE WRONG THAT HAD HIM LITERALLY RUNNING FOR HIS LIFE