Doctor Octavius and Spider-Man had quite the rumble in 2004's Spider-Man 2 movie, with Tobey Maguire as the web-head and Alfred Molina as the villain, Doctor Otto Octavius.
Fans of the movie will remember that the final act of the sequel had Octavius regain his humanity and sink his experiment, which caused him to drown in the river – thus saving the city from imminent destruction.
RELATED: SPIDER-MAN 3: FIRST STILLS AND OFFICIAL TITLE REVEALED AFTER THE CAST TROLLS FANS
After 17 years, Alfred Molina is returning to the role in the upcoming Spider-Man movie, Spider-Man: No Way Home, starring Tom Holland. When Molina took the role again for the movie, he had to keep his mouth close on any of the details behind the return of his character and how it will connect with Holland's Spider-Man. But now, he's got some things to say.
Alfred Molina Takes On Tom Holland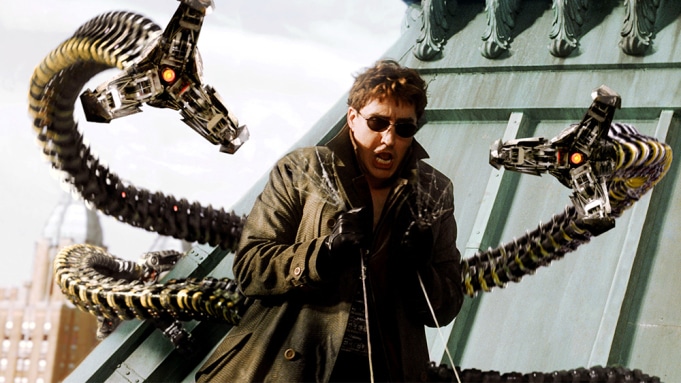 During a interview with Variety on his role in the movie Promising Young Women, Alfred Molina talked about returning and what it means for fans. Here is what he had to say:
"When we were shooting it, we were all under orders not to talk about it, because it was supposed to be some great big secret. But, you know, it's all over the internet. I actually described myself as the worst kept secret in Hollywood!"
It looks like Molina knew that people knew he was coming back and was happy that the secret was out and he continued on about working with director Sam Raimi in 2004 and the difference of coming back now in 2021
"It was wonderful," he said. "It was very interesting going back after 17 years to play the same role, given that in the intervening years, I now have two chins, a wattle, crow's feet and a slightly a slightly dodgy lower back."
Alfred Molina and Director Jon Watts talked about how Ock would rise from the sea and from death, Watts points out "In this universe, no one really dies."
It looks like Watts is going to have the film pick up right where it left Octavius in the 2004 film and with everything that the Marvel Cinematic Universe has already shown fans, it doesn't seem to be a major issue.
But one issue that was brought up was the age difference of Alfred Molina and Octavius. In the interview, he brings up some of the movie magic of de-aging we have seen in multiple movies such as CGI work on Robert Downey Jr. in Captain America: Civil War, Samuel L. Jackson in Captain Marvel and Robert De Niro in Netflix's "The Irishman". Here is what Molina said about the work he would doing as Doc Ock once again.
"My basic physical move as Doc Ock, as the actor, is just this," he said as he glared intensely at the Zoom camera and made a menacing noise. "I just do that a lot, and the arms are doing all the killing and smashing and breaking. I'm just going —" he glared again — "with a kind of mean look on my face.
It looks Alfred Molina had a great time returning to the part along with Jamie Foxx as Electro. Thanks to them, the generations of Spider-Man movies in the last two decades will be complete, promising quite the adventure.
Spider-Man: No Way Home is set to be releases on December 17, 2021. What characters from the three generations are you excited to see or want to see appear in the movie? Comment below and on our social media network channels and make sure you keep your webs spinning with The Illuminerdi for more movie news and features.
KEEP READING: SPIDER-MAN 3: WILLEM DAFOE SPOTTED ON SET TO REPRISE ROLE AS INFAMOUS SPIDEY VILLAIN
Source : Variety