Cruella is Disney's newest live action adaptation, but unlike others this is not a straight forward adaptation of an animated classic. Cruella explores the origins of the titular character in a completely new and unexpected way.
The Illuminerdi had the opportunity to attend a virtual press conference for Cruella with the stars of the film, Emma Stone and Emma Thompson. In the film Emma Stone plays Estella who through the course of the film becomes Cruella.
Emma Stone On Cruella's Transformation
During the press conference Emma Stone explained which character she prefers.
"Well, it's interesting, because there is a sort of rejection of Estella that comes at a point, and I think Estella is sweet, but she's not fully embodied. So, I would say there is something about Cruella that's pretty enticing, because she just kind of is. She's in full acceptance and autonomy there. So, I am kind of interested in that Cruella world. But, that said, she does some things, some lines that I don't think I would necessarily cross. But to be honest, I sort of prefer Cruella."
RELATED: CRUELLA DESIGNERS REVEAL THE DIVERSE INSPIRATION BEHIND EMMA STONE'S COSTUME, MAKEUP, AND HAIR STYLINGS
Emma Stone talked about how the film explores how something that may initially be seen as a weakness can be turned into a strength. And although this isn't a character people should aspire to be, there are a lot of things about her that are admirable.
"I would say that this is sort of a movie about that, about her strengths combating her weaknesses, I think, at least for that character, specifically. It's very nature versus nurture, this story. So, what she would find a weakness early on or what her mother would deem a weakness early on with just her ability to really hit the ceiling quickly, her kind of volatility, her reactiveness, becomes sort of her strength through her creativity and through her genius.

It's interesting. I think it really is a movie about how your weaknesses do sort of become your strengths, in a way. Although again, this isn't necessarily an aspirational character, so to speak, except for in the fact that she's really harnessing her creativity and who she is in a very strong way, and she's learning to accept that who she is in her nature does win in the end."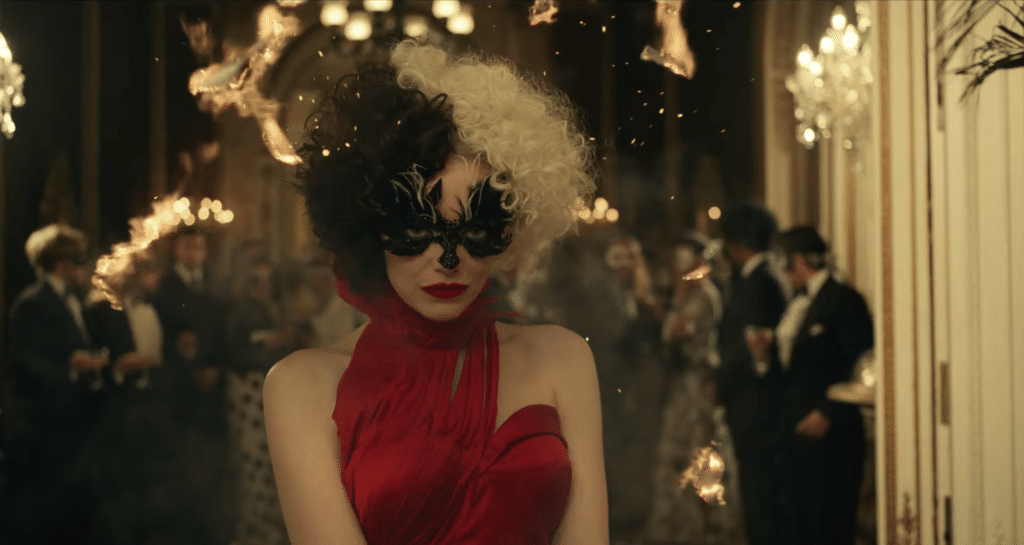 Emma Stone also explained how she approaches a villainous character like Cruella.
"I don't think I would ever be able to play a character if I truly thought, like, 'Oh, they're just bad, they're just a villain.'…Do you think anybody evil walks through the world thinking they're evil? I mean, I don't think so. I think they think they're right."
Emma Stone has clearly thought a lot about this character and her perspective. She obviously cares deeply about this film and character not only starring in, but executive producing the film. Cruella de Vil is one of Disney's most famously despicable villains, but the new film manages to add layers and depth to this character in no small part due to Emma Stone's performance.
CRUELLA OFFICIAL TRAILER AND SYNOPSIS
Academy Award® winner Emma Stone ("La La Land") stars in Disney's "Cruella," an all-new live-action feature film about the rebellious early days of one of cinemas most notorious – and notoriously fashionable – villains, the legendary Cruella de Vil. "Cruella," which is set in 1970s London amidst the punk rock revolution, follows a young grifter named Estella, a clever and creative girl determined to make a name for herself with her designs.

She befriends a pair of young thieves who appreciate her appetite for mischief, and together they are able to build a life for themselves on the London streets. One day, Estella's flair for fashion catches the eye of the Baroness von Hellman, a fashion legend who is devastatingly chic and terrifyingly haute, played by two-time Oscar® winner Emma Thompson ("Howards End," "Sense and Sensibility"). But their relationship sets in motion a course of events and revelations that will cause Estella to embrace her wicked side and become the raucous, fashionable and revengebent Cruella.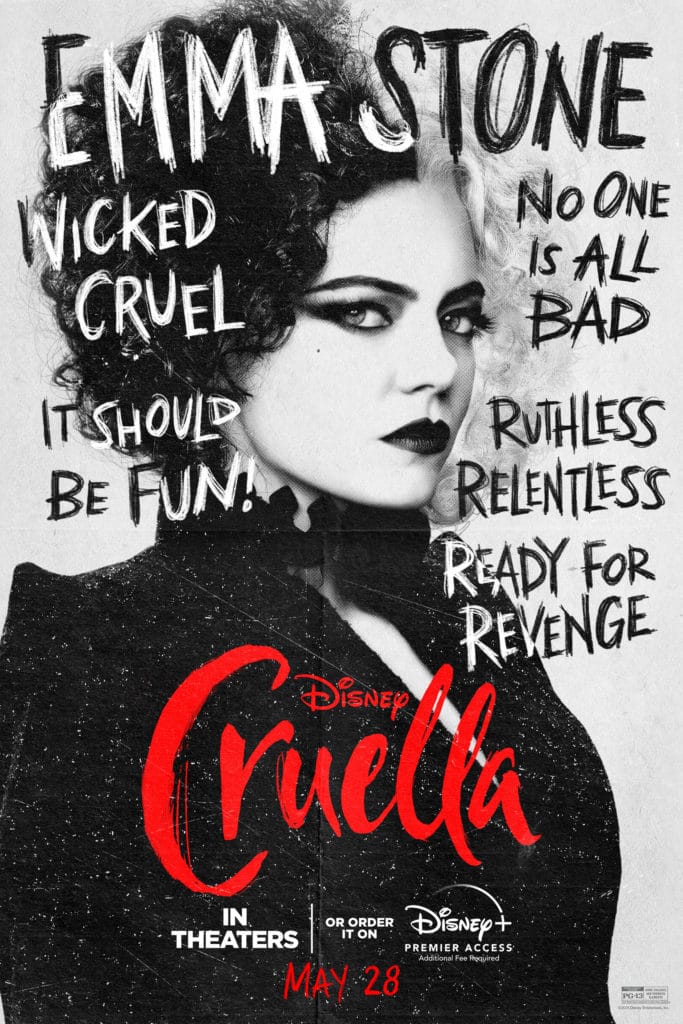 Cruella stars Emma Stone, Emma Thompson, Joel Fry, Paul Walter Hauser, Emily Beecham, Kirby Howell-Baptiste and Mark Strong. The film is directed by Craig Gillespie, with screenplay by Dana Fox and Tony McNamara, story by Aline Brosh McKenna and Kelly Marcel & Steve Zissis, based upon the novel "The One Hundred and One Dalmatians" by Dodie Smith. Cruella is produced by Andrew Gunn, Marc Platt and Kristin Burr, p.g.a., with Emma Stone, Michelle Wright, Jared LeBoff and Glenn Close serving as executive producers.
Cruella will be in theaters and available on Disney Plus with Premier Access Friday May 28, 2021. Are you excited to see Cruella? Leave your thoughts in the comments below or on our social media.
KEEP READING: CRUELLA: DARK DISNEY PREQUEL IS DEVILISHLY FUN