Cruella is the next live-action Disney film that fans can expect, but instead of the usual adaptation, the film explores the origins of one of Disney's most infamous villains, Cruella de Vil.
The Illuminerdi had the opportunity to attend a virtual press conference for Cruella. During the press conference costume designer Jenny Beaven and hair & makeup designer Nadia Stacey shared how the fashion helped tell Cruella's story. Jenny Beaven explained the inspiration behind Cruella's design and fashion.
"I think she comes out of the script, actually. And the story. Because we know where she ends up about 15 years later as Glenn Close, obviously. And so, there was definitely, in my mind, it had to just be possible that this character could become that character. And I think the inspirations were various because she's so diverse in all her different looks. And people have spoken of punk things. I think I just looked at so much stuff.

And then out of it, you kind of pull what appears to be the narrative thread. And, so of course I looked at Westwood and McQueen and Galliano, and BodyMap, and sort of dug into my past at Biba and, just trying to really find all those funny things that we loved. With slinky clothes, really. They were in great shapes in the '70s, actually. And, my memory actually served me well once. I tuned into my past, really."

Director Craig Gillespie also praised Jenny Beaven's work, "And you did this really nice thing with character where she would deconstruct stuff."

Jenny Beaven continued, "But I also just wanted to do a homage slightly to this modern thing where we are now, thank God, reusing stuff, and making. And that of course, that's the whole red dress thing, which she makes out of a dress she finds in Artie's vintage store. But so that sort of is also, but it's all there. You know, if you read it and you pull these little things, then she's probably done it before. And she's taken stuff and sort of remade it. And, I mean, as we did then a lot."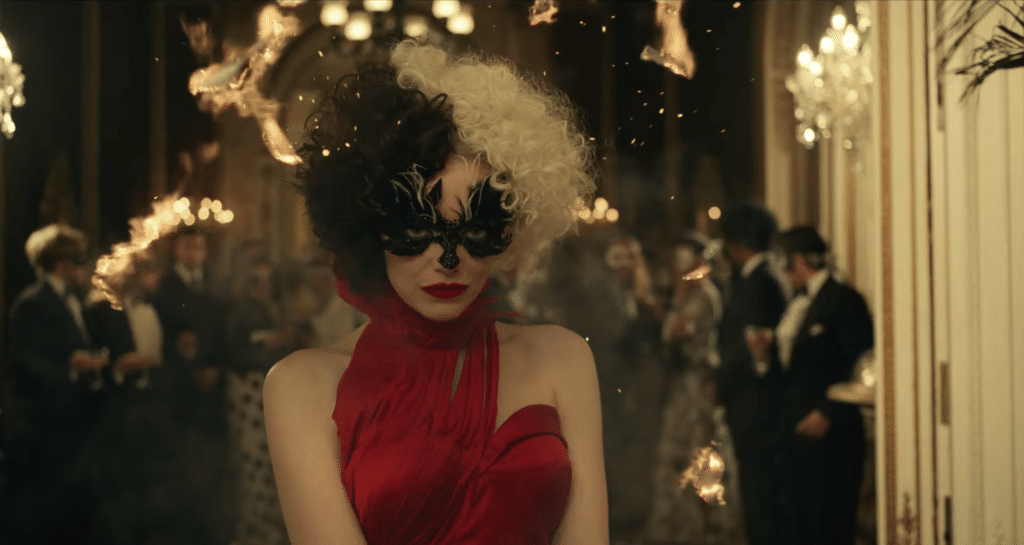 Jenny Beaven also talked about the arc from young Estella into Cruella through her style,
"Well, I think it's actually quite clear in the script. There's a real arc for her. And, hopefully we found that arc that you see her change over, from a child where she's obviously anarchic and rebellious and does things to her school uniform much like I remember. My wonderful associate designer, Sarah Young's sister, was quite an inspiration for that 'cause she used to turn her blazer inside out and various.

But you just see how she develops. And I think when she gets to The Baroness who is a little old-fashioned but a very good designer, she learns quite a lot and hones her skill. So, you can use all the elements that are actually in the story to make that change come about very naturally."
RELATED: CRUELLA TRAILER: WATCH EMMA STONE'S NEW TAKE ON THE INFAMOUS VILLAIN
Nadia Stacey who was a hair and makeup designer on Cruella talked about how the makeup was used as a source of disguise in the film.
"I think the biggest thing for me is that hair and makeup in this, which has never been, come off in a film before for me is that it's kinda used as a tool of deception. She's got to disguise herself from The Baroness. And so, when we first see Estella, it needs to be believable that she's a girl that's growing in the time in London. And then she's creating this persona in Cruella.

And so, when she first starts arriving to these red carpet moments, there's a kind of mask-like quality in all the makeups as well, 'cause she has to disguise herself. So, I needed the difference to be huge between the two looks. So, I needed to keep Estella quite simple so that we had somewhere big to go for Cruella."
Nadia Stacey also talked about the infamous Cruella hair. She first explained that wig designers were extremely busy while Cruella was being filmed and that it was difficult to get the wigs because the white hair needs to be processed in a specific way. She then explained the process of styling Emma Stone's Cruella wigs.
RELATED: CRUELLA MOVIE REVIEW: DARK DISNEY PREQUEL IS DEVILISHLY FUN
"I only had two wigs for a long time. So, I kind of kept using these wigs, and then changing them. And so, when she has, like, a bulb with the fringe, the fringe is a separate piece, so I change things, take things off, add things to. Which kind of all works with who she is.

And then, well, when I saw what Jenny was doing and how much she was changing up the costumes, it kind of all worked. But, it could've made it easier with sort of one or two styles. But once you start getting into it, and know that you've got the creative freedom to play with these looks, it was like, what can I do next?"
The fashion, make up, and hair are all huge parts of Cruella not only with the look of the film, but the story itself. With Cruella being a fashion designer in 1970s London and of course her infamous black and white hair Nadia Stacey and Jenny Beaven are integral to telling the story of Cruella.
CRUELLA OFFICIAL TRAILER AND SYNOPSIS
Academy Award® winner Emma Stone ("La La Land") stars in Disney's "Cruella," an all-new live-action feature film about the rebellious early days of one of cinemas most notorious – and notoriously fashionable – villains, the legendary Cruella de Vil. "Cruella," which is set in 1970s London amidst the punk rock revolution, follows a young grifter named Estella, a clever and creative girl determined to make a name for herself with her designs.

She befriends a pair of young thieves who appreciate her appetite for mischief, and together they are able to build a life for themselves on the London streets. One day, Estella's flair for fashion catches the eye of the Baroness von Hellman, a fashion legend who is devastatingly chic and terrifyingly haute, played by two-time Oscar® winner Emma Thompson ("Howards End," "Sense and Sensibility"). But their relationship sets in motion a course of events and revelations that will cause Estella to embrace her wicked side and become the raucous, fashionable and revengebent Cruella.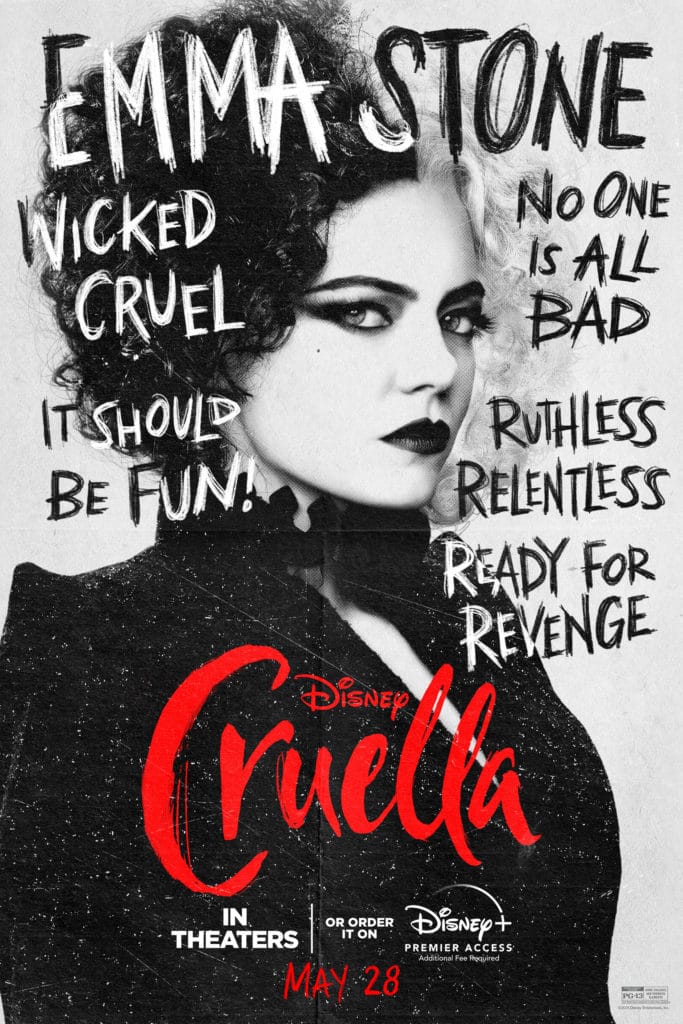 Cruella stars Emma Stone, Emma Thompson, Joel Fry, Paul Walter Hauser, Emily Beecham, Kirby Howell-Baptiste and Mark Strong. The film is directed by Craig Gillespie, with screenplay by Dana Fox and Tony McNamara, story by Aline Brosh McKenna and Kelly Marcel & Steve Zissis, based upon the novel "The One Hundred and One Dalmatians" by Dodie Smith. Cruella is produced by Andrew Gunn, Marc Platt and Kristin Burr, p.g.a., with Emma Stone, Michelle Wright, Jared LeBoff and Glenn Close serving as executive producers.
Cruella will be in theaters and available on Disney Plus with Premier Access Friday May 28, 2021. Are you excited to see Cruella? Leave your thoughts in the comments below or on our social media.
KEEP READING: CRUELLA STAR EMMA STONE ON THE SURPRISINGLY DARK DISNEY FILM AND ITS LONG PRE-PRODUCTION