After months of delays due to the global pandemic, production on Indiana Jones 5 has begun filming in the U.K. this week.
With filming under way some brand-new set photos have been surfacing around the web. We recently shared some details about the villain at the center of Indiana Jones 5, but at this time the official synopsis has not been released for the movie and new set photos still haven't given fans any idea what the film is going to be about. However, we do get a better look at how the production crew is going to crazy lengths regarding Ford's stunts.
New Set Photos From Indiana Jones 5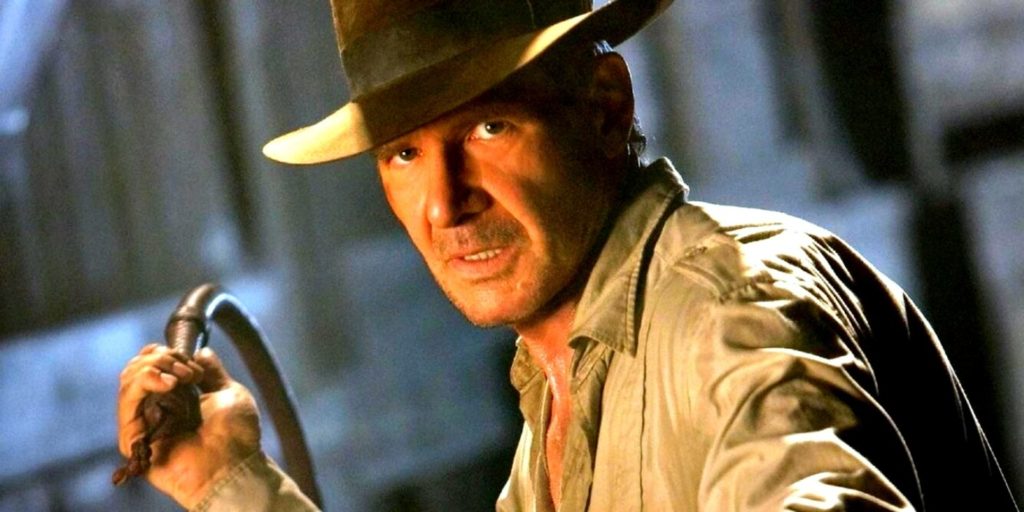 The character Indiana Jones is one of cinema greatest action heroes mostly due to his rough nature and crazy stunts would do to beat the guys. The set photos shared by twitter user @Div4der, shows Ford's stunt double wearing a mask that resembling the actor's face while riding a classic motorcycle. It's an interesting and creepy as well that the crew decided to use a mask of Ford while doing the stunts but it is likely because the actor is limited in what stunts he can do himself. While Harrison Ford has kept himself in great shape, it possible we'll see him perform some stunts as Indy once again.
RELATED: INDIANA JONES 5: STEVEN SPIELBERG'S UNEXPECTED DEPARTURE AS DIRECTOR; JAMES MANGOLD IN TALKS TO HELM
The new set photos may also indicate that the movie will be getting a flashback sequence with a younger Indiana Jones, as the set photos shows the stunt double rocking the classic jacket, fedora and whip fans of Indy are familiar with. It's possible the film may want to use de-aging technology at some point to bring Ford closer to his look from the first three films which is similar to how The Mandalorian brought Luke Skywalker at the end of the second season.  
RELATED: INDIANA JONES 5 ADDS PHOEBE WALLER-BRIDGE TO ITS CAST AND LEGENDARY JOHN WILLIAMS RETURNS
While much of Indiana Jones 5 remains under wraps, it's exciting to see Indy back in action and hopefully they will add something brand-new to the franchise. The movie will be directed by Oscar-nominated director James Mangold (Ford v. Ferrari), originally Steven Spielberg was the film's director, but chose to step down and remain on the film as a producer. Joining Harrison Ford on Indy's adventure is Phoebe Waller-Bridge (Solo: A Star Wars Story), Mads Mikkelsen (Fantastic Beasts') and Thomas Kretschmann (Avengers: Age of Ultron's).
Indiana Jones 5 is scheduled to release in theaters July 29, 2022. What do you think of the set photos? Are you looking forward to the sequel? Let us know in the comment section below or over on Twitter.
KEEP READING: INDIANA JONES 5: NEW DETAILS ON MADS MIKKELSEN'S VILLAIN CHARACTER AND FILM'S CONNECTION TO OUTER SPACE: EXCLUSIVE
Source: Cinema Blend