Walt Disney Studios recently dropped a Jungle Cruise featurette showing off the cast's chemistry. This was soon after their previous Big Adventure featurette which gave fans a look of the set and actors for a whole new adventure.
With the film a mere ten days away, it makes sense to amp up the advertisement and give details about the story and actors – including a short behind the scenes while actors Dwayne Johnson and Emily Blunt share their takes on the making of Jungle Cruise.
RELATED:MARK DACASCOS JOINS THE CAST OF LEGEND OF THE WHITE DRAGON
There is a lot of exciting surprises to look forward for this film, since it will not only be a thrilling adventure full of suspense, but also one full of humor. More important than discovering the different obstacles that Lily and Frank will encounter as they search for the special ancient tree is discovering the beloved characters and their relationship to each other.
Jungle Cruise: Behind The Scenes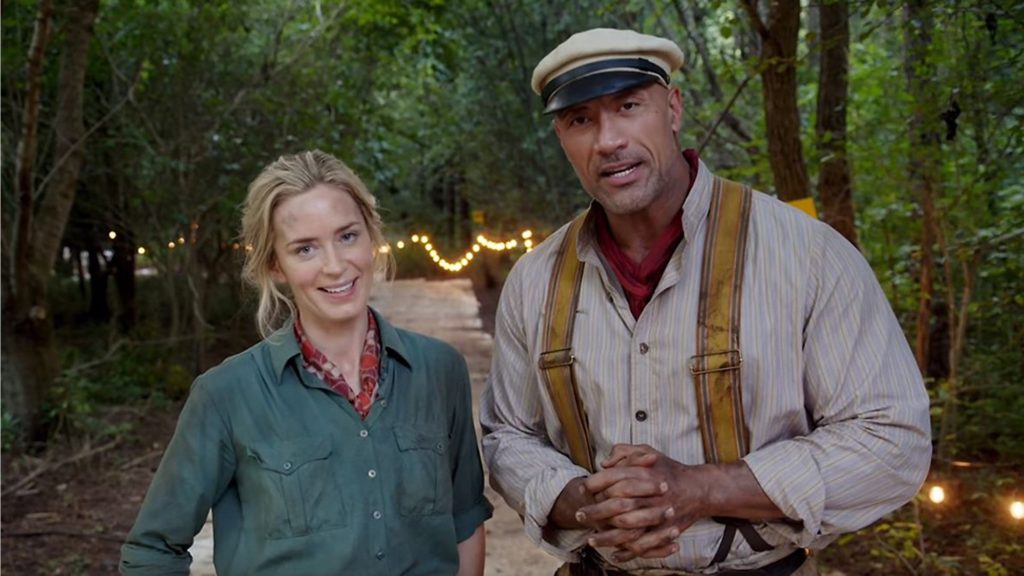 For this dangerous quest, there is definitely team work involved, and thankfully it's clear from the behind-the-scenes peek that both Johnson and Blunt make excellent partners. It's clear the cast and crew as a whole had fun both on and off set.
The fabulous leads even had a few words to say about each other's hard work while filming, which was previously revealed in the "Big Adventure" feature:
"Dwayne Johnson has become my most enormous buddy and I think I imagined that he would be large than life which physically he is," said Blunt. "But I usually show up Dwayne Johnson in the gym, I think he is a bit intimidated working out with me I think he need to up his game."
Here's what Johnson had to say about Blunt:
"She said I can bench more than you, I said yeah absolutely."
We all know that Jungle Cruise is inspired by the famous Disneyland theme park ride, but the film is shaping up to be an adventure-filled, rollicking thrill-ride down the Amazon with wisecracking skipper Frank Wolff (Dwayne Johnson) and intrepid researcher Dr. Lily Houghton (Emily Blunt). Lily travels from London, England to the Amazon jungle and enlists Frank's questionable services to guide her downriver on La Quila—his ramshackle-but-charming boat.
Lily is determined to uncover an ancient tree with unparalleled healing abilities—possessing the power to change the future of medicine. Thrust on this epic quest together, the unlikely duo encounters innumerable dangers and supernatural forces, all lurking in the deceptive beauty of the lush rainforest. But as the secrets of the lost tree unfold, the stakes reach even higher for Lily and Frank and their fate—and mankind's—hangs in the balance.
Jungle Cruise is directed by Jaume Collet-Serra, which features stars Dwayne Johnson, Emily Blunt, Edgar Ramírez and Jack Whitehall, with Jesse Plemons, and Paul Giamatti. Also, producers John Davis and John Fox of Davis Entertainment; Dwayne Johnson, Hiram Garcia and Dany Garcia of Seven Bucks Productions; and Beau Flynn of Flynn Picture Co., with Scott Sheldon and Doug Merrifield serving as executive producers. The story is done by John Norville & Josh Goldstein and Glenn Ficarra & John Requa, and the screenplay is by Michael Green and Glenn Ficarra & John Requa.
Disney's Jungle Cruise releases in theaters an don Disney+ with Premier Access on July 30, 2021. Be sure to follow The illuminerdi's social media page for more upcoming content and pop culture news.
KEEP READING: LOKI CREATORS DETAIL THE "REALLY SCARY" MISS MINUTES PERFORMANCE BY TARA STRONG
Source: Youtube