Caitlin Carmichael talks about the real events that inspired Midnight In The Switchgrass and what the new film has in common with Black Widow.
Lionsgate's newest crime thriller, Midnight In The Switchgrass, is inspired by events that resulted in the 2009 FBI Highway Serial Killings Initiative with hundreds of women going missing and being killed, with the suspects predominantly being long haul truck drivers. Midnight In The Switchgrass stars Megan Fox and Bruce Willis as FBI agents investigating a series of these killings in Pensacola, Florida, as well as Emile Hirsch as a local law enforcement officer who is also investigating the series of homicides.
The Illuminerdi spoke with Caitlin Carmichael who plays Tracy, the latest abductee of the killer, in Randall Emmett's directorial debut Midnight In The Switchgrass. Based on the killings linked to the 2009 FBI Highway Serial Killings Initiative Midnight In The Switchgrass oscillates between the law enforcement investigating the homicides, the serial killer, and his latest victim who is played by Caitlin Carmichael. She explains why Midnight In The Switchgrass hooked her and a similarity it has with Marvel's latest blockbuster.
"I was really excited that this project didn't seem to glamorize or have a sense of superficialness that revolved around the narrative of being kidnapped. And then I saw that it was based on real events and the highway serial killings initiative of 2009 for the FBI and that immediately hooked me."
In 2009 the FBI went public with their Highway Serial Killings Initiative which actually traces back to 2004 when an analyst for the Oklahoma Bureau of Investigation noticed a pattern. The remains of women were being dumped along highway interstate 40 in Oklahoma, Texas, Arkansas, and Mississippi. The cases were submitted to the FBI's Violent Crime Apprehension Program or ViCAP which led to the discovery that this was not isolated and there were in fact many patterns of bodies discovered along highways in the United States.
RELATED: PET SEMATARY PREQUEL: INTRIGUING NEW STORY DETAILS AND CHARACTER DESCRIPTIONS: EXCLUSIVE
The victims are primarily women who live high risk transient lifestyles and the suspects are mainly long-haul truck drivers. However, these cases are difficult to solve because of the lack of witnesses or forensic evidence as well as the fact that the cases cross multiple jurisdictions. The realities of the horrors in Midnight In The Switchgrass is something that isn't often featured in Hollywood although the abduction of young women has been an important aspect of Marvel's latest blockbuster.
CONNECTION BETWEEN BLACK WIDOW AND MIDNIGHT IN THE SWITCHGRASS
Black Widow touched upon human trafficking when it comes to the main characters and the Red Room which abducts and brain washes young girls to become assassins. Although the assassin element is based more in the comic book world the realities of young women being abducted, human trafficking, and forced servitude are something that can be tied back to real crimes that have inspired not only these storylines in films like Black Widow, but movies like Midnight In The Switchgrass as well. Caitlin Carmichael talked about why it is important for films like Black Widow and Midnight In The Switchgrass to bring these issues into focus.
"There's a really interesting line in the movie that I would say in my head is like the ultimate rallying cry for the characters in our story. Megan asks Bruce "If no one's really looking for you are you really missing?" and that's something that I think is centered around this narrative of the thousands of upon thousands of girls whose stories that we never heard.

And it was so important for me, I felt this huge responsibility in bringing my character's story to life in the most authentic way possible because my character Tracy is really serving as a symbol for a girl who is voiceless in a situation like this. And I feel really proud to be a part of a project that is giving a voice to voiceless girls in this situation."
Bringing a voice to the voiceless is no easy task and it is one that actress Caitlin Carmichael takes very seriously. Caitlin also spoke about researching the actual events surrounding the Highway Serial Killings Initiative for Midnight In The Switchgrass and how the truth behind these events gave her an immense sense of responsibility.
RELATED: BLACK WIDOW'S DAVID HARBOUR WANTS RED GUARDIAN TO GET REVENGE AGAINST HAWKEYE
Bringing these events to light is no small task and the fact that more films, like Midnight In The Switchgrass and Black Widow, are shedding light on the truth of these horrifying crimes that target women and children is important. The Highway Serial Killings Initiative which began in 2009, but can be traced back to 2004, has led to the conviction of numerous killers, but it's something that is still a hugely relevant issue today.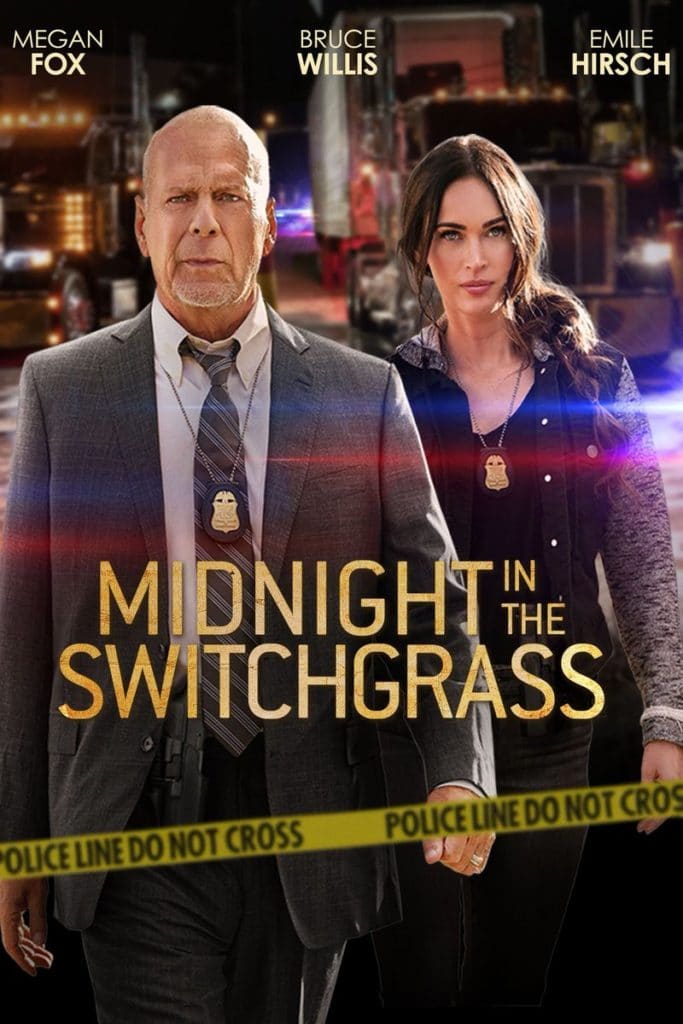 Midnight In The Switchgrass is written by Alan Horsnail and directed by Randall Emmet. Midnight In The Switchgrass stars Emile Hirsch, Megan Fox, Bruce Willis, Lukas Hass, Caitlin Carmichael, and Colson Baker aka Machine Gun Kelly.
Midnight In The Switchgrass will debut in theaters and On Demand July 23, 2021. Are you going to see Midnight In The Switchgrass? Leave your thoughts in the comments below or on our social media.
KEEP READING: JOE BELL REVIEW: EMOTIONALLY RESONATING PERFORMANCES CAN'T COMPENSATE A BLAND SCREENPLAY