Coming to Hulu in just a few days, Vacation Friends is about the party animals you wish you knew.
The new R-rated comedy stars John Cena, Lil Rel Howery, Yvonne Orji, and Meredith Hagner putting out some of their finest comedy work with a gleefully smart and mischievous script by Silicon Valley writer Clay Tarver.
During a vacation in Mexico, straight-laced, down-to-earth couple Marcus and Emily meet unruly hedonists Ron and Kyla. When the four become much closer "friends" than Marcus and Emily would prefer, they become a brilliant "odd couple of couples", making Vacation Friends an absurdly funny film with a deep heart.
RELATED: VACATION FRIENDS IS A UNIVERSAL FEEL-GOOD COMEDY
Last week, I got to attend the insane virtual press conference and I'm here now to break down the magic chemistry behind this cast and how Tarver was able to successfully pull off his directorial debut in the middle of a pandemic!
VACATION FRIENDS DIRECTOR TALKS ABOUT THE BALANCE OF IMPROV AND SCRIPTED MOMENTS
When asked about the relationship between allowing improvisation vs. sticking to the script, Tarver agreed that comedy needs to be "a weird balance of precision and openness…you just find the windows to really open it up a lot." An essential ingredient to the success of the performances was that Tarver helped each actor make the characters their own, and "steering" their characters towards the strengths of each actor.
"They were all just so good and so convincing to me. It really did feel like two couples who'd known each other for a really long time. The chemistry I found was just amazing."
RELATED: EXCLUSIVE INTERVIEW: SWEET GIRL DIRECTOR ON STAR JASON MOMOA AND WHY ISABELA MERCED WAS PERFECT FOR HER ROLE
Orji also praised Hagner's jaw-dropping improvisation skills as Kyla.
"You just let her go. There were so many times where…she was just like 'and another one!' [even though it] was funny in the last take. She's definitely just a fast-talking, full-of energy, hyper woman and she really encapsulated the character…There were some times where…you forget to be in it, because you're just [watching her go] like 'Where did that come from?'"
Howery said he enjoyed working with Cena because of how passionate and willing Cena was about his work, even comparing their outrageous duo to the iconic team of Gene Wilder and Richard Pryor.
"I remember we were on a boat, and we were just talking about wrestling…I'm a big wrestling fan too, so I'm like 'Yo he actually really loves what he does!' Working with somebody that loves what they do, and are so passionate about it, made it easy…John was open to trying things and having fun with them. Even if it was the silliest thing, he did it. So yeah, hopefully, we can beat Gene Wilder and Richard Pryor."
VACATION FRIENDS HAD TO GO THROUGH A LOT OF CHANGES TO GET IT RIGHT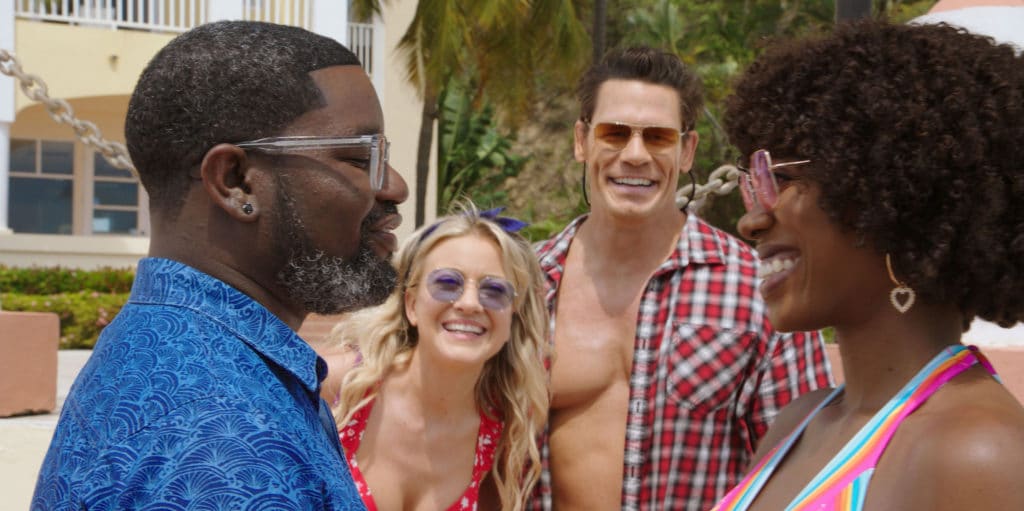 Vacation Friends is a film that had been in development since early 2014, originally starring Chris Pratt and Anna Faris in the roles now played by John Cena and Meredith Hagner. After Pratt's career took off with Guardians of the Galaxy and Jurassic World, the movie fell into development hell, with even Ice Cube signing on to star at one time and getting a rewrite from Spider-Man: Homecoming writers Jonathan Goldstein and John Francis Daley at another point.
RELATED: HE-MAN AND THE MASTERS OF THE UNIVERSE: NETFLIX RELEASES SURPRISE TRAILER FOR CG REMAKE
Close to a decade later, the script has gone through countless iterations, giving Tarver a lot of material to handpick for his final draft. The director was asked about deleted scenes and script cuts, Tarver confessed that it was a necessary evil in order to keep the movie sharp and fast.
"There was a lot of previous drafts. But we left some stuff, and you know, you have to cut things (even the things you love!) just to make the time and keep the pace going. It's a really brutal thing to do, but the movie requires it, right?"
But Tarver's script revision clearly paid off, as Howery noted that, despite the wickedly funny cast, most of the best lines simply came from the smart writing.
"That's one of the funny things about doing a well-written comedy. The words were there, so all [we] did was make the words come to life."
Tarver also noted that he used his comedy experience from Silicon Valley to keep the cast's slapstick reactions fresh and genuine, even with endless takes.
"There were four people in every scene, which means we have to do a lot of coverage…so everybody has their moment and you can put together the comedy [in editing]. I like comedies that are authentic [where] even though they're pushed and it's crazy…the reactions are real. So a lot of that is keeping the improv going…so it feels real."
[Click on Page 2 below for more from the Vacation Friends' press conference.]