Announced in March 2021, Marvel Studios' Echo has long been a mystery project.
We know the show will be a spin-off of the upcoming Hawkeye series, and we know Alaqua Cox has been cast as the title character. But little more is known beyond that.
RELATED: MOON KNIGHT: OSCAR ISAAC EXPLAINS DECISION TO JOIN THE MCU AFTER DISAPPOINTING X-MEN: APOCALYPSE ROLE
Echo herself is not a well-known character. As a Native American with a hearing-impairment, she's certainly an exciting character to be leading a superhero series. In the comics Echo has close ties to both Matt Murdock/Daredevil and Wilson Fisk, AKA Kingpin. With both of these characters rumored to make their proper Marvel Studios debut this winter in Hawkeye and Spider-Man: No Way Home, it seems possible that they could carryover into the Echo series as well.
But Who Is Writing Echo?
We noticed in July that Better Call Saul writer Marion Dayre had been quietly recruited by Marvel to write a new series.
The first clue came from San Francisco State University, where they said "Ms. Dayre…is currently lead writer for a Marvel television series in development."
The second clue came from her own social media, where her writing credits read "TBA @marvel"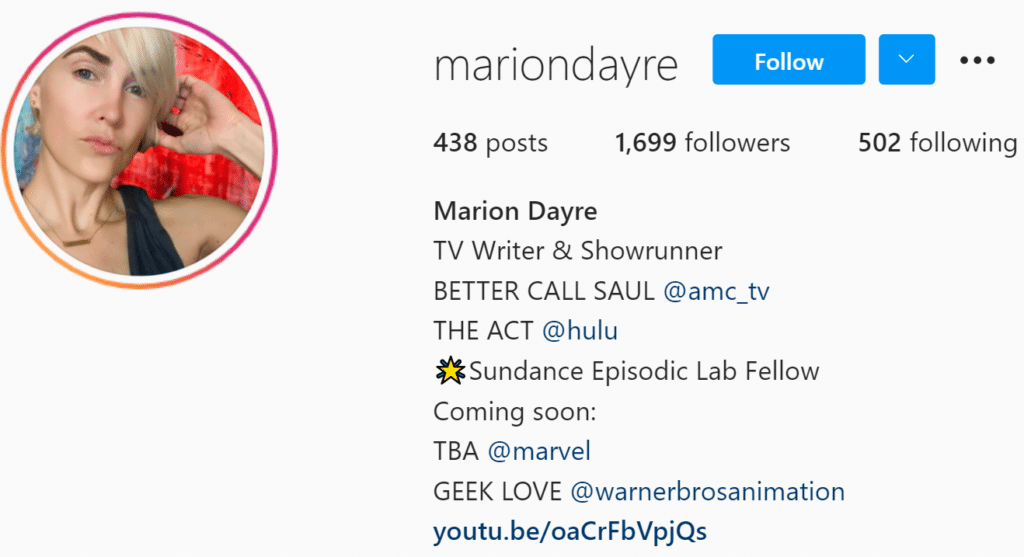 And now a third clue has arisen, again from Dayre's own social media. In her latest Instagram story, Dayre posted a single image that slid all the pieces into place:
The woman in this picture is Echo, and the image is from the comic Daredevil: Vision Quest. This could be some twisted misdirection or it could be an unofficial confirmation that Dayre is writing on Marvel's Echo series. Possibly, it could even be a tease of Daredevil's involvement in the show.
But this is where it gets complicated.
In the Echo announcement from March, Etan and Emily Cohen were announced as the writers for the show. Although the Variety exclusive did not specify, they were assumed to be the head writers. But in the San Francisco State University description above, Dayre is listed as the "lead writer" for her Marvel show. Did SFSU make a mistake, is Dayre leading another show, are the Cohens not the head writers, or is there a distinction between head writer and lead writer? Who knows! Things are still falling into place, but we're sure to find out more on November 12 during Disney+ Day.
Before her spinoff show, Echo will debut in Hawkeye, coming to Disney+ on November 24. According to our friend Lizzie Hill (head of The Cosmic Circus), the Echo series is expected to film this January, in time for late 2022 or early 2023 release date. What's your most anticipated upcoming Marvel show? Are you excited to see Cox as Echo in Hawkeye? Let us know on our social media!
KEEP READING: SPIDER-MAN: NO WAY HOME'S TRAILER SECRECY ADDRESSED BY KEVIN FEIGE
Source: Variety, San Francisco State University, Marion Dayre (Twitter), Marion Dayre (Instagram), Lizzie Hill