Alan Moore has written some incredible comics in his time, but The Show further exemplifies that what is well-written is not always well-filmed.
According to its official synopsis, The Show focuses on a frighteningly focused man of many talents, passports and identities arrives at England's broken heart: a haunted midlands town that has collapsed to a black hole of dreams. Once there, he find that this new territory is at least as strange and dangerous as he is. Attempting to locate a certain person and a certain artefact for his insistent client, he finds himself sinking in a quicksand twilight world of dead Lotharios, comatose sleeping beauties, Voodoo gangsters, masked adventurers, unlikely 1930s private eyes and violent chiaroscuro women…and this is Northhampton when it's still awake.
RELATED: DISNEY'S "CRUELLA," THE MOVIE EVENT THAT KICKED OFF THE SUMMER, WILL BE AVAILABLE TO DISNEY+ SUBSCRIBERS
Once the town closes its eyes there is another world entirely going on beneath the twitching lids, a world of glittering and sinister delirium much worse than any social or economic devastation. Welcome to the British nightmare, with its gorgeous flesh, its tinsel and its luminous light-entertainment monsters; it's hallucinatory austerity. Welcome to The Show.
So What Went Wrong With The Show?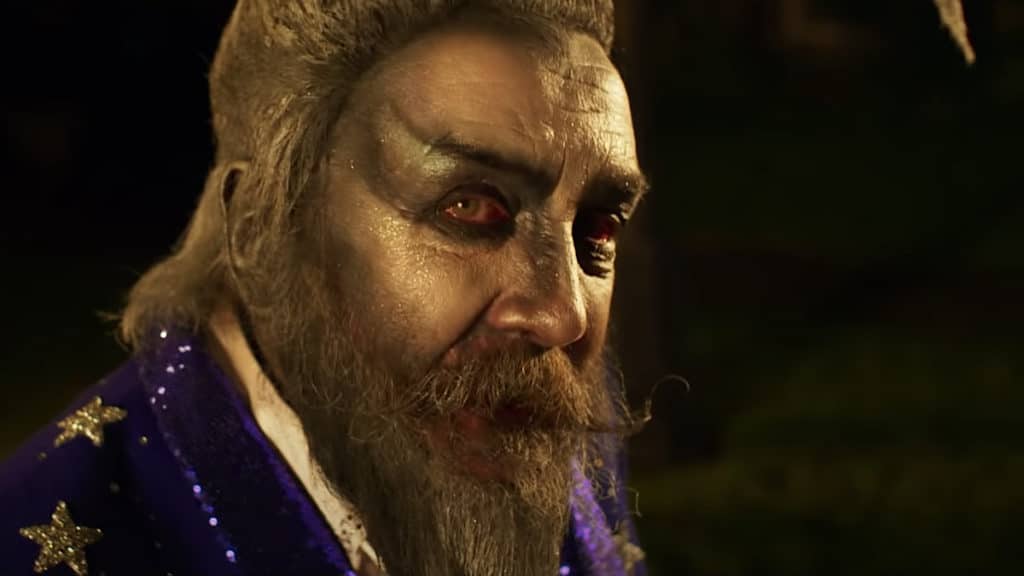 Alan Moore is a comic book legend. He created Watchmen, V for Vendetta or the famous Batman comic The Killing Joke. Now he wrote the screenplay for The Show, a mystery thriller about dreams, dead people and a crime. And to put it simply, he should get back to comic books.
This is exactly what the film felt like and probably should have been: a comic book. The 115 minutes runtime basically only consists out of a ton of character conversations. Our protagonist (Tom Burke) goes talk to one person, then gets interrupted by a phone call and goes to talk to that person, only to then come back to the first person and start the next conversation. And most of the conversations are just exposition talk, to explain this "twilight world", which you already don't care about as it rarely gets shown and when it does it's just another block of boring exposition talk.
Also not helping are the lifeless performances, bland directing, weak character work, which you would expect would be a strength from the author who created for example The Watchmen. There just really isn't anything that I even halfway liked. While the concept, could certainly make a interesting story, it maybe should have been a graphic novel first and then get adapted from people with a vision.
The Show is a snooze fest. Just a repetition of different conversations, that lead nowhere and just strained my investment level in the film. Only recommendable to hardcore Alan Moore fans, who might find some enjoyment out of the potentially interesting concept.
1.5/5
The Show hits select theaters for one night only August 26, 2021. It is directed by Mitch Jenkins and written by Alan Moore. It stars: Tom Burke, Ellie Bamber, Siobhan Hewlett and Darrel D'Silva.
What do you guys think? Are you planning to watch it? Which is your favorite Alan Moore Graphic Novel? Let's discuss everything in the comments down below and on our Twitter.
KEEP READING: COULSON LIVES: CLARK GREGG TEASES EXCITING RETURN OF AGENT COULSON IN WHAT IF…? EPISODE 3