Co-writer and director Tim Fehlbaum's newest post-apocalyptic science fiction film, The Colony, explores the story of an astronaut crash landing on Earth years after most of the populace has fled. When she lands she discovers an unexpected society of survivors on the water-logged wasteland planet and she unexpectedly is thrust into making a decision that will decide the fate of all survivors and this new society she has found. The film explores very real relevant questions about colonization, patriarchy, and infertility through the main character in this strange future version of Earth.
The Colony fully follows the main character, Blake, as she learns more and discovers secrets about this new planet and society without ever fully explaining things to Blake or in turn the audience. Director Tim Fehlbaum explained why they chose not to explain things to the audience beyond what Blake learned.
"We tried to tell it very much from her perspective. So, we wanted the audience to feel with her, to discover everything and why should anyone explain to her, you know for these people she's just like almost an alien. They are not interested in explaining anything to her.

That's also why we didn't subtitle the language that she's hearing of these survivors, how they speak, because we wanted as good as possible for the audience to experience this journey together with her. So that was the idea where we also felt like it might be even more interesting if we don't explain too much about the world and just you go with the flow and the vibe."
RELATED: EXCLUSIVE INTERVIEW: SWEET GIRL DIRECTOR ON STAR JASON MOMOA AND WHY ISABELA MERCED WAS PERFECT FOR HER ROLE
With Blake's perspective being the way audiences are immersed into this new world it's no surprise that the relationships she forms with the other characters are so important in understanding this world. One relationship that stands out in The Colony is between Blake and one of the women, Narvik, of the new society who are referred to as Muds. Narvik and Blake have a compelling arc throughout the film and Tim Fehlbaum revealed a behind the scenes detail that makes it even more interesting.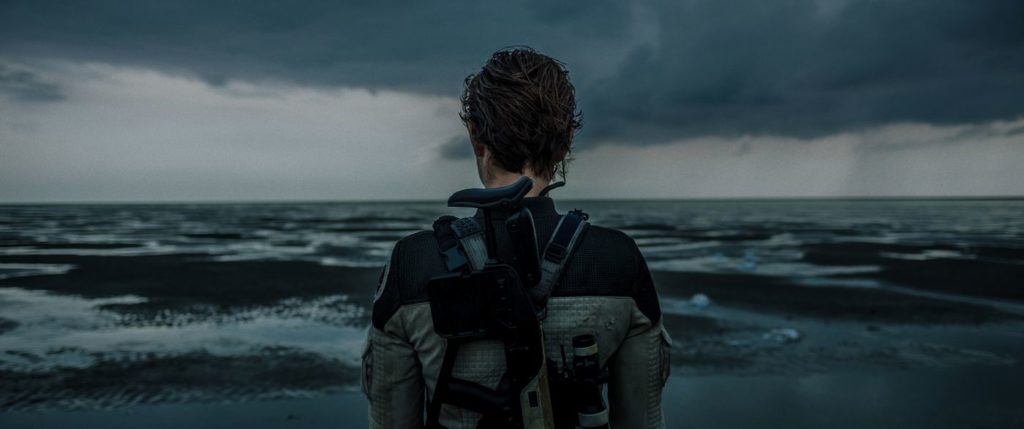 "The character of Narvik actually first was written for a man. And then it felt, the co-writer and I, we just discussed it's just now your typical story somehow. There was a little bit of a love story going on also between the two just in a very subtle way. And I just felt like, "Ah no, this is like, it's a woman astronaut and of course she's falling in love." And I just think, "No, that's not cool." I mean this story is not about the woman falling in love.

And then we just came up with the idea like, "Wouldn't it be like, cool, if we changed nothing about the character, but just make it a woman?" And that it is more about, has this energy of these two women bonding and fighting against this patriarchy that is there. So that's, just came, then, in the process and then we hardly didn't change anything in the script besides making all the "he's" to "she's." and maybe that's something that makes them also like an interesting vibe about it."
WHY INFERTILITY IS A MAJOR MOTIVATOR FOR THE ASTRONAUTS IN THE COLONY
This change to Narvik also lends itself well to one of the main themes of The Colony which is children and infertility. In The Colony, those who fled Earth in order to survive landed on a planet with radiation that has left them unable to conceive. This inability to continue the human race is the main motivator for astronauts to return to Earth in hopes of reversing the adverse effects on their bodies.
RELATED: EXCLUSIVE INTERVIEW: SWEET GIRL DIRECTOR ON HOW VILLAINS LIKE ANTON AND HEATH LEDGER'S JOKER INSPIRED THE FILM'S BIG BAD
Tim Fehlbaum explained what gave them the idea for this motivation and how it is actually based in scientific possibility based on what he learned when speaking with scientists at the Deutsches Luft- und Raumfahrt or as he refers to it "German NASA."
"So, it was also talking to these scientists actually, at this German NASA I call it now, and they told us another thing that we don't know about space travel and this is something that we thought is interesting, how this traveling to other planets or living maybe on another planet would affect the human body. And there are theories that it's not very clear of what it would make us for the whole reproduction for humans.

And so, then we said, 'Wouldn't it be an interesting idea that on this planet because of the radiation they can't reproduce anymore and now they have to come back to Earth because obviously also children symbolize hope or the future.' So, we thought, this is a good motivation for them to come to Earth and then she's amazed by seeing children for the first time."
Tim Fehlbaum has clearly put a lot of thought and passion into The Colony and when he talks about the process of building the story his enthusiasm is obvious. The Colony takes ideas that have been important throughout history, and still are today, and explores them in this strange futuristic version of Earth. The motivation of infertility, the confusion and mystery surrounding the exploration and discovery of a new world and society that Blake is unexpectedly thrust into make for a story full of mystery while also bringing it back to very familiar themes.
Colonization is a huge aspect of The Colony as is the patriarchal perspective on it which makes Blake the perfect person to explore and even challenge this idea. Tim Fehlbaum tells a very human story in a future that is unrecognizable which leads to interesting relationships and revelations throughout the film.
The Colony is now in theaters and is available for rent or purchase on Amazon. Are you going to watch The Colony? What do you think about Tim Fehlbaum's decision to base the motivation to return to Earth on infertility? Leave your thoughts in the comments below or on our social media.
KEEP READING: SHANG-CHI DIRECTOR REVEALS WHAT DREW HIM TO THIS FILM AND WHAT HELPFUL ADVICE BLACK PANTHER DIRECTOR RYAN COOGLER GAVE HIM