The Last Duel is based on the book, The Last Duel: A True Story of Crime, Scandal, and Trial by Combat in Medieval France, written by Eric Jager. Jager spent years researching this famous historical event, the last officially recorded trial by combat. When Matt Damon picked up a copy he immediately thought Ridley Scott would be the perfect director to helm an adaptation of the book.
The Illuminerdi had the opportunity to be a part of a virtual press conference for The Last Duel with Matt Damon and Ben Affleck (who both star in, co-wrote, and produced The Last Duel), star Jodie Comer, and co-writer Nicole Holofcener.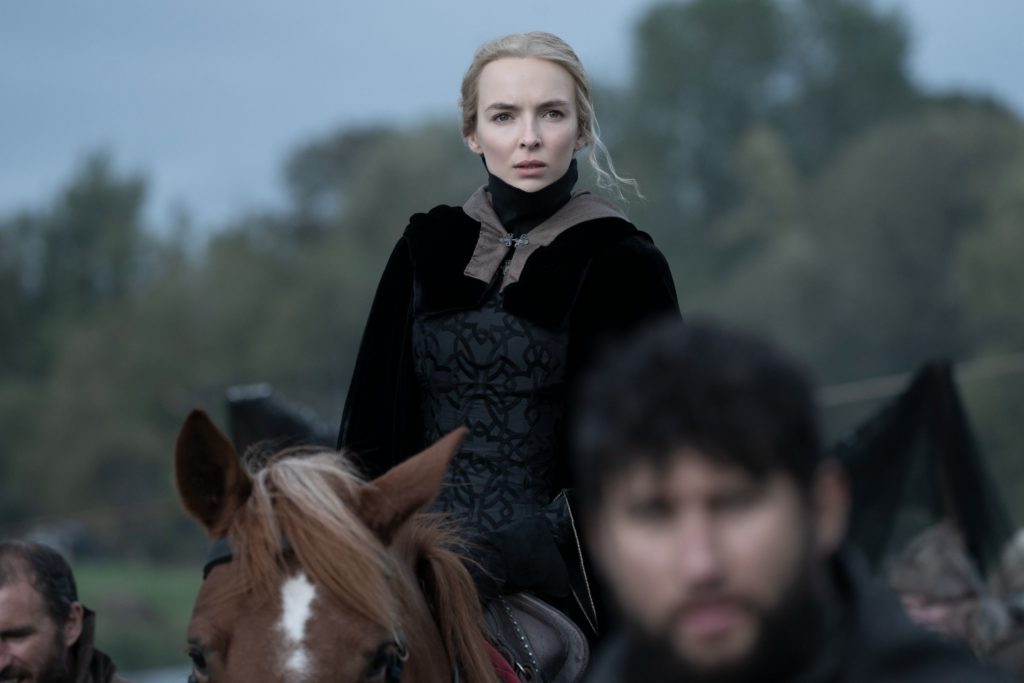 During The Last Duel press conference Matt Damon, Ben Affleck and Jodie Comer talked about working with Ridley Scott and explained why he was the perfect choice to helm this film. Matt Damon has worked with Ridley Scott before on The Martian, but Jodie Comer talks about working with him for the first time.
Jodie explained, "I mean, well, for me, it's like, when a script comes from Ridley Scott, and he wants to meet you…"

Matt Damon replied, "Yeah. Pretty easy."

Jodie agreed, "You're like [LAUGH] yes. I will. And then I read the script and I was so fascinated by the structure of it and this idea of there being three perspectives but, ultimately, only one truth. And then, I remember when I met Matt early on and Matt was like, you should know, he works at a pace. Like, he has four or five cameras rolling. It's fast. He kind of gave me a little heads' up.

And then I got to set, and I was like, oh, no kidding. I've never worked like this before. It was just really fascinating to see how he makes his decisions, you know? His attention to detail, whether it be, through the characters in the story or the locations, and the set-design. He doesn't miss a trick. And the film has a lot of heart. But it's a spectacle. And it has the fighting and the duels, and I mean, he's so great at."
RELATED: THE FOREVER PURGE EXCLUSIVE INTERVIEW: WRITER JAMES DEMONACO REVEALS NEW THRILLER WAS ORIGINALLY A LOVE STORY
Matt Damon then explained why he brought the book, The Last Duel: A True Story Of Trial By Combat In Medieval France, to Ridley Scott hoping that they could work together on the project after having collaborated on The Martian. Matt Damon also revealed how he and Ben Affleck decided to write The Last Duel together, the first time since Good Will Hunting.
Matt Damon explained, "Well, from the moment I saw the cover of the book, The Last Duel. And Ridley's first movie, obviously, is The Duelist. And I'd been looking for something 'cause, we did The Martian together six years ago. And I just had the best time working with him. And partly, it's what Jodie's saying. The four cameras at a time. The amount of momentum that you get…"

Jodie added, "And presence. 'Cause he's so present."

Matt Damon agreed, "Yeah. It's all of the energy's just around, right on the floor…And it's really exciting. And I just love that. And so, I originally gave him the book and he said right away, he read it and wanted to do it and we were looking for a writer. And I was havin' dinner with Ben and told him the idea.

And he was like, "Well, why don't we write it?" And I was like, "What? You wanna write that?" [LAUGH] Like, sure…We were kind of off to the races, but [Scott] was the perfect guy to do it. As Jodie said, the scale that he does everything at and he's great with us and it was delicate with the three different kind of perspectives. 'Cause we were playing really kind of three different versions of these characters."

Ben Affleck then added, "Ridley's style of filmmaking was so impressive and exciting and energizing and made you feel so alive. You know, you're on camera, they're on, everyone's, it's all happening on point. That I immediately, as a director, thought, I'm gonna steal this. This is what I'm gonna do."
BEN AFFLECK AND MATT DAMON BREAK DOWN RIDLEY SCOTT'S APPROACH TO THE DUEL ITSELF IN THE LAST DUEL
Matt Damon and Ben Affleck further explained why Ridley Scott was the right choice for The Last Duel by highlighting how Scott took on the duel itself. Matt Damon explained how Eric Jager, the author of The Last Duel: A True Story Of Trial By Combat In Medieval France, the book The Last Duel is based on, was meticulous in his description of the actual duel. Jager used historical documents and records of the actual event to figure out exactly how the duel happened step by step.
RELATED: EXCLUSIVE INTERVIEW: THIS IS THE NIGHT DIRECTOR JAMES DEMONACO EXPLAINS HOW HE PURGED THE PURGE WITH HIS HEARTWARMING NEW FILM
However, Matt Damon and Ben Affleck also broke down how the duel is historically accurate in spirit, but Ridley Scott made it more cinematic in scope and feel for the film. Matt Damon explained:
"And it was decidedly uncinematic because these guys were in, basically, they looked like giant tin cans. The only visible showing, they had these tiny eye slits and then, it would have been a really awkward affair. And it wouldn't have looked very good. So, Ridley kept the bones of the duel. The duel did happen three joust passes, they came off their horses, they went to axes, swords, then daggers.

That all is true. But Rob Inch, our stunt coordinator, really invented this beautiful choreography with Ridley. And they figured out how to shoot it.  And that's that great thing about collaborating with great people, is they just, they made the duel, they kept the spirit of the duel and exactly what really happened.

The same person won, in history, who won in our movie, like all of that stuff is in the same way, and he actually did say that line, that was the last thing he said. All the dialogue is from the actual recorded event. But, Ridley making it, it's a Ridley Scott duel, so we have visors where half our face is showing and you know what I mean? It's, beautiful and visually."
Ben Affleck quickly added:
"And we kind of knew he would make it great. [LAUGH] It was like, look, here's what happened. You're gonna make it, we're not gonna tell ya how to do it."
Ridley Scott was the perfect choice for this medieval tale sprawling across years and told through three different perspectives. Scott brings an epic cinematic scope to the battle sequences, notably the duel itself, while also thoughtfully approaching the more sensitive subject matter. The duel itself, the last recorded trial by combat, was fought by Jacques Le Gris and Jean de Carrouges after Marguerite de Carrouges came forward, at great risk to herself, and accused Le Gris of rape.
[Audiences should be aware there are scenes that depict sexual assault in The Last Duel.]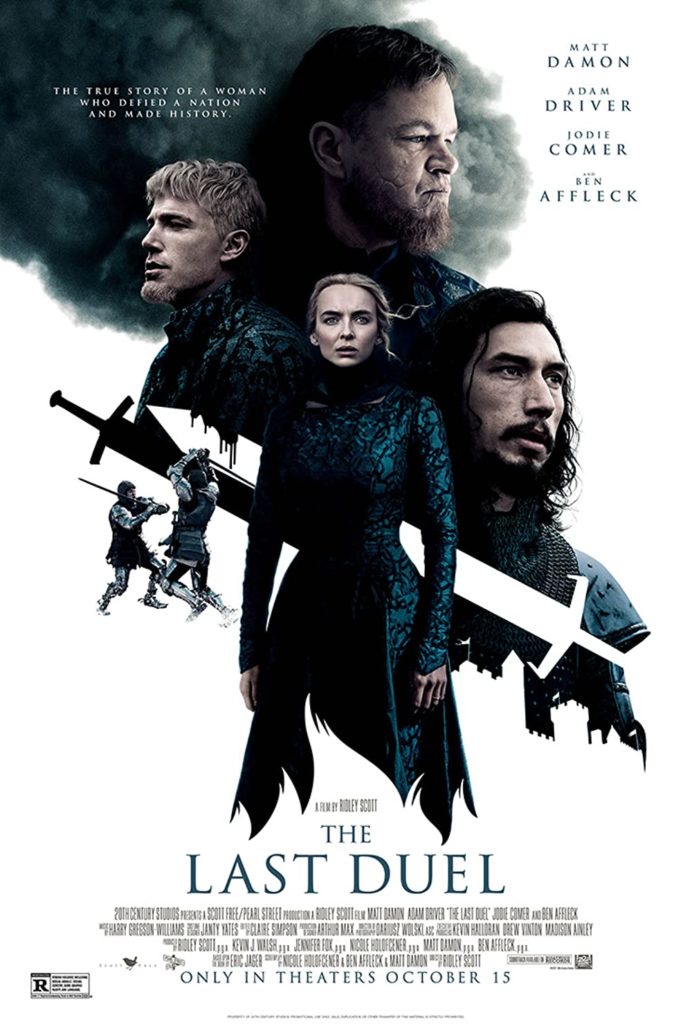 The Last Duel is directed by Ridley Scott and written by Matt Damon, Ben Affleck, and Nicole Holofcener. The Last Duel stars Matt Damon, Ben Affleck, Jodie Comer, and Adam Driver. The Last Duel will hit theaters October 15, 2021. Are you going to see The Last Duel? Leave your thoughts in the comments below or on our social media.
KEEP READING: THE LAST DUEL: BEN AFFLECK AND MATT DAMON REVEAL WHY THEY HAVEN'T WRITTEN TOGETHER SINCE GOOD WILL HUNTING