Newcomers to the Chucky franchise, Bjorgvin Arnarson, and Alyvia Alyn Lind open up about working with creator Don Mancini and how the show will flush out the backstory of the serial killer stuck in the killer doll.
It's the perfect time of year to reintroduce Chucky to audiences on the small screen. Chucky made his debut last night on the USA Network and SyFy channel in the new, self-titled horror series. Stars of the show, Bjorgvin Arnarson who plays true-crime podcast host, Devon Lopez, and Alyvia Alyn Lind, who plays the popular girl at school and bully, Lexi Taylor opened up about working on the iconic horror franchise during the pandemic and really finding their characters in the first season of the show.
The Illuminerdi Interviews The Cast of Chucky
RELATED: CHUCKY SERIES WILL TACKLE WILL TACKLE MAJOR ISSUES TEENS FACE TODAY
Bjorgvin and Alyvia shed some light on some of the issues the two teens face throughout the course of the series and they talk about working with the iconic killer doll, Chucky on set.
Chucky Stars Discovered Parallels With The Past Films And The New Series
The Illuminerdi had the chance to participate in a roundtable with the newest stars of Chucky!
I'm just curious if when you got the role, whether you went back and did some research on the original films and whether you enjoyed them? Were you fans of Chucky before joining Chucky?
Alyvia Alyn Lind: I was definitely a big fan of Chucky. I had seen all the movies. I'm very into horror, so any horror movie ever out there I have probably seen. I had seen all of them. We had a two-week Canada quarantine when we got to Toronto. In the quarantine, they also re-watched all of them, and they were just as good a second time.

Bjorgvin Arnarson: I'd never seen the movies, but I obviously know Chucky. Who doesn't? But after booking it, I watched all the movies from beginning to end and they were awesome. I enjoyed all of them. They're a little bit of fun, a little bit scary. It's a great mix of them both.
RELATED: THE PURGE 6: NEW EXCITING DETAILS ON THE FRIGHTENING STORY FOR THE NEXT INSTALLMENT: EXCLUSIVE
In recent years, bullying has become a real true-life horror story for a lot of teens out there. Can you talk to me about how the series touches on the subject matter of bullying?
Alyvia Alyn Lind: Yeah, we start the series finding Jake, who is this outcast, artsy loner type. My character, Lexi, is an easy target. I had to deal with a lot of bullying, just being in the industry that I'm in and also just being a teen, so I have that.

I've kind of almost used it. I've used my experiences to figure out Lexi and… I guess all works out in the end, but we definitely touch on it in a way that makes every kid feel heard and seen. I'm hoping that anybody who watches it who maybe is going through the same thing can relate to it.
RELATED: THE FOREVER PURGE EXCLUSIVE INTERVIEW: WRITER JAMES DEMONACO REVEALS NEW THRILLER WAS ORIGINALLY A LOVE STORY
Samuray Del Sol: I'm a huge fan. I'm a huge fan and I'm a luchador. I'm a Lucha-gore guy, so I love talking horror, and Chucky's one of my favorites. First of all, I'm sure you're a Chucky fan, but what's more exciting about this show? What's the difference in your opinion?

Bjorgvin Arnarson: I think it's cool being able to work with Chucky. I guess that's a big one, being able to work with him and seeing how he works because I've seen the movies and I was like, "How does this guy move?" Then it's cool to see all the puppeteers there and moving this guy and just being there with the doll.

Alyvia Alyn Lind: I'm really excited to watch it and see how all the puppeteering turns out. We spent so much time in Canada filming this, so I'm excited that it's coming out soon and just get to see how it all came together.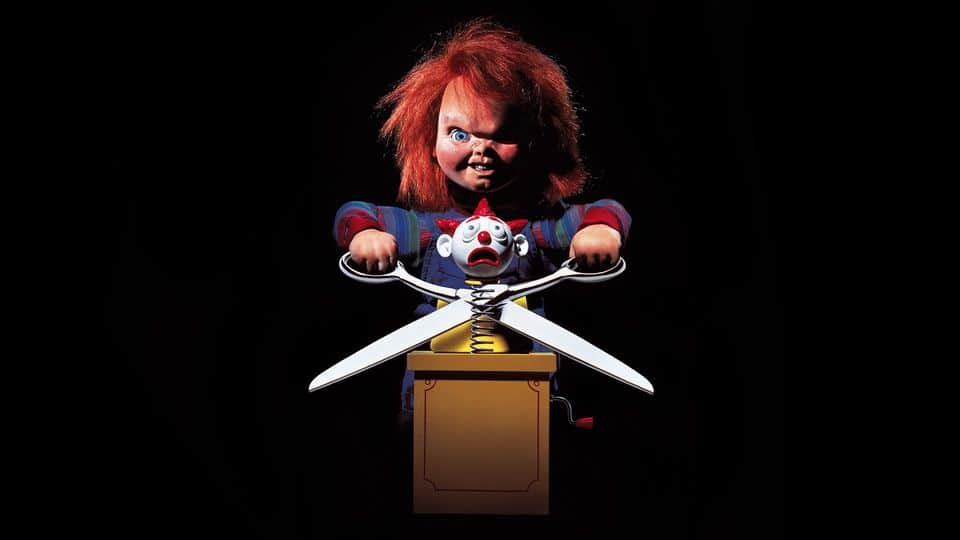 How Devon's True-Crime Podcast Plays Into Chucky And Serial Killer Charles Lee Ray's Backstory
Bjorgvin Arnarson: Whoa. Huh, I guess the show has more time to go delve into his backstory. And then you can have the show do flashbacks and focusing on him in some episodes. I guess for my podcast, I think of it as a way to sets the world, how my podcast opens some of the episodes and I guess… Oh, this is a hard question. I'm thinking about this.

I think it's interesting how he does that and how, when he starts figuring out about the Charles Lee Ray story he is like, "I can use this on my podcast." And I think it's interesting having that podcast mechanic and using that as some parts of the story.
Chucky Synopsis
In the new CHUCKY television series, an idyllic American town is thrown into chaos after a vintage 'Good Guy' doll turns up at a suburban yard sale. Soon, everyone must grapple with a series of horrifying murders that begin to expose the town's deep hypocrisies and hidden secrets. Meanwhile, friends and foes from Chucky's past creep back into his world and threaten to expose the truth behind his mysterious origins as a seemingly ordinary child who somehow became this notorious monster.

CHUCKY is produced by UCP and executive produced by creator Don Mancini, David Kirschner, Nick Antosca, and Alex Hedlund. Harley Peyton will also serve as executive producer. Mancini, who penned the film franchise, wrote the television adaptation, will direct the first episode, and serves as showrunner.
Chucky airs on Tuesdays on the USA Network and SyFy channel at 10 PM. What did you think of Chucky's premiere episode? Let us know in the comments below or on Twitter!
KEEP READING: THE LAST OF US: 1ST LOOK PHOTO REVEALS PEDRO PASCAL AND BELLA RAMSEY IN HBO'S APOCALYPTIC SERIES