The Last Duel, based on Eric Jager's book The Last Duel: A True Story of Crime, Scandal, and Trial by Combat in Medieval France, tells the story of the last officially recorded trial by combat.
The Illuminerdi had the opportunity to participate in The Last Duel virtual press conference which included star Jodie Comer, co-writer Nicole Holofcener, as well as Matt Damon and Ben Affleck who star, produce, and co-wrote The Last Duel.
During The Last Duel press conference, writer Nicole Holofcener joked that in writing the third act of the film she wanted to make it clear why Jodie Comer wanted to take on the role of Marguerite de Carrouges. That in telling the story from three different perspectives, Jean de Carrouges, Jacques Le Gris, and Marguerite de Carrouges, she was more than she first appeared to be. Matt Damon further explained that while he and Ben Affleck had the book and all of the historical information from it to help them tell this story, Nicole's challenge in writing act three of The Last Duel came from the fact that Marguerite's perspective is not something that was recorded.
"The construct was that the world of women is totally ignored, and overlooked, and is invisible for the first two acts of the movie. And then it's revealed in the third act. And cause Ben and I were adapting a book. Nicole was really writing an original screenplay. Because the men of the time took very fastidious notes about what they were all up to, but they didn't record what the women were doing. And so, Nicole really had to create Jodie's world, Marguerite's world, out of whole-cloth.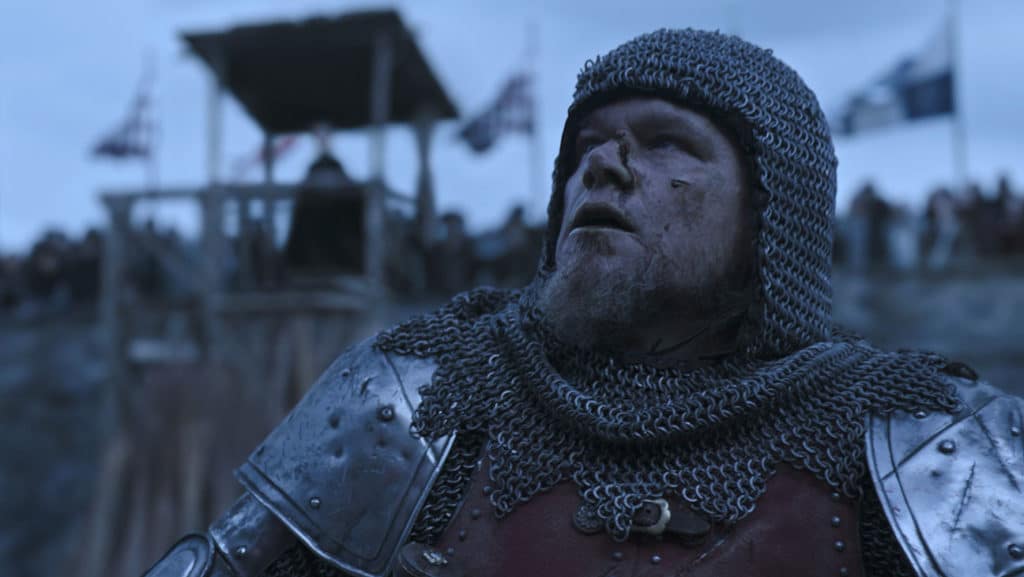 Ben Affleck talked a bit about how The Last Duel used people's expectation of who Marguerite's character would be based on other depictions of women in not only history, but film to make audiences believe they knew who she was in the first two acts before revealing the truth when The Last Duel moves to her perspective.
RELATED: THE LAST DUEL: MATT DAMON, JODIE COMER, AND BEN AFFLECK EXPLAIN WHY RIDLEY SCOTT IS THE PERFECT DIRECTOR FOR NEW FILM
"But again, that doesn't work. Like, the joke [Nicole's] making about why Jodie took this part has a lot of truth rooted in it. That doesn't work unless Jodie is so smart, and brave, and complicated in her performance. Where she's willing to, and I'm not sure every actor would have been, actually play another a character's point of view of themselves. Rather than their sense of their true self.

And because she does that so perfectly, so that it's seamless, you don't get a sense that it's an exaggerated version of a person. It feels like versions of women we've seen in movies before. And we wanted to exploit the fact that, historically, people are in many ways, largely accustomed to women being secondary and tertiary characters. So that it wouldn't seem out of the ordinary. And she was willing to play that and makes the reveal, I think, so much more powerful and elegant, to see the difference between a essentially two-dimensional person, and a fully-realized, three-dimensional human being."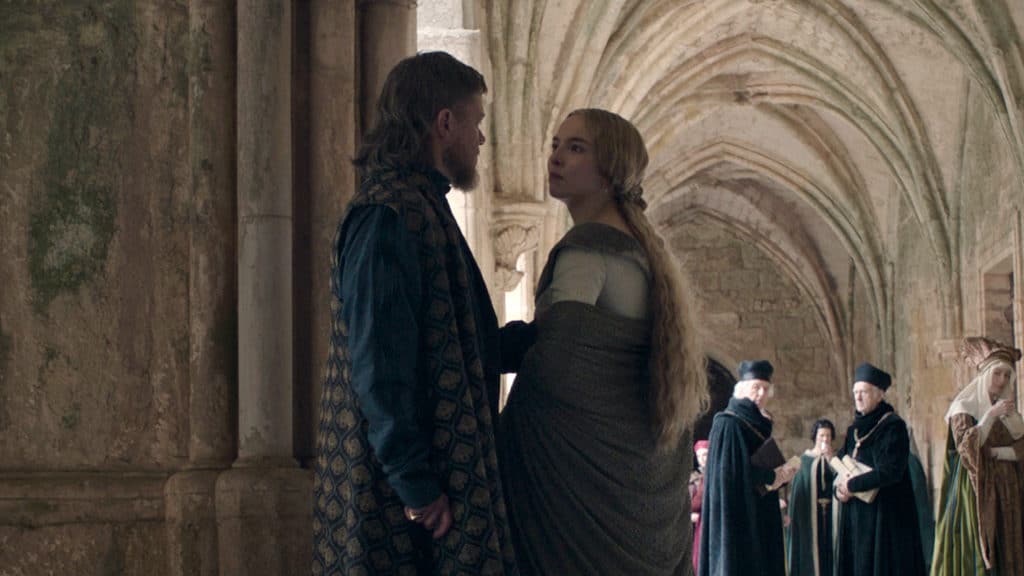 RELATED: THE PURGE 6: NEW EXCITING DETAILS ON THE FRIGHTENING STORY FOR THE NEXT INSTALLMENT: EXCLUSIVE
The Last Duel tells the story from three different perspectives and with that each actor is portraying three different versions of their character. Their own perspective of who they are as well as the other characters'. Jodie Comer was asked how much of the back and forth with her character, in how she is seen by the men in the story, was part of The Last Duel script. Jodie explained not only were the intentions and interpretations clear in the script, but recalled how they actually filmed each of the scenes from the different perspectives.
"Well, I mean, I think the beautiful thing about the script was, it was all there on the page, you know? The intentions were very, very clear as to what was needed in each perspective. What was sometimes jarring, was that we shot each version simultaneously. So, we were literally jumping from one to the next.

So, I'm always wanting to make sure that we've got Marguerite. I felt really loyal to her. And really wanted to make sure that we'd always, kind of, got that in the bag. And then I felt like I could play around with the other versions. But, yeah, I mean, I was kind of afforded a lot of freedom in what I wanted to explore. We kind of played around with the subtlety and how far we wanted to push it."
MATT DAMON TALKS ABOUT THE COLLABORATION PROCESS BETWEEN THE ACTORS AND THE WRITERS ON THE LAST DUEL
Matt Damon described the collaboration process between Jodie Comer, Adam Driver, and the writers, Damon, Affleck, and Holofcener, to be sure they stayed true to each character in The Last Duel.
"And actually, she's also being very humble 'cause Jodie actually helped, we had sessions after work, where we would have dinner, and we would sit there, and we would go through the script with Jodie. And when you have a great actor, and we did it with Adam too, they'll say, this moment doesn't feel right. I don't feel like I'd say that. And, as a writer, it's like, if you have a great actor, you really wanna listen to them. Because they're gonna kind of steer you towards where a scene needs to be. So, she was really helpful in the writing process, too."
RELATED: HALLOWEEN ENDS: JAMIE LEE CURTIS SAYS 2022 FILM WILL "MAKE PEOPLE VERY ANGRY"
Part of what is so impressive about The Last Duel is not only how the story is told from three different perspectives, but how each scene plays out depending on who is telling the story. Ben Affleck explained why it was important to them that the pivotal scenes had the same dialogue, but the intonation would differ depending on who's perspective the scene was told from.
"Yeah, the challenge really was 'cause we didn't wanna cheat at all, and have it be, "Oh, and from my point of view, this whole other scene happens." Really try to create and reflect this phenomenon of the fact that two people can have a conversation. And you can ask each one of them, well, sort of, "What came, what'd you come away with?" And they'll genuinely tell you different things. They'll have different experiences. And that those experiences, oftentimes, are rooted in where they're coming from, what their needs are, what their values are, and so forth."
The Last Duel is based on the true events of the last officially recorded trial by combat between Jean de Carrouges and Jacques Le Gris after Jean's wife, Marguerite de Carrouges, accused Le Gris of rape, at great risk to her own life. The Last Duel is told from the perspective of these three characters in an epic Medieval drama. Audiences should be aware The Last Duel does include depictions of sexual assault.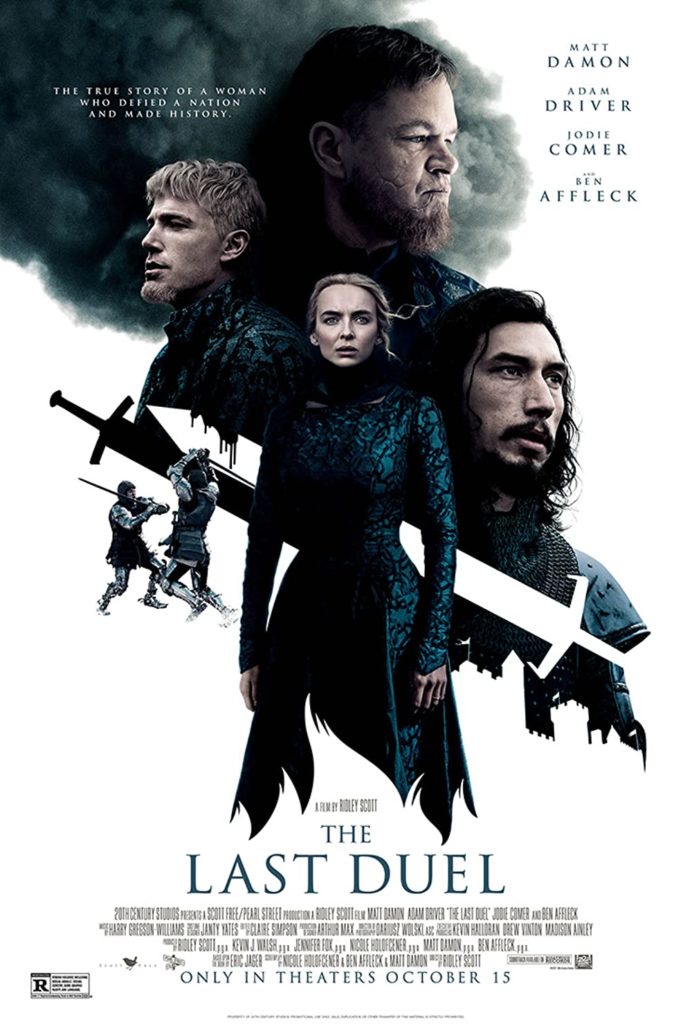 The Last Duel is directed by Riddley Scott and written by Matt Damon, Ben Affleck, and Nicole Holofcener. The Last Duel stars Matt Damon, Ben Affleck, Jodie Comer, and Adam Driver. The Last Duel will hit theaters October 15, 2021. Are you going to see The Last Duel? Leave your thoughts in the comments below or on our social media.
KEEP READING: THE LAST DUEL: BEN AFFLECK AND MATT DAMON REVEAL WHY THEY HAVEN'T WRITTEN TOGETHER SINCE GOOD WILL HUNTING