Halloween Kills stars Kyle Richards and Michael Anthony Hall discuss how surviving Hollywood has prepared them for this moment to face off with Michael Myers in the sequel to 2018's Halloween.
Michael Myers makes his return to the big screen after the huge success of 2018's Halloween in the sequel, Halloween Kills in theaters and streaming on Peacock this Friday, October 15th. Michael Anthony Hall steps into the role of Tommy Doyle from the 1978 classic, Halloween and reprising her role as Lindsey, Kyle Richards makes a return to the horror franchise.
RELATED: HALLOWEEN ENDS: JAMIE LEE CURTIS SAYS 2022 FILM WILL "MAKE PEOPLE VERY ANGRY"
Ahead of the film's release Michael and Kyle shared their excitement about Halloween Kills and working with director David Gordon Green. They also discuss how this time around, their characters want to take the fight to Micheal Myers and the trauma both Lindsey and Tommy suffered from the original Halloween in 1978.
Anthony Michael Hall Steps Into The Role Of Classic Halloween Character Tommy Doyle In Halloween Ends
RELATED: CHUCKY SERIES WILL TACKLE WILL TACKLE MAJOR ISSUES TEENS FACE TODAY
Anthony, I was curious what it was like to take on the role of Tommy Doyle, and work with some of the returning cast members from the original film?
Anthony Michael Hall: I was just pumped from day one, I was really excited. When this came up two and a half years ago, I had the privilege of meeting with David Gordon Green before my screen test. Then I screen-tested, and I just went all in. I just really tried to rev myself up and do my thing. I was so pumped up. This is my 45th year, I've started when I was eight years old then, I've never been more excited about a movie or a role that I've done. I'm filled with a sense of pride, and I'm very humbled by it, and we just had a great experience.

David Gordon Green is an awesome guy, he really is, I was a huge fan of his and Danny McBride's, going into this experience. Then, to kind of plug into their crew, who've been with them for 15 years, and to work with these incredible dynamic women, Jamie Lee, and Judy Greer, and Andi Matichak, and Kyle Richards.

I mean, it was just awesome. From every aspect, it's a real privilege because, first of all, it's a great movie, and we're really excited about it, and it's kind of unanimous. We all really are looking forward to unleashing it on the world, but equally important is that there's such an audience and a die-hard fan universe for this franchise. The fact that people are hungry for it, and they're anticipating it and… it just gets me pumped, I'm just really, really excited about it, man.
Anthony Michael Hall Reveals How Shooting His Favorite Scene in Halloween Kills Helped Inform His Character
I really love the movie, especially your character, you have so many great scenes. So I was just wondering, what was one of the personal favorites for you to film?
Anthony Michael Hall: Great question. I had a great time doing that opening scene, and we were very fortunate because we were able to do that, not in sequence at the beginning of our schedule, but about a week in. That was really cool because that allowed me to kind of. work with and meet Kyle and Nancy Stephens, also people like Robert Longstreet, and people that had just joined the franchise.

That was cool because chronologically, it helped me set up where I was going, it was great to kind of build that trajectory for the character, so that was a lot of fun. There was a lot of dialogue there, I was working on it for days before I got to the set, so that was fun to shoot.

I think the stuff at the hospital was really great, too. We had such a great group of background artists, people that were there, oftentimes they're running down the same hallway 14 times, and like creating this environment. But again, the challenge was to make those circumstances real, to really oppose Michael.
RELATED: THE RETALIATORS REVIEW: HEAVY METAL GRINDHOUSE HORROR THAT MISSES THE MARK
Anthony Michael Hall: I think what's really wonderful about the screenplay of this project is the way in which Danny McBride, who's brilliant, and David, and Scott Teems, their writing partner, they're able to thread all those characters, from the original film to the 2018 version. And yet, they still make room for new actors and characters, so it's amazing how effortless they make it look, but they did a great job with the screenplay.

Those scenes in the hospital were also very challenging, because again if I don't believe it as an actor, I can't really make anyone else believe it, you know? I just had to go all-in for the whole film. That was fun for me because that's kind of how I approach it anyway. Surviving Hollywood is not as hard as surviving Haddonfield, but I was ready.
Michael Anthony Hall On Facing Off With Michael Myers in Halloween Kills
Anthony Michael Hall: Well, you know what, Kyle spoke to this earlier. She was there from jump street, in the original film. There's something really freaky about it because when you look over, and you see Chris Nelson, there's a whole team around him, but just the way that these actors have embodied it.

James Jude is incredible, Nick shows up for a sequence. It got me pumped, man, I was just excited, you know what I mean? So even though it's make-believe, and you're playing, you got to make it real for yourself, man. I'm-Irish Italian of my descent, so I have kind of a pugnacious character anyway, you know what I mean?

It just was a lot of fun for me to apply that to this role, that he's a fighter, the whole town is, you know? Lindsey, Kyle Richard's character, everybody kind of makes this decision to rise up, and to become fighters, and not just survivors, and not just victims.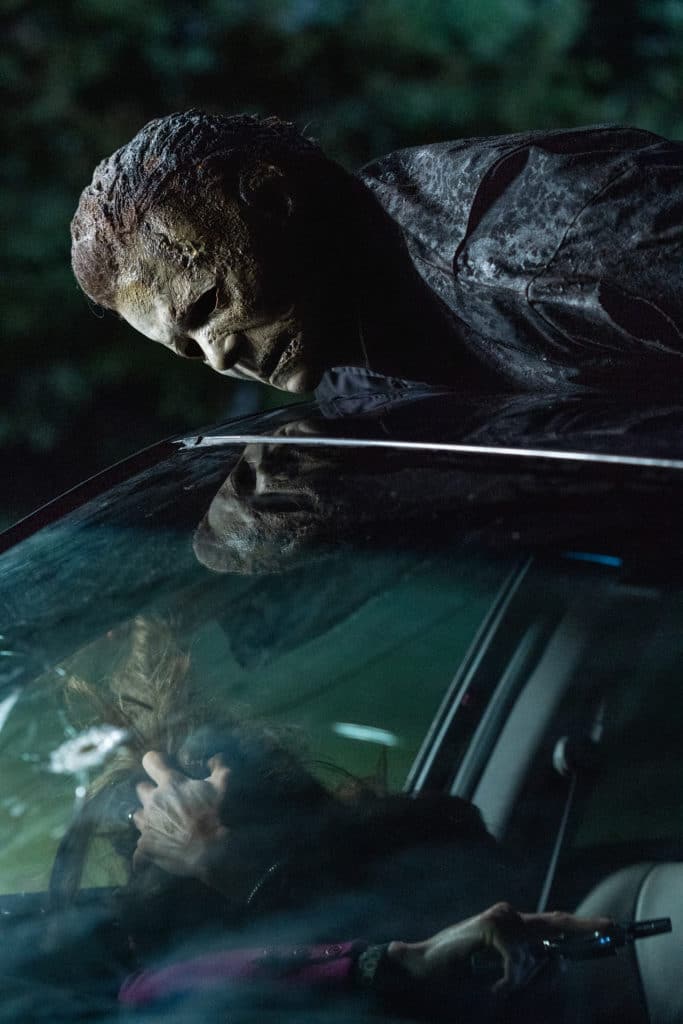 RELATED: NEW CHUCKY SERIES WILL DIVE DEEPER INTO THE SERIAL KILLER'S BACKSTORY
Anthony Michael Hall: To me, that's what was really cool about the script, is that everybody has that opportunity to make that turn, and kind of has a similar trajectory, even though everybody gets there differently with their own characters. I felt so blessed and privileged, man, just to be a part of it. Now that we all know that the film turned out so great, we're all really just amped, because it's so exciting to know, first of all, how hungry the audience is, fans of this franchise. That we're going to bring them something that's really great, that they're going to get hyped about. It is a really awesome feeling, man.
Kyle Richards Was Excited To Reprise Her Role In Halloween Kills
Are the careers that you both had, both in movies and outside of movies… Was there ever any apprehension to come into this film, because you both knocked it out of the park, but was there any, like, "I don't want to do it, just because of this reason or that reason." Were there any struggles with that?
Anthony Michael Hall: None of that for me, I'll defer to Mrs. Richards.

Kyle Richards: No, not for me either. Yeah, no, I was just so excited to be able to reprise my role of Lindsey and work with Jamie Lee Curtis again, and David Gordon Green. Then just like, the icing on the cake, because John Carpenter's doing the music again, and the sound. I was like, "Oh my gosh, this is like… It's just a dream come true." And to be able to be acting again, going back to my first love, which is acting, just meant the world to me, and just could not have been more excited to be there.
RELATED: THE PURGE 6: NEW EXCITING DETAILS ON THE FRIGHTENING STORY FOR THE NEXT INSTALLMENT: EXCLUSIVE
The Illuminerdi: Would you want to act a little more, Kyle, nowadays? Because you really knocked it out of the park.
Kyle Richards: Thank you, I appreciate that, Yes, I really am excited about that. I just did a Christmas movie or I played the lead with Betsy Brandt from Breaking Bad, and we were filming five weeks in Utah, and it just feels so good. This is what I do, this is what I love, and it's what really makes me feel fulfilled in my career. So, I'm just so happy to be doing that again, and keep going, keep doing it.
2018's Halloween Is About Laurie Dealing With Her Trauma; Halloween Kills Is About Everyone Else From 40 Years Ago Dealing With Theirs
First of all guys, amazing job on this film, it was brilliant. The kill counts, whoo! There are creative kills in this movie. But I do have to ask, Anthony, you're coming into the franchise playing Tommy, and Kyle, you're reprising your role as Lindsey. The first film in 2018 was really about Laurie's trauma and dealing with trauma from 40 years ago, and this one's really about your guys' characters dealing with the trauma. Can you talk to me about what you wanted to bring to your guys' role, that wasn't necessarily on the page?
Anthony Michael Hall: Well, for me, just kind of showing the fight, because I think as an actor, and I think Kyle and I share this, although we had completely different experiences. We started out as kids in this industry, and I was watching Kyle when I was a kid.
The fact is that it's something, you're never promised anything, in life, in any career, and especially in our business, it's very tough. I was just excited about playing a fighter, something that was heroic. I felt like it was a real blessing to get that role and that Tommy is a hero, he's willing to fight for his community and his friends.

The truth is, David, Danny, and Scott when they wrote the script, they gave that opportunity to all of us. There's this great turn that everybody makes, from going from being victims, and being just survivors, to saying, "Hey, you know what, we're going to rise up. We're going to fight this."

Anthony Michael Hall: It just falls right in line perfectly with this classic theme, it's the Strode's versus Myers, it's good versus evil. And in this film we see the story open up, and I thought everybody was just fantastic in it, we all had a great time.

It wasn't lost on us, we were all amped because we knew the last one was such a big hit, and you have 40 years of fans that follow and have loved this movie franchise. Honestly, there was so much there for me to work with, I was just pumped up every day. I was really excited, and I feel very blessed and fortunate to be a part of it.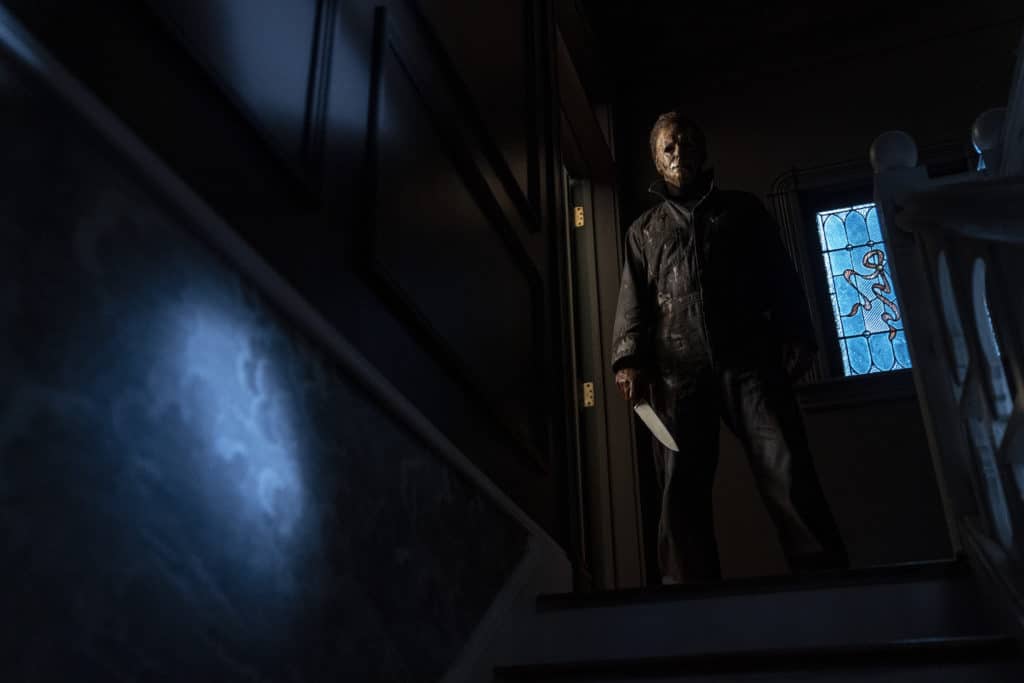 Kyle Richards: As Anthony said, we've been in this business so long, and Jamie Lee Curtis and we're not only warriors and survivors in our characters, but we're warriors and survivors for being in this business our entire lives. I started when I was three years old. I mean, Anthony, we're like basically the same.

We need to bring this character since I'm eight years old, and just to look at her and think, "Who is Lindsey now after 40 years of what she's gone through?" and how that affected her, and shaped her as a person. And then the amazing script, just to be able to bring that to life, was so exciting, and working with the original people, and then getting to meet the new cast members. And Anthony who I've watched and every movie he's done, it was all just so exciting, and just made my job so much easier, to get to do what I love so much.
How did you both really worked to pay tribute to your characters from the original film while also kind of modernizing them and really developing them for this film, and especially working with David, in that sense of really moving the characters forward, and really showing their fight like you both mentioned as well.
Kyle Richards: Well, I also… all these, as an adult, I mean, as in our real lives, we're different people than we were when we were eight years old. So, that was easy for me to say, who I was at eight years old is very different from who Lindsey is now. Thankfully, I had someone to guide me, to help me create this character, Lindsey, David Gordon Green, I've worked with closely. It was just a dream come true, and I'm just so excited because the movie got pushed off for over a year. Which was the best decision, because now people can go and see it in theaters with other people, which is such an incredible experience, or they can watch at home on Peacock, but definitely watch it with some friends, because it's terrifying.
Anthony Michael Hall: Absolutely. One of them is the triumph of the will, and I think you have that here, and I think that it's such a great story, and it's so classic. All the themes of good versus evil, it was so much there for us to dig into, and to mine in the story, so we all just wanted to represent and just put our best work forward. I know I really wanted to make David proud, and everybody at the studio, and it was just a privilege to work with all these great people. There were so many talented, cool artists, and everybody was humble and had a great outlook, and had great energy. And it just all was like it was a dream situation, it really was.

Now, two years later, it's a great feeling knowing that we made something that's going to hit people hard and that fans of the franchise will really love. It's very gratifying, so I'm truly grateful. As Kyle said, I just feel very blessed and excited to see the movie with an audience, with my coworkers, and also just to see it in some theaters. I'm probably going to see it 10 times in the next month.
Halloween Kills slashes through theaters and will be available to stream on Peacock this Friday, on October 15th. Are you excited about Halloween Kills? Let us know in the comments below or on Twitter!
READ MORE: THE FOREVER PURGE EXCLUSIVE INTERVIEW: WRITER JAMES DEMONACO REVEALS NEW THRILLER WAS ORIGINALLY A LOVE STORY