Eternals, Marvel's newest epic film, is diving into an entirely new corner of the MCU and introducing tons of exciting new characters.
The Illuminerdi had the opportunity to attend the Eternals virtual press conference where both Angelina Jolie and Salma Hayek talked about their experience working on the film. Angelina Jolie revealed why she wanted to be a part of Eternals and how she is similar to her character, Thena.
"I was attracted to this project for many reasons. I am a fan of MCU, was a big fan of Chloe's, and then when they first talked to me about the story really it was the cast. It was the idea of what this family would be and I just wanted to be a part of this family before I even knew very much about who I was gonna play. But as I learned about Thena, and that's one of the special things that Chloe brings to this is she's known for bringing reality to a film, to somebody's true self.

So, a lot of us were cast to bring out something from our own lives. Something within ourselves that maybe we weren't even aware of and then let it live and let it grow within the film. So, she maybe seems the most fantastic I've ever played in the superhero and yet my children said she thought it was the most like me that they've seen.

So, it's hard to talk about her, but her vulnerability and what she's trying to balance and that being able to be in the same woman who is also considered very strong. I think we often have to present to be fully together to be strong and yet I think she holds both. Which most people do and it's important to see it."

Angelina Jolie
RELATED: KEVIN FEIGE DECLARES ETERNALS IS A NECESSARY NEW STEP FOR THE MCU
Showing a warrior who is infused with the vulnerability that Angelina Jolie brought to her performance makes Thena a truly unique and exciting character. Eternals is not only introducing a number of new characters into the MCU, but new kinds of characters. Eternals is opening tons of new doors for the MCU and Phase Four. And Thena isn't the only exciting new powerful woman in the film, Salma Hayek talked about playing Ajak, the leader of the Eternals, during the press conference as well.
SALMA HAYEK REVEALS HOW BEING IN ETERNALS FULLFILLED A NUMBER OF HER CAREER DREAMS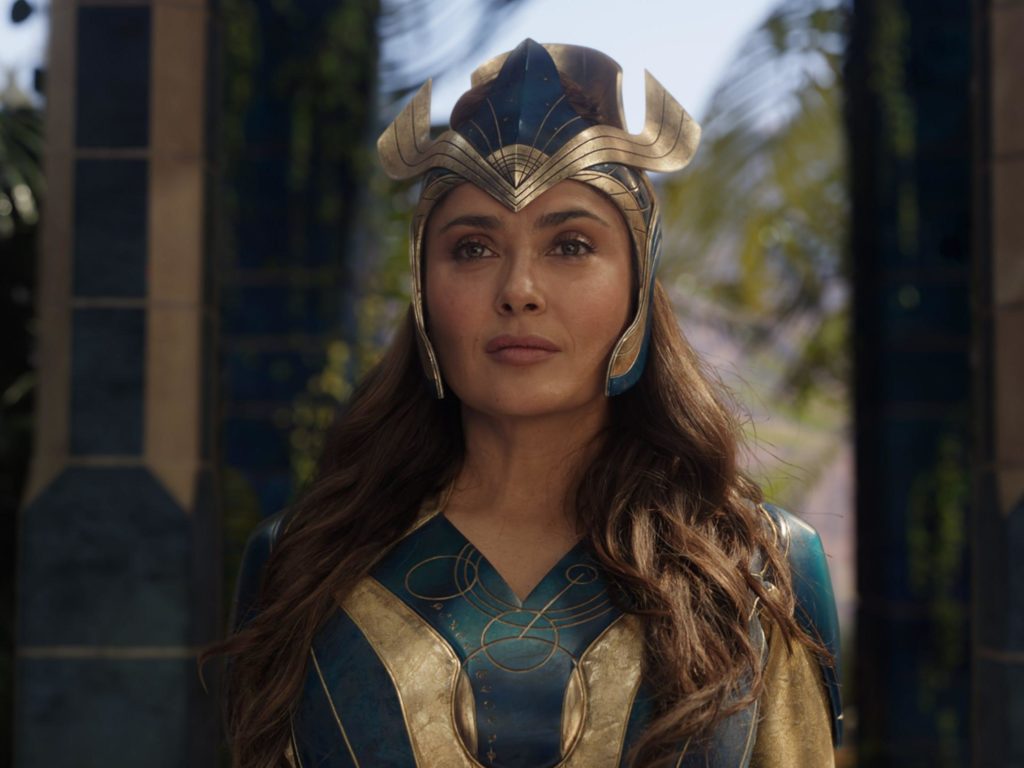 Salma Hayek revealed that playing Ajak in Eternals fulfilled a number of dreams she has had as an actress. Her excitement about joining the MCU is obvious and shines through not only in her answer, but her performance in Eternals.
RELATED: ETERNALS: RICHARD MADDEN TALKS ABOUT HIS CHARACTER IKARIS, A SOLDIER TORN BETWEEN LOVE AND DUTY
"It's a really humbling experience because I dream big. I dream big! And if I hadn't I wouldn't have gotten here at all. But in my big dreams I wanted to be a superhero and I wanted to work with the best directors in the world. And have big Blockbuster movies and also movies that are art, that are made from a very deep place with great directors. You cannot ask for more. And it didn't happen for me, didn't happen that much for me.

And so, you fight for it in your twenties, in your thirties, and in your forties, you go, "Oh, screw them. They don't get it! You know, they missed out! I would've been great in the art films and I would've been a great superhero! And they didn't see it. Screw them, I'm going to go do something else! Let's have a baby! They're dumb!" And you give up. It's very humbling when you, in the middle of your fifties a brilliant director gives you the opportunity to do both.

Do something that comes from a deep place, that is also a big Blockbuster. I was wrong. Everything is possible and it's such a humbling sensation. And when you think about it, in your fifties, Mexican, I mean I'm short with big boobs. It's not the normal superhero. I'm not like muscle-y. I don't look like that."

Salma Hayek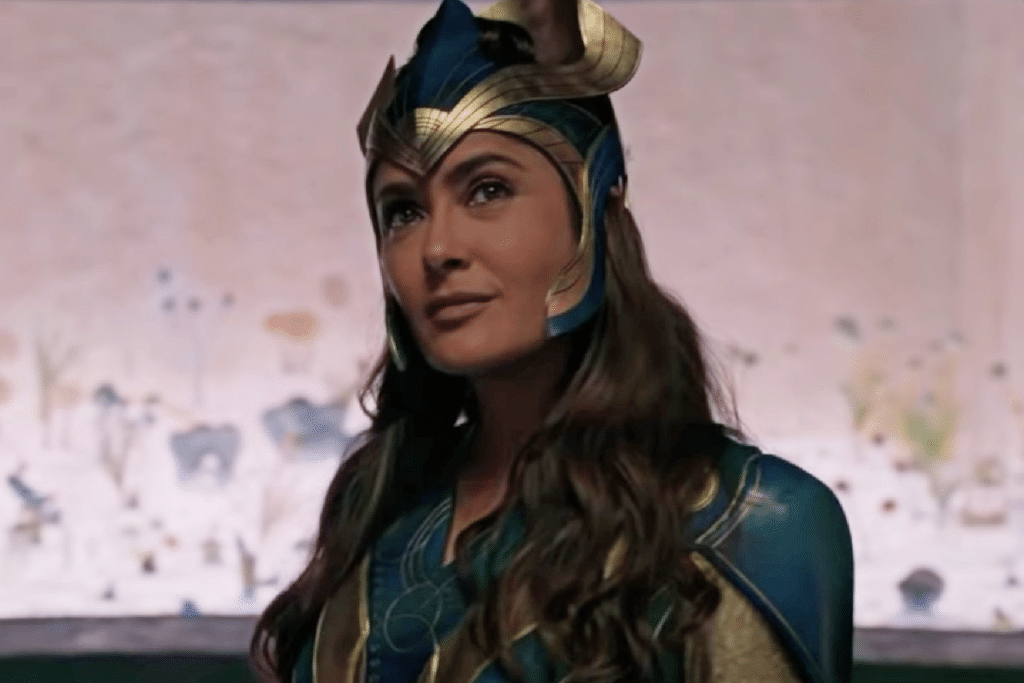 Salma Hayek also talked about getting to do her own action sequences on Eternals joking that she was glad Marvel wasn't worried about the insurance or that, "Grandma was going to break in the middle of it." Hayek also revealed that during the Eternals World Premiere she was nearly brought to tears when she saw a Latino family with three young girls dressed as her character Ajak. "I saw and I wanted to cry it was so moving. That they can see themselves in this."
RELATED: ETERNALS' KIT HARRINGTON EXPLAINS HIS CHARACTER'S REACTION TO BEING IN A SUPER LOVE TRIANGLE WHILE "REPRESENTING HUMANITY"
Representation is hugely important and Eternals gives many people the chance to see themselves in superheroes on the big screen for the first time. Eternals is not only expanding possibilities in the MCU with the plot of the film, but the characters themselves. With Ajak as the leader and Thena a powerful warrior who is allowed to show her vulnerability Eternals boasts some truly amazing and unique characters.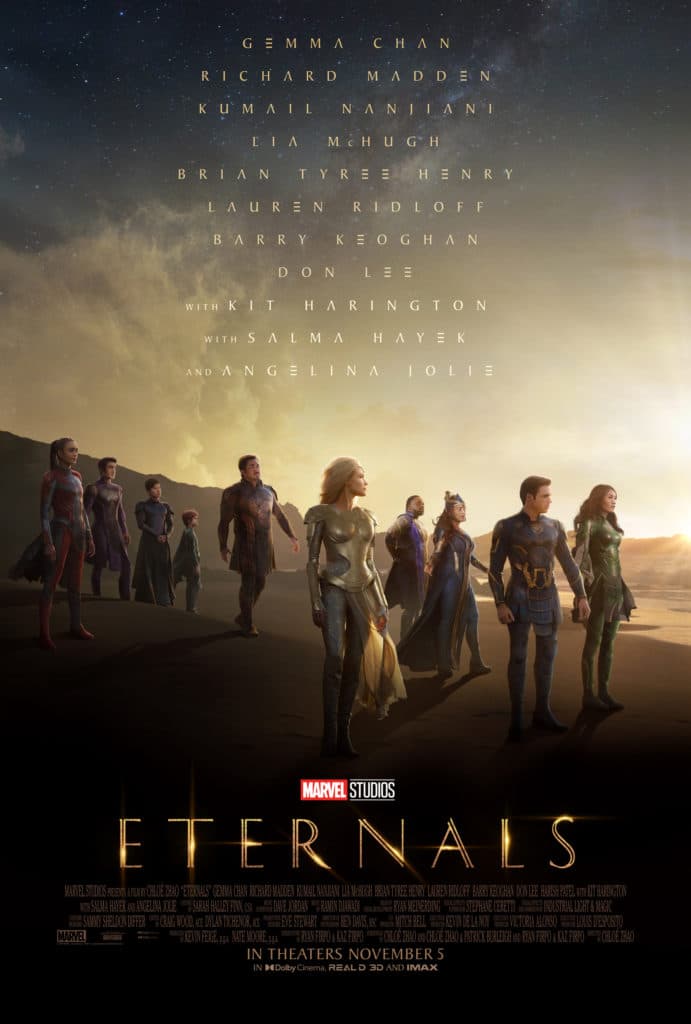 Eternals is set to hit theaters November 5, 2021. Are you excited to see Eternals? Which character are you most excited to see? What do you think about Salma Hayek and Angelina Jolie joining the MCU in Eternals? Leave your thoughts in the comments below or on our social media and check back with The Illuminerdi for more MCU and Eternals.
KEEP READING: ETERNALS: BRIAN TYREE HENRY ON INDIVIDUALITY AND REPRESENTATION IN UPCOMING BLOCKBUSTER EPIC