Star Trek Discovery star Wilson Cruz talks about the importance of including LGBTQ storylines in the Paramount Plus series.
When Star Trek first debuted on NBC in 1966 it immediately drew attention not only for its futuristic space exploration, but the crew that was aboard the Enterprise. The iconic crew of the Enterprise included three notable members, Lieutenant Uhura, Lieutenant Sulu, and Ensign Chekov. A crew that included an African-American woman and an Asian man both as deck officers and a Russian junior officer.
While including a Russian character may not seem like a big deal now, in 1966 during the height of the Cold War, it was unheard of. And the inclusion of characters of color who weren't merely negative stereotypes was groundbreaking and inspired an entire generation.
Gene Rodenberry built Star Trek on the idea of what he termed IDIC, "infinite diversity in infinite combinations." This was clear not only in the Original Series, but the many series that followed in the franchise. Star Trek Discovery continues this pattern notably with their LGBTQ representation. Discovery not only featured the first openly gay characters in Star Trek television the characters were notably a married couple, Paul Stamets (Anthony Rapp) and Hugh Culber (Wilson Cruz). The actors, Rapp and Cruz, who portray Paul Stamets and Hugh Culber are also openly gay.
RELATED: ISA BRIONES DISCUSSES SOJI IN STAR TREK: PICARD SEASON 2
But Star Trek Discovery continued to make history with a relationship between a non-binary character, a human named Adira, and a transgender character, a Trill named Grey. Adira is played by non-binary actor Blu del Barrio and Gray is played by trans actor Ian Alexander. The relationship was not only groundbreaking for the Star Trek franchise, but television as a whole.
WILSON CRUZ TALKS ABOUT INCLUDING LGBTQ STORIES IN STAR TREK DISCOVERY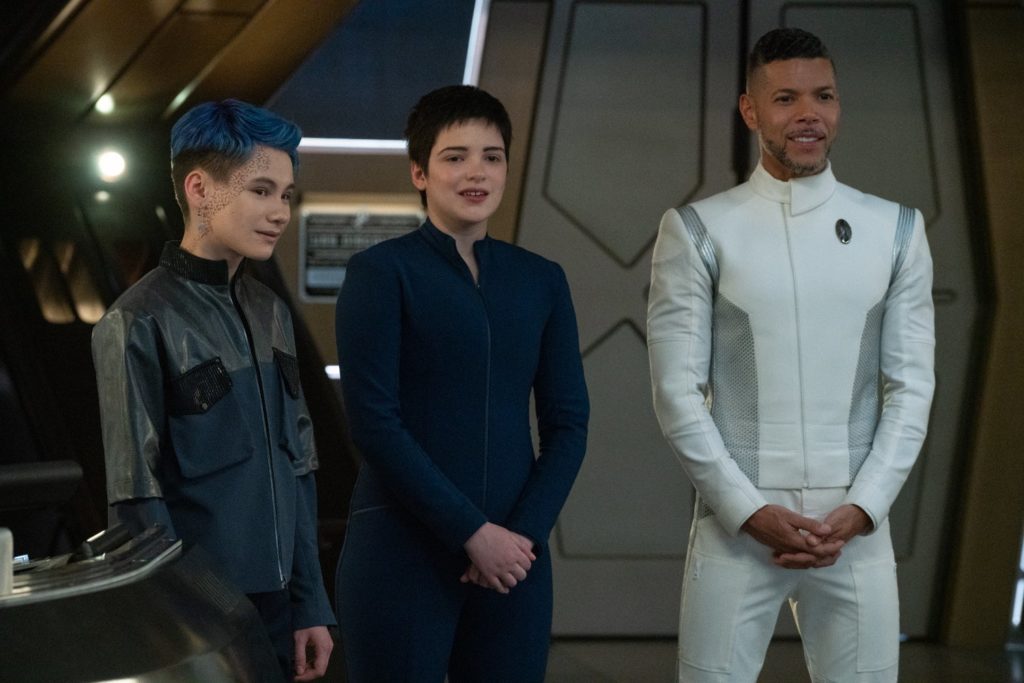 RELATED: STAR TREK: PRODIGY SHOWRUNNERS TEASE PROTOSTAR ABILITIES
During Star Trek Day 2021, BadCulture TV had the chance to speak with Wilson Cruz about where Star Trek is now with inclusivity. Cruz gave a powerful answer about the importance of including LGBTQ storylines in Star Trek Discovery.
"I'm not here for your comfort. I'm here to help you realize your potential as a species. That's what Star Trek does. We're here to remind you that the world is supposed to be a hopeful place and that in order to make it that we have to do the work. We're the people who make it hopeful.

And at this moment in history when there's so much division and so much obvious proof of climate change and women aren't allowed to choose what to do with their own bodies we need to be reminded of what we are potentially able to do as a species. And so, Star Trek Discovery does that by showing you the world as it exists.

You will see every various version of person and human. You have your non-binary person. You have a trans person. You have a gay man who's in a relationship with another, well, a white gay man. It's written by a bisexual woman. We have a African-American captain who's in love with an African-American man. This is the world we live in and so why shouldn't Star Trek look like the world?"
Star Trek has always been about looking to the future for a brighter tomorrow filled with exploration and inclusivity. The Original Star Trek series inspired a generation with the representation it promoted and Star Trek Discovery continues this important legacy. Infinite diversity in infinite combinations is an ideal that the franchise continues to not only promote, but live by.
Star Trek Discovery season 4 premieres on Paramount Plus November 18, 2021. Are you excited for more Star Trek Discovery? What are you hoping to see in the new season? Leave your thoughts in the comments below or on our social media and check back with The Illuminerdi for more Star Trek news.
KEEP READING: STAR TREK PRODIGY'S BRETT GRAY ON PREPPING TO BE CAPTAIN
Source: BadCulture TV