After what feels like an interminable wait, Eternals is finally here.
Throughout 2021, Marvel Studios has put its best effort forward to continue the Marvel Cinematic Universe in a meaningful way following the game-changing efforts of Avengers: Infinity War, Avengers: Endgame, and the Infinity Saga as a whole. Combining the efforts of serialized Disney+ storytelling with almost a handful of new movies planned this year, the most financially successful franchise in cinematic history looks to be going as strong as ever.
RELATED: NEW SPIDER-MAN: NO WAY HOME VILLAINS TEASE FROM EMPIRE LEANS INTO THE RUMORS
This all comes before a movie that's built up an incredible level of hype in Chloé Zhao's Eternals, which will officially make its way into theaters on November 5, 2021. Led by an Academy Award-winning director and featuring the talents of more than a dozen Hollywood megastars, it's highly evident that Marvel Studios is holding nothing back in its attempt to make their 26th theatrical movie an instant classic.
Is Eternals A Celestial-Level Film?
Getting back into the swing of the events game, Marvel is coming off the high of the Hollywood World Premiere for Eternals, which brought together this movie's cast and crew alongside dozens of press members and MCU superfans alike. The Illuminerdi had the incredible opportunity to walk the blue carpet and experience this movie, and we're thrilled to have the opportunity to share our spoiler-free review before the film releases to the public in just under two weeks.
In terms of this movie's technical prowess, Marvel Studios has taken their usual round of excellent visual effects into Eternals and raised the efforts to a whole new level in some regards.
Each character's powers shone brilliantly on an individual level while also showing that the team was connected by the same cosmic origins. Specifically, Marvel found a way to make these visuals stand out from not only other MCU movies but other superhero movies as a whole, particularly with effects like Makkari's super-speed being done in a never-before-seen manner.
Moving on to the actual content of the story, this movie took a different path than its Phase 4 predecessors, as it felt more disconnected from the larger MCU than probably any other movie since Guardians of the Galaxy Vol. 2. While this makes sense in a way with a group of characters that have never been seen or teased before through the MCU's past movies, there was certainly a sense of something missing due to just how long they've inhabited Earth.
With this movie having been teased to go back as far as 7000 years into Earth's history (which it did), fans are certainly hoping to see some of how that ties specifically into what's been seen within the MCU to date. Outside of the occasional reference to other heroes and entities, many seen in trailers, the Eternals largely operate in their own corner of the MCU narrative away from all the madness happening with established heroes.
Given, MCU fans are absolutely spoiled by getting to enjoy a universe with 25 movies and four Disney+ shows that have found a way to work together to form one huge cohesive story over the past 13 years. That being said, even though it's not necessarily a bad decision for Eternals to stand as mostly its own story, the isolation from its counterparts brings a different feeling than the one fans have experienced over the last few years.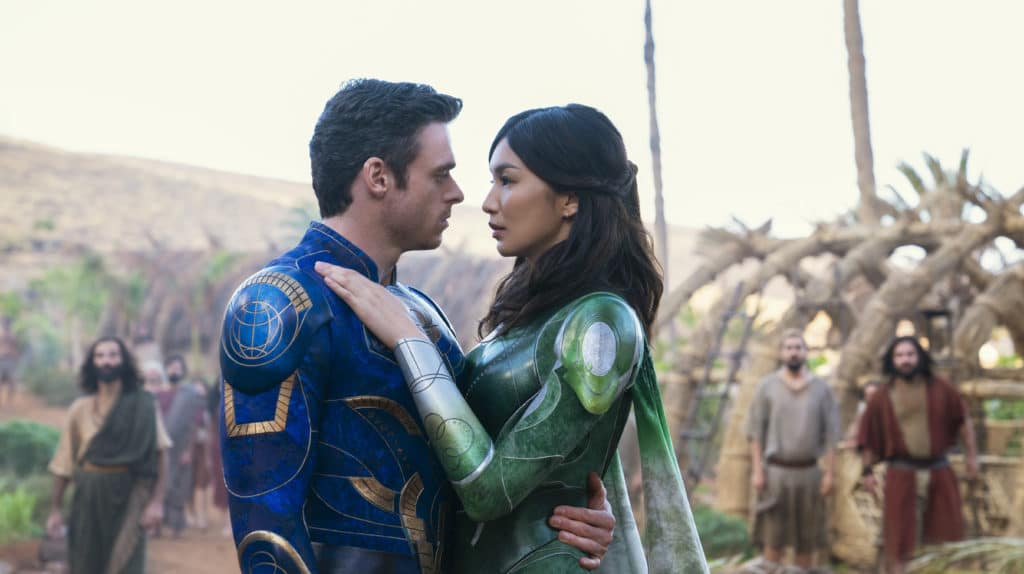 Eternals was also said to be something of a game-changer within the MCU landscape through promotional material going back most of the past year. Although it delivered on that promise in some aspects, the story as a whole felt like something closer to numerous other projects that have graced the Marvel Studios landscape.
Once the mission comes into play, it comes off as another round of an MCU hero or team having to save the planet from some kind of imminent destruction, although parts of that mission certainly had twists along the way.
On the one hand, the movie delivered on a level of representation that's never come in any other MCU movie with the first openly gay superhero and the first deaf superhero, both of which were put to screen fairly effectively. However, with expanding the MCU's narrative, the team's mission and action didn't end up standing out too much from even recent movies like Shang-Chi and the Legend of the Ten Rings or Black Panther.
RELATED: MARVEL STUDIOS UNEXPECTEDLY POSTPONES PHASE 4 FILM SLATE PUSHING BACK DOCTOR STRANGE 2, BLACK PANTHER 2, AND MORE
Now that's not to say there's not more Eternals-centric story coming, with Angelina Jolie almost confirming that a sequel is already in the works within Marvel Studios. Perhaps an Eternals 2 can take things to new magnitudes the way Doctor Strange in the Multiverse of Madness or The Marvels will, but we will have to wait and see how things develop from here.
The other main issue with this movie is simply how much it includes in terms of plot and character work, making the story somewhat overstuffed at times. With ten leading characters and an entirely new dimension of MCU story to tackle, the film at times struggles with dividing up the appropriate amount of screen time for each major plot point.
Overall, Marvel Studios continues its trend of excellent storytelling with yet another fun Phase 4 entry, one that takes chances and stands on its own as a solid movie. It's clear that this franchise is in for a bright future after Phase 4, and depending on which characters continue in the spotlight, Marvel has the chance to do something truly special with this film as a solo story and as part of the greater narrative.
Eternals will debut in theaters on November 5, 2021.
KEEP READING: CHARLIE COX IMAGINES AN "UPGRADED VERSION" OF DAREDEVIL