Black Adam producer Hiram Garcia explains what about The Spectre intrigues him and the chances of Seven Bucks Productions making a film about the DC Comics character.
DC has a huge roster of characters that they can tap into beyond the famed members of the Justice League. Black Adam is an excellent example of a character that many people were unaware of before Dwayne Johnson brought attention to the complicated anti-hero.
RELATED: WILL BLACK ADAM SEE THE DEATH OF HAWKMAN?
With Seven Bucks Productions not only bringing Black Adam to the big screen for the first time, but other fan favorites, like Hawkman and Dr. Fate, as well as less well-known heroes, like Atom Smasher and Cyclone, they seem to be setting themselves up to be the exact company to take on other lesser known DC characters. One such character that many fans would love to see brought to life on screen is The Spectre.
BLACK ADAM PRODUCER HIRAM GARCIA TALKS ABOUT THE CHANCES OF BRINGING CHARACTERS LIKE THE SPECTRE TO THE BIG SCREEN
During our interview we specifically asked Hiram Garcia about the chances of Seven Bucks Production bringing the character The Spectre to the big screen. Considering he, like Black Adam, is a complicated anti-hero with a violent streak Seven Buacks could be the perfect studio to do this fascinating character justice. Garcia wasn't able to confirm the likelihood of Seven Bucks working on a Spectre film specifically, but he definitely shared his interest in the character and telling more stories in the world that Black Adam is creating.
"I'm always intrigued by characters like The Spectre that is so unbelievably powered and kind of the second half of them is rooted in this gritty grounded space. So, look, all I can say is, I can't tell you the chances, but I can tell you that at Seven Bucks we do not stop. Like Hawkman and Black Adam, we do not stop fighting for opportunities to tell these stories.

And look, he comes from two sides. We want to tell the stories, but secondly, we just want to see that the stories are told as best as they can be. There's a lot of characters out there that we love, that we are continuing to campaign for, to able to tell their stories and get them into the universe we're crafting here with Black Adam and the JSA and so forth. But I don't know, my friend.

I think a lot of it will also be dictated by how Black Adam comes out. If the fans love it, if the fans love Super-Pets, which I'm confident in both those projects. But as storytellers, we're always going to fight to try and get our hands on some of those beloved characters and bring them to life because it's the best kind of storytelling there is, right? This is what it's all about, my friend."
RELATED: ETERNALS DIRECTOR CHLOE ZHAO EXPLAINS DECISION TO GENDER SWAP CHARACTERS AND REVEALS 1ST MARVEL STUDIOS MEETING
The Spectre is God's spirit of vengeance which needs a human host to curb his divine powers and offer guidance when it comes to enacting justice. There have been three human hosts for the Spectre, the most well-known being Jim Corrigan, as well as Crispus Allen, and briefly Hal Jordan. Either Jim Corrigan or Crispus Allen would be perfect characters to be at the center of a movie about The Spectre.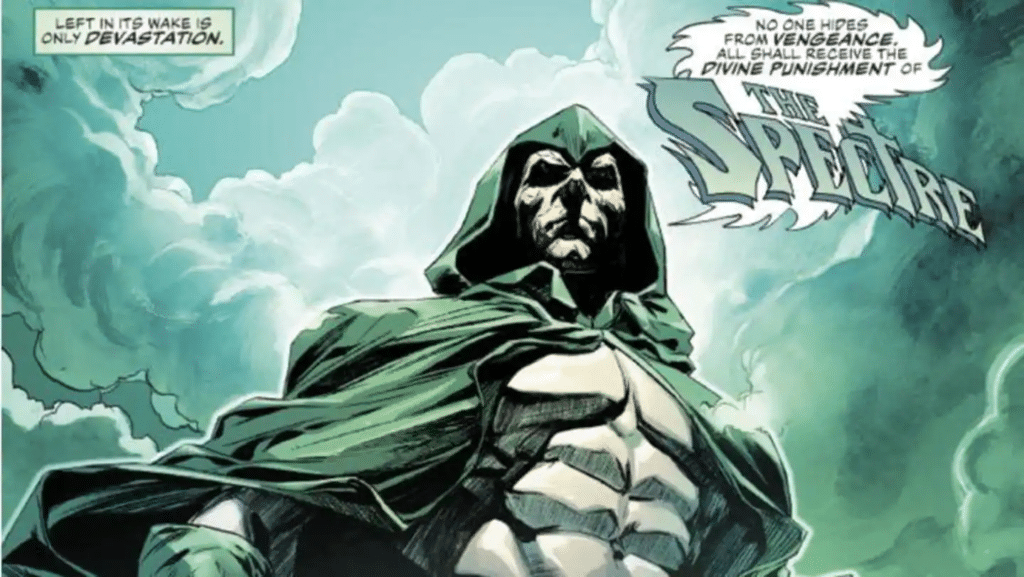 Jim Corrigan is the most well-known host of The Spectre having been featured as The Spectre in comics for decades. In The New 52 timeline Corrigan is a Gotham City Police detective who is murdered in a failed attempt to rescue his fiancé, who is also killed. Following his murder Corrigan is transformed into The Spectre and become a force meant to exact justice. Corrigan continued working as a detective for the GCPD as well as acting as The Spectre although he at first was enacting vengeance instead of Justice until he was set on the right path.
RELATED: BLACK ADAM PRODUCER TEASES DOCTOR FATE'S DYNAMIC WITH HAWKMAN AND THE JSA: EXCLUSIVE
Crispus Allen was a main character in Gotham Central when he was killed by a corrupt police technician Jim Corrigan, no relation to Jim Corrigan who is The Spectre. Crispus is reluctant to accept The Spectre spirit and role that comes with it, but after a year of being a spirit who cannot communicate with anyone he relents. Crispus works with The Spectre to enact justice on those deserving, but when the time comes to confront his killer Crispus is forced to not only watch his son kill Corrigan, but enact justice on his own child. This fully bond Crispu with The Spectre.
Jim Corrigan has been featured in live action twice before. The first time was on the short lived NBC series, Constantine. Emmet Scanlan played Jim Corrigan a New Orleans detective who ran across Constantine more than once. Although it was never fully explored his future as The Spectre was hinted at with visions of Corrigan bleeding from multiple wounds and surrounded by a green glow beginning around his head and billowing down like the cape worn by his alter ego.
In the Arroverse crossover Crisis On Infinite Earths Stephen Lobo portrays a different version of Corrigan, which John Constantine comments on, in Purgatory where he passes on the powers and title of The Spectre to Oliver Queen so that he can save the multiverse from the Anti-Monitor.
The Spectre is an extremely powerful being possessing the powers of God and his only notable weakness is the need for a human host to be sure he is impartial in his mission to enact justice upon those who deserve it. The Spectre, like Black Adam, is a truly complex character that deserves to be explored on the big screen. Interestingly enough the Golden Age version of The Spectre was a member of the Justice Society of America. Jim Corrigan's The Spectre has a long history in comics that filmmakers could pull from for an especially interesting adaptation.
RELATED: KEVIN FEIGE DECLARES ETERNALS IS A NECESSARY NEW STEP FOR THE MCU
Hiram Garcia's interest in this character is no surprise especially with the duality of a character who is simultaneously the spirit God's vengeance and a person, a detective who must find justice against those who would otherwise escape it. The Spectre is a character steeped in magic and moral complexities with a rigid sense of justice that would be interesting to see applied to the world today.
Do you want to see a movie about The Spectre? Which version of The Spectre would you want in a film? Would you want it to be connected to Black Adam? Leave your thoughts in the comments below or on our social media and check back with The Illuminerdi for more DC and Black Adam.
KEEP READING: BLACK ADAM PRODUCER HIRAM GARCIA TEASES THE EXCITING DYNAMIC BETWEEN HAWKMAN AND BLACK ADAM: EXCLUSIVE