Nine Days is a 2021 drama film from writer-director Edson Oda. The movie arrives on digital and Blu-ray on Nov. 2, 2021.
Edson Oda was an award-winning commercial director before this deeply personal project came together, but you would never guess that Nine Days is his feature film debut if you didn't already know. The project features a phenomenal cast of stellar actors such as Tony Hale, Zazie Beetz, Benedict Wong, Bill Skarsgard, and many more, and it is a true work of art.
The Story Of Nine Days
The leading man in front of the camera is Winston Duke, who plays Will, an eccentric, troubled worker of the premortal realm. His rocky exterior hides away a soul who is consistently in emotional turmoil. The title of the film, Nine Days, refers to a nine day process which Will conducts.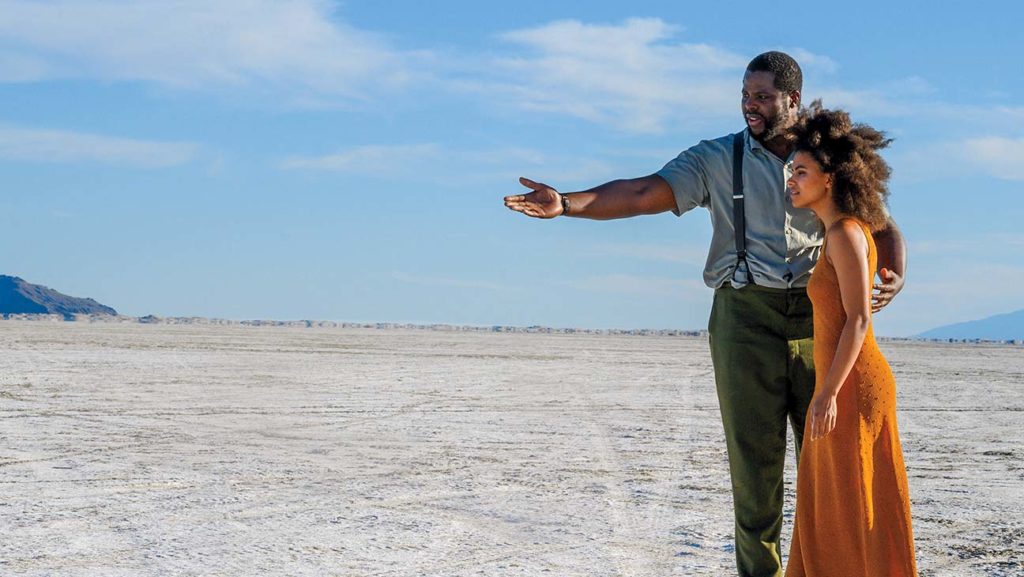 Will watches over the lives of souls who he has approved for life on earth through a multitude of TV screens. When one of his most cherished friends dies in a car crash, he tests several newly created souls to find her replacement on earth. As you might imagine, this isn't an easy task for Will.
RELATED: KATHRYN HAHN DENIES THAT AN AGATHA SPINOFF SHOW IS HAPPENING ON DISNEY+
Edson Oda's shockingly powerful debut soars once Will begins to painfully weed out the candidates. There's Kane (Skarsgard), a charming pessimist who wants to fight evil on earth, and Emma (Beetz), an extraordinarily compassionate, vibrant soul who expresses little interest in Will's process. Both Emma and Maria (Arianna Ortiz) come into existence attuned to love, while others, like Mike (David Rysdahl), come into being already anxious and worried.
The very nature of Nine Days asks viewers to consider the nature of the human soul. How much of our personality and our mental space existed before we were born? How does one appropriately measure the value of a life? Is that even possible?
NINE DAYS: WINSTONE DUKE DELIVERS HIS STRONGEST PERFORMANCE TO DATE
Suicide is a central element of Nine Days, both on the films surface and in it's heart. Director Edson Oda created this gorgeous, ethereal film in loving honor of his uncle. Winston Duke explained this touching aspect of the project best.
It comes out of the director, Edson Oda's, own family dynamic. His uncle committed suicide at the age of 50, when Edson was 14. And the family kind of labeled him a pariah. "We don't talk about him, your uncle was weak. Don't be like your uncle." And that's all they told them.

And as Edson got older and had some of his own mental health issues and depression, he researched his uncle and realized that he was a really beautiful soul. So, he took this opportunity to essentially reclaim the narrative of his uncle's life by reimagining him in the afterlife with a job; and his job is to interview spirits for the opportunity of being born.

-Winston Duke
As someone who has lost friends to suicide, I felt a powerful connection to this film and it's message. Nine Days asks us to cherish all life, no matter how brief. Saying goodbye is never easy, but the end does not define us. Whether we live for a matter of days, or for years without accomplishing our hopes and dreams, that life matters.
Edson Oda created a visually stunning afterlife in the Bonneville Salt Flats, injected it with a heart-wrenching operatic score, and brought it to life with a ridiculously stacked cast of superhero actors. Seriously, Nine Days features Domino (Zazie Beetz), M'Baku (Winston Duke), Wong (Benedict Wong), Bill Skarsgard (Zeitgeist), and The Joker of Batman Ninja, Tony Hale. Do not miss out on this indie masterpiece, which is now available on Blu-ray and digital.
Nine Days is a moving, provocative, tearjerker, and easily one of the strongest films of 2021. I can't recommend this drama highly enough, and can't wait to add a copy to my collection. What do you think of Nine Days? Let us know your thoughts in the comments below or on our social media!
KEEP READING: NINE DAYS [INTERVIEW]: BENEDICT WONG AND EDSON ODA ON THEIR EMOTIONAL NEW PROJECT, MARVEL STUDIOS, AND MORE