One of the most exciting series coming to Disney Plus is the expansion of the National Treasure franchise based around a new lead character. The National Treasure series will continue the adventure and history filled treasure hunting legacy built by the films. Deadline recently broke the news that Lisette Alexis has been cast as the lead, Jess, in the new National Treasure series.
Jess is a young Latina DREAMer and is described as, "brilliant, resourceful and a lover of a good mystery with a natural aptitude for solving puzzles. Over the course of the show, Jess will uncover her own buried history, as well as the truth about her parents and her connection to a long-lost treasure." But, we at The Illuminerdi have managed to dig up some more details about Jess and descriptions of a number of other characters from the upcoming National Treasure series.
NEW NATIONAL TREASURE CHARACTER DESCRIPTIONS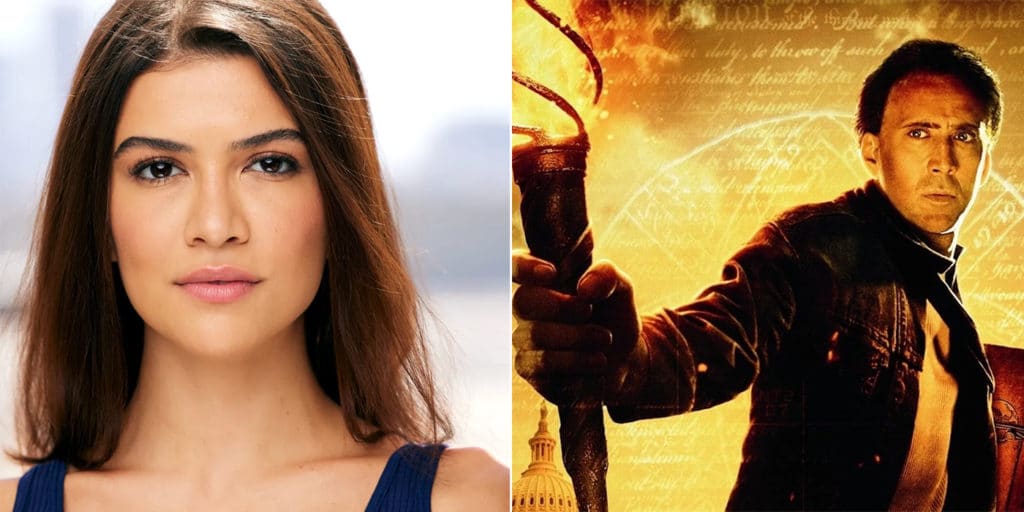 Jess dreams of becoming an American citizen and working for the FBI in the Cryptoanalysis Division. Her talent for puzzle solving is a skill she inherited from her enigmatic and absentee father, Rafael. Jess chose to take care of her sick mother, who brought her to America from Mexico when she was an infant, instead of going to college and after her mother's death feels unmoored. Jess is entrusted with the key to a secret treasure by a dying FBI agent who refuses to let this secret fall into the wrong hands leading to a once in a lifetime adventure.
It looks like National Treasure is looking to cast a woman in her mid 40s to play their villain. Billie is described as a ruthless and aggressive crypto-currency billionaire with her own code. She went from an orphan without a penny to her name to the rich powerful businesswoman she is today and she won't let anything or anyone stop her hunt for the Pan-American treasure.
RELATED: LISETTE ALEXIS WILL HEADLINE NEW NATIONAL TREASURE DISNEY+ SERIES
Billie has any and all equipment she could need and she knows her history, but she believes rules can be bent and history can be rewritten in order for her to get what she desires most. Even if that means abducting someone close to Jess, her main competition for the treasure. It is noteworthy that this character is not only described as a series regular, but it seems she only has a one year deal.
National Treasure is also looking to cast an Asian-American male in his early 20s to play another series regular. Ethan is described as Type-A and someone who always follows the rule. He strives for order in life after being raised by two free spirited artists. Ethen is intelligent, good looking, funny, and comes from a wealthy family.
Ethan and Jess have been best friends since they were kids and he has been in love with her for just as long. Ethan is intent on keeping Jess from jeopardizing everything including her status with this treasure hunt. However, Ethan decides to help Jess in searching for the treasure putting his own life at risk to try and keep her safe, but Ethan will need to learn to relax his tight hold on Jess so he doesn't lose her once and for all.
National Treasure is also looking to cast a black woman in her early 20s as a series regular and another member of Jess' team. Tasha is described as an extremely independent and deeply private person. Tasha is a reclusive social media personality with a technological mindset, she uses her platform to fight major corporations and government systems.
RELATED: ETERNALS STAR LIA MCHUGH ON THE TRAGEDY OF SPRITE AND REVEALS WHICH MARVEL HERO SHE WANTS TO TEAM UP WITH: EXCLUSIVE INTERVIEW
Tasha and Jess became friends in high school where they bonded as outsiders due to their status as scholarship students at an affluent private school. Tasha finds it hard to believe that Jess longs to work for the FBI, a government organization, as she has seen for herself what powerful institutions can do when they use their authority against individuals. Even so Tasha is Jess' ride or die no matter what. Tasha will be forced to put an actual human face to the federal institution she loathes as she is engrossed in a cat and mouse relationship with the FBI agent investigating them.
National Treasure is looking to cast a man in his early 20s, open ethnicity, to play another series regular. Oren is described as a sneakerhead, charming goof, and although a constant underachiever he does have a surprisingly keen mind for business. Oren has a near encyclopedic knowledge of conspiracy theories, but can be timid and self-absorbed. And although his ideas are out there the group of young treasure hunters come to discover that his theories shouldn't be completely ignored. While Oren hopes to win back Tasha's heart he'll be forced to learn that true love often requires personal sacrifice.
National Treasure is also casting a white man in his mid 20s who plays guitar and sings as another member of the treasure hunting crew with their own ties to the treasure. Liam is a handsome and charming struggling musician with a heavy family legacy weighing on his shoulders that he wants nothing to do with. Born into a long line of treasure hunters his only wish is to perform at the Grand Ole Opry.
Liam often put up walls to keep people at arm's length. After his estranged grandfather dies, Jess finds him with a story about a hidden treasure that connections to his family. While Liam initially wants nothing to do with it he eventually finds himself unexpectedly drawn to both Jess and the possibility of fulfilling his late father's treasure hunting dreams
RELATED: NATIONAL TREASURE 3 AND NEW SERIES IN DEVELOPMENT AT DISNEY+
National Treasure is also looking to cast a woman in her late 20s, open ethnicity, to play a young FBI Agent. FBI Agent Ross, an Oregon native, is new to the Baton Rouge field office and wants nothing more than to find a way to prove herself to the rest of her team. FBI Agent Ross has impressive investigative aptitude, but is unable to showcase them constantly being given trivial and boring assignments. When Jess and Tasha seek help from the FBI Ross sees this at her only chance to work a real case. As Ross digs further into this investigation she discovers the truth about Jess and her connection to the treasure.
National Treasure is also looking to cast an actor in his mid 20s to early 30s of any ethnicity. Myles is the home nurse for the former FBI agent, Peter. He cautions Jess that Peter is delusional believing everyone he meets is a spy. Myles is listed as a 7/10 series regular.
National Treasure is setting up an interesting cast of characters which is sure to create a fun team dynamic with each character bringing a unique skill in the hunt for the mysterious treasure. How the treasure hunt will tie into Jess' family secrets is still a mystery, but the series seems to be set up to be a truly amazing adventure. National Treasure is scheduled to begin filming the 10-episode season in Baton Rouge, Louisiana in early 2022.
Are you excited about the new National Treasure series? Do you hope that anyone from the film has a cameo? Leave your thoughts in the comments below or on our social media and check back with The Illuminerdi for more Disney Plus and National Treasure news.
KEEP READING: MARVEL STAR LIA MCHUGH ON HOW ETERNALS DIFFER FROM THE AVENGERS AND GUARDIANS OF THE GALAXY: EXCLUSIVE INTERVIEW