Black Adam is about to be a gateway film.
DC definitely picked a massive (in both name and size) actor to take on the role of Teth-Adam. Dwayne Johnson voiced his wishes about playing the character long before production for the movie started. The plans for the franchise do not stop here, however. The first teaser for the movie dropped during DC FanDome, and it had fans looking forward to the release.
RELATED: SUPERMAN & LOIS SEASON 2 GETS NEW DATE; CW ANNOUNCES SCHEDULE CHANGES
Now Black Adam producer Hiram Garcia has revealed during his interview with Variety that several other projects might branch out from the newest movie franchise. 
WHERE BLACK ADAM GOES NEXT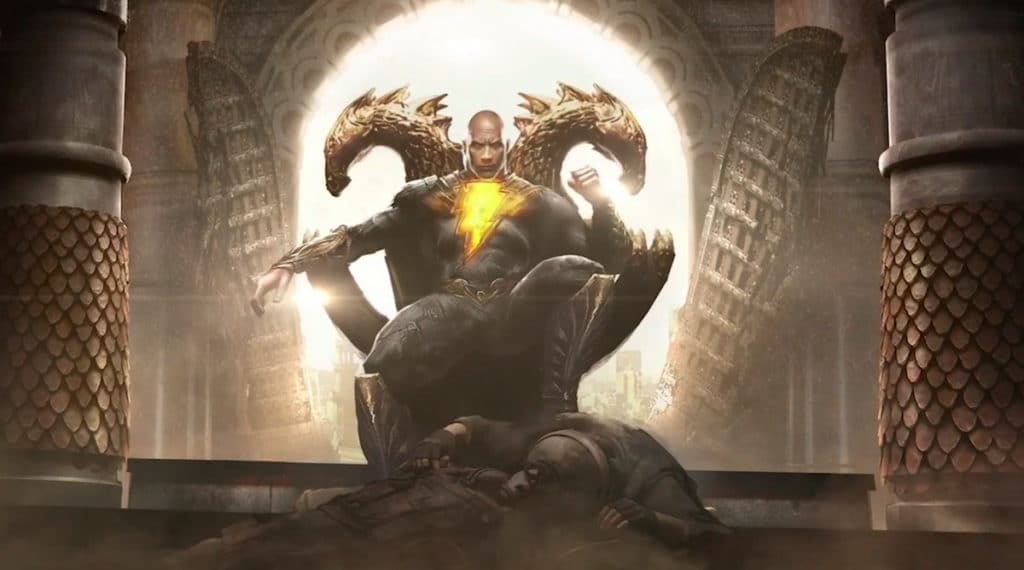 "When we do something like this, we're looking at the entire DC Universe as a whole because with our movie, not only do we introduce Black Adam, but we introduce several characters. We have great ambitions and plans for what we want to do in the DC Universe, and we're starting to work on that now as we start to roll out that plan" said Hiram, who is also Johnson's partner. 
Last week we published a story in which we spoke with Garcia about the possibility of bringing Spectre to the big screen as well.
"I'm always intrigued by characters like The Spectre that is so unbelievably powered and kind of the second half of them is rooted in this gritty grounded space. So, look, all I can say is, I can't tell you the chances, but I can tell you that at Seven Bucks we do not stop. Like Hawkman and Black Adam, we do not stop fighting for opportunities to tell these stories.
And look, he comes from two sides. We want to tell the stories, but secondly, we just want to see that the stories are told as best as they can be. There's a lot of characters out there that we love, that we are continuing to campaign for, to be able to tell their stories and get them into the universe we're crafting here with Black Adam and the JSA and so forth. But I don't know, my friend.
I think a lot of it will also be dictated by how Black Adam comes out. If the fans love it if the fans love Super-Pets, which I'm confident in both those projects. But as storytellers, we're always going to fight to try and get our hands on some of those beloved characters and bring them to life because it's the best kind of storytelling there is, right? This is what it's all about, my friend" concluded Garcia.
DC AND ITS RECENT HISTORY OF CROSS-OVERS
One of the most exciting parts of building an entire universe revolving around well-known heroes/villains is the possibility of a cross-over. Cross-pollination between franchises is something that DC has dabbled on very recently. From the cross-over events in the Arrowverse that included Arrow (which later on Crisis on Infinite Earths became Spectre), The Flash, Superman, Supergirl, and other heroes in the CW world, the Justice League movies to animated films.
It seems like more cross-over between franchises is not completely out of the table when it comes to the big screen. Hiram, during his interview with Variety, jokingly stated that he wants to see Gal Gadot's Wonder Woman take on Johnson's Black Adam. Garcia voiced his opinion that Wonder Woman is the only superhero that can go "toe-to-toe" with the former hero turned corrupt by his own powers. Another Illuminerdi exclusive published back in May of last year revealed that there is a possibility of a JSA spin-off film that branches from "Black Adam". Members of the JSA such as Atom Smasher, Cyclone, Hawkman, Hawkgirl and Dr. Fate will appear in the film.
Black Adam's first comic appearance was in late 1945 as a one-time villain. The character was later on revived in the 1970s. Teth-Adam is an Egyptian that is thousands of years old thanks to his acquired powers. He possesses the same powers as Shazam, but unlike our young hero, Black Adam became corrupted by the vastness of his ability, thinking that he should rule the world. "Mighty Adam" believes that he is the right person to lead humanity and will do anything necessary for what he believes is for the greater good.
In the comics, Shazam banishes Black Adam to the most distant start in the universe with a one-way ticket. You'd think that, after spending 5,000 years flying back to earth, Black Adam would have a change of heart and regret some of his actions. However, that is not the case.
BLACK ADAM: VILLAIN OR ANTIHERO?
The 16th greatest comic villain of all time (according to IGN) is now described as a corrupted anti-hero attempting to clear his name. If I had to guess, my money would be on Dwayne Johnson's character following the same fate eventually. I don't believe that "The Rock" will let this character go down as the ultimate villain of the franchise, especially since he is such a likable person.
Black Adam will be directed by Jaume Collet Serra with Dwayne Johnson, Hiram Garcia, Dany Garcia, and Beau Flynn serving as producers. The movie is expected to be released on July 29th of 2022. The cast also includes Noah Centineo, Aldis Hodge, Sarah Shahi, Quintessa Swindell, and Pierce Brosnan.
Are you excited to watch this movie? Do you think Dwayne "The Rock" Johnson will do justice to the Black Adam franchise? Leave your comment down below, don't forget to follow our social media pages, and hit that notification bell. We got plenty of exclusives coming your way very soon! 
KEEP READING: WONDER WOMAN 3: GAL GADOT TEASES WORK IS CONTINUING ON SEQUEL'S SECRET SCRIPT