The Stepdad is here to bring holiday cheer.
Maligayang Pasko! As we say in my native Filipino language of Tagalog, Merry Christmas! After the hit success of Disney's last year's first Filipino Christmas short story, From Our Family To Yours, the company released a brand new short for this upcoming Christmas.
RELATED: ONE PIECE: EXCITING NEW CASTING UPDATE FOR THE HIGHLY ANTICIPATED LIVE-ACTION ADAPTATION
And just like last year's advert, this is also a Filipino Christmas themed story. The new short is a sequel to From Our Family To Yours, which focused on a loving Filipino grandmother passing down Christmas traditions to her granddaughter. The grandmother became worried that she was forgetting her and their Christmas traditions, but that was not case and the child surprised her Lola with a bunch of lovely paroles. (A parole is a star-shaped lantern that is commonly used in Filipino households during the holidays.)
In The Stepdad, we find out that the granddaughter's name is Nicole, and this animated short focuses now on her.
The Stepdad Welcomes You To The Family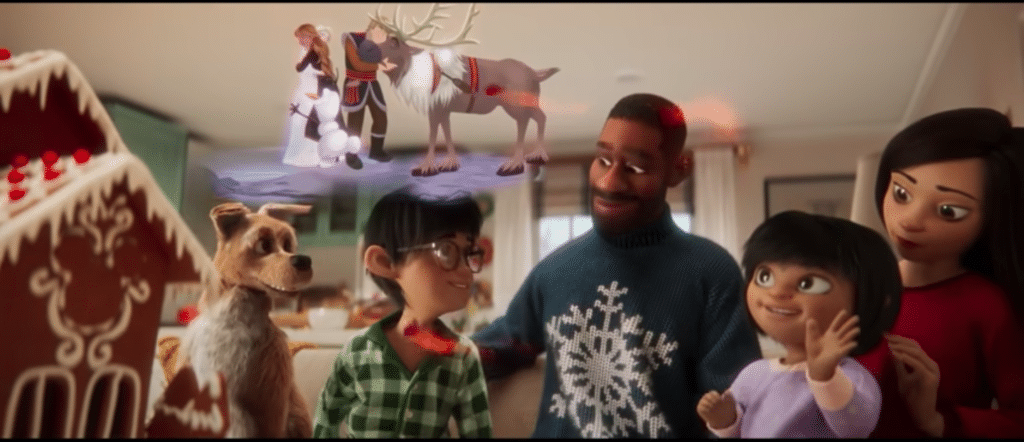 The animated short now focuses on a grown up Nicole who has now her own family. In the story it also shows that Nicole was a single mom, and is married to a new husband who is very loving to her family. The themes of this short is about traditions, love, acceptance, and family. Just like Our Family To Yours, this short explored and appropriately represented many cultural aspects in a Filipino-themed Christmas. Now also this time mixed Jamaican themed heritage, all combined with a little bit of that Disney magic.
BREAKING DOWN THE STEPDAD
The Stepdad starts with Nicole and her children welcoming her new husband and their new stepdad and his dog to their home. We see that Nicole's new husband is very friendly, accommodating, respectful, and most importantly loving. We see that Nicole's new husband is very excited and anxious in moving in with his new family.
While we go inside Nicole's home, we see pictures of Nicole's family and even a picture of her Grandmother (Lola) with her children. We also see that Nicole's home is filled with Disney memorabilia and decorations relating to Filipino Culture. We also learn that the name of Nicole's new husband is named Mike, and he is of African-British Descent. Well mainly because just like in Our Family To Yours, the setting is in the United Kingdom.
The short then continues with Max getting accustomed to with his new home. We see Nicole's children also being nervous and anxious in welcoming their new stepdather. Just like their mother and great grandmother, Nicole's Children also loves Disney and the magic it brings to them. We then see Max's parents coming over to visit Nicole and her Children Max and Ellie. The scene then forwards to Mike parents eating dinner with him and Nicole's family, while having a good time. The scene then transitions with Mike family leaving and giving Christmas gifts for him, Nicole and her Children.
The next scene shows more of Disney Magic and the subsequent franchises that are part of Disney. An example is Max and Ellie playing with their Lightsabers based from the hit global franchise Star Wars. We also then see that Max has a Disney Diary book that is supposedly given to him from his great grandfather or maybe even Nicole's dad. However, it is not specified.
But we are shown that the book might have magical properties, as the book contains iconic Disney characters and somewhat brings them to life. Those featured Disney Characters are Moana, Buzz Lightyear, Queen Elsa, Princess Anna, Sven, Kristoff, Olaf, Minnie Mouse, and of course Mickey Mouse. Now even though the book brings it's characters to life, it might just be the children and Mike using their creative imagination.
The short continues with montages with Mike, Nicole and her children bonding. One montage shows them at a park playing in the snow and making a Snowman, similar to Olaf from Frozen. We also see a short montage of Nicole teaching Max how to make a Filipino Christmas Parole, just like what her Grandmother did for her. It's a nice and sweet little throwback to "Our Family To Yours".
We then see Mike, Max, and Ellie watch an animated Spider-Man show, showcasing Marvel in the animated short. We get to even see Mike video calling with his own family or relatives, and introducing them to Nicole's Children. That's where we see Mike's assumably nephew or cousin show Max the iconic Wakanda Forever Pose, where Max gladly and proudly does it also.
The next scene we are shown is that Nicole and her Children are starting to bake a gingerbread house. We find out that the recipe for their gingerbread house comes from a family recipe, that has been written and made by Nicole's Grandfather. We then see Mike help the family, and successfully bake the gingerbread house from Nicole's grandpa's recipe. However unfortunately we see that Mike's dog, Ellie and himself accidentally breaking the Gingerbread house. This upsets Max and Ellie to the point they become mad at Mike and cry to their rooms.
Mike is feeling embarrassed, ashamed and saddened that he might have lost the respect of Nicole's children. However, that is not the case as Nicole's children do love Mike. It's because we see a drawing of Mike with Nicole, and her children that has been drawn by Max. Feeling inspired we see Mike staying up all night and baking a much bigger and better Gingerbread House. With of course respectfully using Nicole's Grandfather's recipe. We then see then Nicole and her children wake up and see the Gingerbread house. With all of them being happy and joyful with Mike's Gingerbread house.
The video ends with Mike, Nicole, Ella, and Max siting down comfortably and opening the Magic Disney Book and showing the characters from Frozen. Then the video ends saying Our Family To Yours. A throwback of the original video starring Nicole Grandmother or Lola.
THEMES AND MESSAGES FROM THE STEPDAD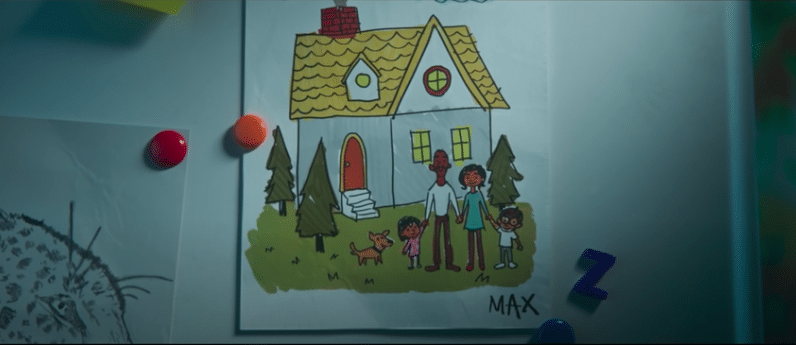 Just like Our Family To Yours this special animated Christmas Animated short had many cultural themes and references relating to Filipino culture. The Christmas Holiday is a very big season to the Philippines, and they take it very seriously. Some can argue it's bigger than the celebrations in many other countries, including the United States.This is because Christmas is celebrated for four months in the Philippines, starting in September. For four months, Filipino families would decorate, carol, and have many Christmas themed parties and festivals honoring the holiday.
This video showed on how Nicole and her children took Christmas very seriously. With of course honoring her new husband's mike culture, some of his traditions, and embracing him part of the family.
The Christmas Parole
During one of The Stepdad's montages we see that Nicole teaching Max on how to create a Christmas Parole. In the Our Family To Yours Video, the Christmas Parole was the main theme of that short. A Christmas parole is a star-shaped lantern and is used in many Filipino households and public areas. The Christmas parole's symbolic meaning is to show the victory of light over darkness. It also symbolizes hope and goodwill during the Christmas season.
Making and crafting Paroles is a long Filipino tradition that is passed down from generation to generation. It also represents nostalgia to many.
Honoring and Respecting Traditions
The Stepdad gave us glimpses of Nicole's family and Mike respecting their family traditions. One example is that we see Nicole honoring Mike's Jamaican heritage by putting some decorations relating to his culture in her household. We also see Nicole's inviting Mike's parents for dinner and eating what appears to be Jamaican Beef Stew, a great delicacy. We also see traditions being honored with Nicole and her family baking a gingerbread house from her grandpa's recipe.
In the Philippines, honoring and respecting family traditions is a staple in Filipino Culture. It's because it helps honors the past, while giving a nice foundation for the future.
Acceptance Into Ones Family
In the video we see that Nicole and Mike's family are now a blended interracial couple. This moment is indeed a nice tone or message to viewers. Showing that no matter what race or ethnicity you are, you can still be accepted and loved into ones family. With Nicole being Filipino and Mike being Jamaican heritages. Also Nicole and children fully accepting Mike is not as a surprised.
It's mainly because Filipinos are well known to be caring and loving to many people, no matter what race or ethnicity. Filipinos will even even sometimes will treat close friends or acquaintances like one big family. Especially during family parties or holidays like Christmas. As we saw in the video Nicole and her children treating Mike's family with unconditional love and respect.
Final Thoughts
Overall , The Stepdad hit home and reminded me of my own family. It's mainly because I have many cousins and relatives that are also married with partners of different ethnicities. With some of them having now loving bi-racial families, that we love unconditionally. The Stepdad also shows us on how not to forget and spend time with our families.
When I was younger I remembered the great times I had when I was younger, singing and caroling, and even engaging in the Filipino family party tradition of Christmas Karaoke. But sadly, as we grew older that magic lessened or went away. Family members or relatives are missing or too busy and people grow up and don't have the time to celebrate traditions. But thankfully with the case of this video, Nicole was able to honor it and keep somewhat in touch with traditions.
The Stepdad showed us that no matter what race, ethnicity, or culture we are still of capable loving and accepting heritages. That is even accepting and loving them into one's family. The video also teaches us that family is very important and to always cherish our loved ones. We saw the video through the perspective of Stepdad Mike, who was nervous if he would be loved or accepted by Nicole's family. In the end we saw Nicole's family did truly accepted him and gave him their unconditional love.
The Stepdad also taught viewers to honor the family traditions our elders have lovingly given us and to cherish their teachings. Just like how Nicole honored her Grandmother and Grandfather. Perhaps this was just a Christmas story from Disney UK, but to my Filipino heritage, and maybe also too Jamaican heritage it felt like a great deal and gave a loving tribute to our Christmas culture. In the end we must keep the love and magic strong, especially in these hard times.
If you have time hug your family members, or call your grandparents and relatives, do so. Finally, as we say it in my native Tagalog, Maligayang Pasko at Maligayang Piyesta Opisyal. Merry Christmas and Happy Holidays!
KEEP READING: CHUKWUDI IWUJ JOINS GUARDIANS OF THE GALAXY 3 IN HIGHLY COVETED MYSTERY ROLE ACCORDING TO DIRECTOR JAMES GUNN
Source: Disney UK