Bruce Campbell spoke with The Illuminerdi about the upcoming horror-comedy, Black Friday, in which Campbell stars and produces.
Bruce Campbell plays Jonathan, the greedy manager of a superstore which endures an alien zombie attack on the shoppers' holiday. Casey Tebo directs this dark, bloodsoaked comedy that also stars Michael Jai White, Devon Sawa, Ivana Baquero, Ryan Peck and more. Black Friday arrives in theaters on November 17th, 2021 and on demand on November 23rd.
BLACK FRIDAY: BRUCE CAMPBELL PROMISES "THESE PEOPLE DON'T STAND A CHANCE"
Campbell is perhaps best known for his work as "Ash Williams" of Sam Raimi's Evil Dead franchise. The horror franchise follows the tragically unlucky Ash as he fights the demonic "Deadite" scourge incurred by the reading of the occult "Necronomicon".
RELATED: TICK, TICK… BOOM! REVIEW: ANDREW GARFIELD DELIVERS A CAREER BEST PERFORMANCE IN STELLAR MUSICAL
This role turned Campbell into a legendary figure in the horror community. The Evil Dead films are famous for their mixture of comedy and horror. Black Friday looks to follow in their footsteps while adding a satirical workplace element, changing up the formula.
Campbell explained the light-hearted tone struck by the film to The Illuminerdi at the 2021 Saturn Awards.
BLACK FRIDAY IS A RETURN TO FORM FOR FUN, SCI-FI HORROR
"It's fun, it's back to the fun horror, sci-fi type movies. You know, horror, I'm a fan of it, I've done it for a long time, but it can get pretty grim. And this one's fun you're gonna root for these bunch of losers, it's black friday, these people don't stand a chance."

-Bruce Campbell, on Black Friday
The promise of watching a bunch of retail workers fight through a pseudo-zombie invasion on the most stressful night of the year is tantalizing, something that Campbell clearly realizes. That the cast features one of the most seasoned and beloved actors in the genre is just icing on the cake.
The monstrous creatures for Black Friday certainly seem to be inspired by the Deadites of Evil Dead. If they wield the same level of deadly force, then you better believe Campbell when he says that these employees are doomed.
Thankfully, while this film may be inspired by classics like Army Of Darkness and Childs Play, these seem to be loving homages. Judging by the trailer, Black Friday is anything but derivative, carving out it's own path while honoring what came before.
The trailer features the curious appearance of Chucky, Jonathan's questionable managerial behavior, and a decidedly goofy tone. The metaphor (that Black Friday shoppers are monstrous, bloodthirsty creatures) is as on the nose as they come, but that's ultimately part of the appeal.
Black Friday is not a horror film worried about sending a powerful social message. This is a campy, hyper-violent romp that promises not to take itself too seriously, and that should be a beautiful thing. On top of that, a high body count seems all but guaranteed, which I personally find delightful.
Don't miss out on Black Friday, a new horror comedy from director Casey Tebo, with music by Patrick Stump of Fall Out Boy. Bruce Campbell stars alongside Michael Jai White, Devon Sawa, Ivana Baquero, Ryan Peck, Mark Steger, Louie Kurtzman.
BLACK FRIDAY: OFFICIAL SYNOPSIS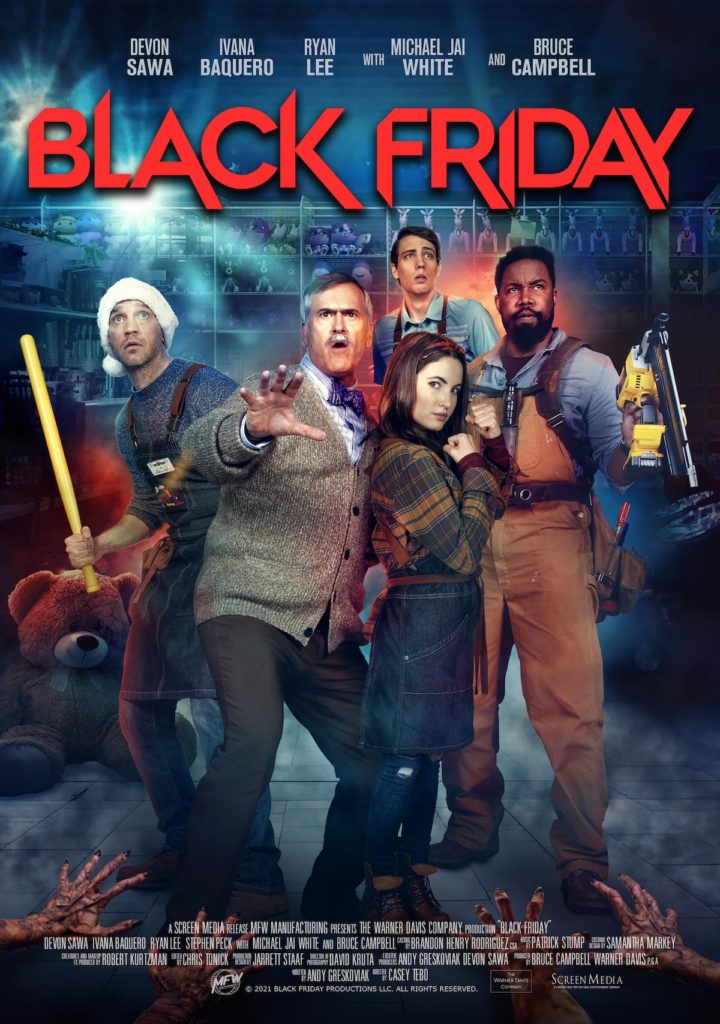 "Set on the busiest shopping night of the year, Black Friday, the story follows a group of disgruntled toy store employees who have to defend themselves from legions of holiday shoppers when a mysterious alien parasite sends them on a murderous rampage."
Let us know what you think about Black Friday in the comments below or on our social media!
KEEP READING: KING RICHARD: WILL SMITH AND THE WILLIAMS SISTERS PRAISE THE IMPRESSIVE CAST OF THE NEW FILM