Six seasons and a movie! The rallying cry of Community fans everywhere that many still hope will one day be fulfilled. Community's rallying cry comes from Abed himself in reference to the short-lived NBC superhero series The Cape, but fans quickly adopted it for the beloved sitcom. Throughout the series run, fans rallied to save it using the hashtag #sixseasonsandamovie to great success with the famously on the bubble comedy repeatedly renewed and even getting the sixth and final season on Yahoo! Screen after the series was canceled by NBC.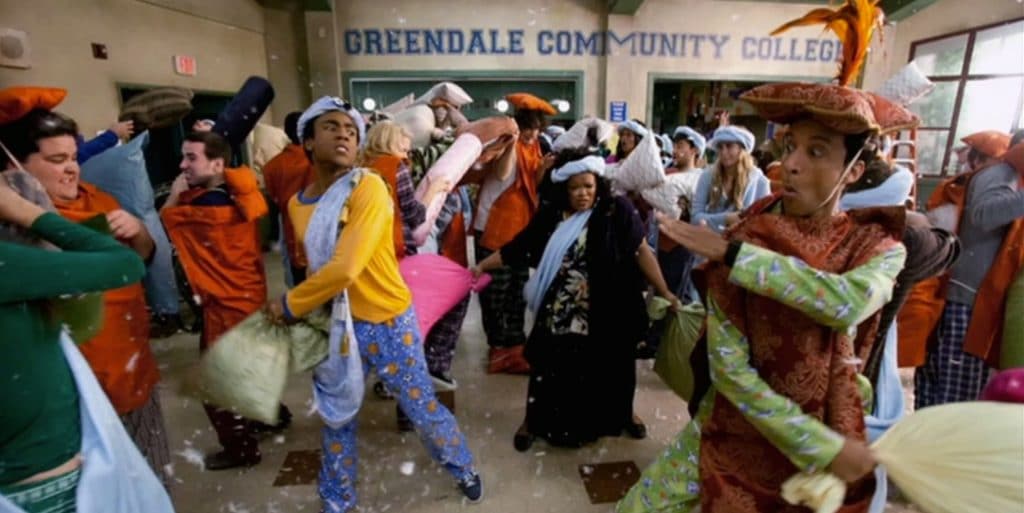 Community first aired on NBC in September 2009 starring Joel McHale, Alison Brie, Donald Glover, Danny Pudi, Chevy Chase, Gillian Jacobs, and Yvette Nicole Brown as a study group at Greendale Community College. Although not much studying took place during Community, the study group were at the center of some truly ridiculous and hilarious adventures. Throughout the series run there were numerous changes, such as series creator Dan Harmon being fired after the third season and then brought back for the fifth.
RELATED: DAN HARMON CONFIRMS COMMUNITY MOVIE CONVERSATIONS
Chevy Chase's Pierce Hawthorne was killed off after the fourth season and Donald Glover's Troy Barnes left in the middle of the fifth season to sail around the world with LeVar Burton. Community brought in Jonathan Banks in the fifth season followed by Paget Brewster and Keith David in season six. And while the comedy did fulfill part of the #sixseasonsandamovie rallying cry, there is still a final piece that fans continue to hope for.
RELATED: COULD COMMUNITY'S SUBLIME PROPHECY FINALLY BE COMING TO PASS?
To this day, over six years after the final episode aired, fans are still hoping for the "and a movie" to come to fruition. Much of the cast and creator Dan Harmon have repeatedly shown interest in fulfilling the final piece of the rallying cry.
KEITH DAVID TALKS COMMUNITY DURING THE 2021 SATURN AWARDS
During the 2021 Saturn Awards The Illuminerdi was able to catch up with Keith David, who played Elroy Patashnik, in Community's sixth and final season. When asked about any news about a possible Community movie he had this to say:
"No. I'm working with Dan on another series right now that should be coming out pretty soon, but I have no idea about Community. But listen, keep writing. Keep those cards and letters coming. One never knows."
Although it is disappointing that the Community movie still seems like a distant dream, his reassurance to fans that they should "keep writing" does offer some hope. Even six years after the series finale debuted in the summer of 2015 the fan base is still very loyal to the series and the hope for a movie has continued to grow especially as a way to reunite the hilarious cast.
RELATED: RICK AND MORTY: BACK TO THE FUTURE'S CHRISTOPHER LLOYD DESCRIBES HIS DREAM TO CROSSOVER THE FRANCHISES: EXCLUSIVE
Fans continue to show a love for the comedy and new fans discovered the clever comedy after it was added to Netflix in 2020. Community saw a surge of popularity after it became available on both Hulu and Netflix last year which seemed to draw some attention with Dan Harmon commenting on it in an interview with The Wrap. Dan Harmon, most of the cast, and even Joe Russo have expressed interest in returning for a Community movie much to fans' delight. And although there doesn't seem to be any news at this time, hopefully one day #sixseasonsandamovie will finally come to fruition.
And as Keith David said, "One never knows."
Do you want a Community movie? Leave your thoughts in the comments below or on our social media and check back with The Illuminerdi for more exclusive interviews.
KEEP READING: THE BOYS CREATOR ERIC KRIPKE TEASES SEASON 3'S FOCUS ON SOLDIER BOY'S TEAM AND THE HIDDEN HISTORY OF VOUGHT: EXCLUSIVE INTERVIEW