The official trailer for the fourth season of Cobra Kai has been released by Netflix. 
Cobra Kai Season 4 arrives on December 31, 2021. The fourth installment in the popular young adult karate drama series will see the Miyagi-Do + Eagle Fang and Cobra Kai dojos fight to win the All-Valley Tournament once again. 
On the side of the newly united Miyagi-Do and Eagle Fang Dojo's, Ralph Macchio (Danel LaRusso), William Zabka (Johnny Lawrence), Xolo Mariduena (Miguel Diaz), Vanessa Rubio (Carmen Diaz), Mary Mouser (Samantha LaRusso), and Courtney Henggeler (Amanda LaRusso) will all return. Additionally, Gianni DeCenzo and Jacob Bertrand will return as Demetri and "Hawk", respectively.
The Cobra Kai dojo will strike hard this season, with beloved cast members Martin Kove (John Kreese), Tanner Buchanan (Robby Keene), Joe Seo (Kyler) and Peyton List (Tory Nichols) all returning for more karate violence in Cobra Kai Season 4. They will be joined by Thomas Ian Griffith, who plays Terry Silver, a villain from the Karate Kid past. Griffith first starred in The Karate Kid Part III in 1989.
The Official Cobra Kai Season 4 Trailer
The Cobra Kai Season 4 trailer is jam-packed with eighties nostalgia, which is then infused with the boiling-hot promise of more brutally over-the-top karate action. The character drama of Cobra Kai is surprisingly layered and rich with complexities that this trailer plays off of gloriously. 
Terry Silver acknowledges the events of the third Karate Kid film, much to the chagrin of Daniel LaRusso. "You just don't want to admit there's a little Cobra Kai in you" may be more than a line Silver delivers to Daniel, it may be one of the central themes of Cobra Kai Season 4. The merging of dojos, the newly refounded relationships and the shared history of the Valley are so deep now that the touch of Cobra Kai is practically everywhere. 
RELATED: Cobra Kai: Character Descriptions For Two Mysterious Season 4 Characters Revealed: Exclusive
One of the biggest possible reveals of the trailer comes in the last few seconds. A vote to change something about the All-Valley tournament takes place, and it seems fairly ominous to some of the board members. A brief shot then appears to show Samantha LaRusso wielding a Sai at the All-Valley Tournament. Could weapon-based combat be introduced to the tournament this season of Cobra Kai?
COBRA KAI: GETTING TO KNOW TERRY SILVER
Setting up something as sinister as this seems right up Terry Silver's alley if you ask me. Silver is a Vietnam Veteran who served alongside John Kreese. The two have a bond deeper than blood. Silver is a very wealthy, yet corrupt businessman who bankrolled the original Cobra Kai operation. He served as the antagonist of The Karate Kid Part III, wherein he tried to break Daniel LaRusso by turning him into a vengeful, hate-filled weapon of the Cobra Kai dojo. 
He also sought to humiliate Daniel and failed rather miserably in both regards. In the present, despite his troubles with Cobra Kai, Daniel LaRusso leads a fulfilling, happy life as a force for light and good, a disciple of Mr. Miyagi carrying the philosophies of Miyagi-Do on in his absence. 
Cobra Kai was renewed for a fifth season, which is reportedly scheduled to wrap production sometime this month. Producer Josh Heald explained that Season 5 is not planned to be the end of the series in an interview with ScreenRant.
COBRA KAI: SIX SEASONS AND A TRILOGY OF EIGHTIES MOVIES?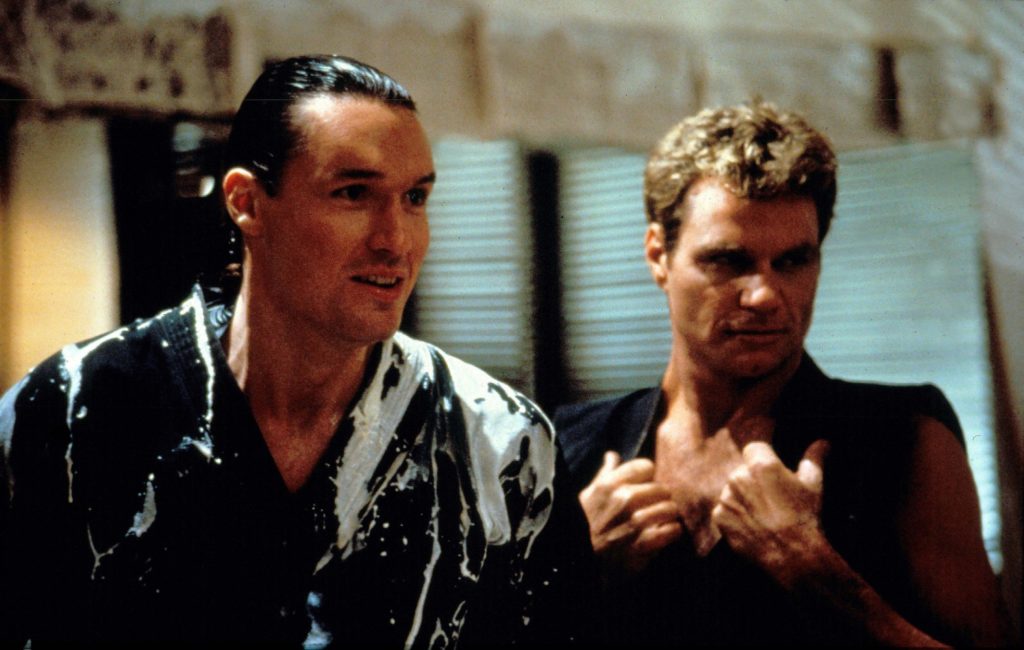 "We have more beyond season 5. We are not writing to the end of the series in season 5 right now. We can't believe we've filmed two seasons of the show this year. In our minds, it's crazy to believe how far ahead of the story we are than what the audience has seen so far. Season 5 is another enormous season with a lot of new flavors and a lot of things that you haven't seen before yet on the show. And it's not the end."

-Josh Heald
While Cobra Kai promises to carry on long after we're all dead, as of right now, the future of Cobra Kai continues on Netflix on December 31, 2021, with the all-new Season 4. With the new trailer fresh in the minds of fans, anticipation for The Karate Kid franchise has never been higher. 
What did you think of the Cobra Kai Season 4 trailer? Is Danny or Johnny the better sensei? They shot Cobra Kai Season 4 and 5 this year, do you think they will shoot 6 and 7 next year? Let us know your thoughts in the comments below or on our social media!
KEEP READING: Cobra Kai Wins Early Season 5 Renewal