Adrien Brody stars in the upcoming Clean, an action thriller that puts the actor in a John Wick-esque role.
The trailer shows Brody on a search for answers as his past is catching up with him, to the dismay of his enemies.
RELATED: AHSOKA: NEW GRAND ADMIRAL THRAWN CHARACTER DESCRIPTION
While the film doesn't seem to be going with the "John Wick" type of action approach it seems like Brody's character might be inspired by him, combined with a little bit of Joaquin Phoenix's character from Lynne Ramsay's violent You Were Never Really Here.
Will Adrien Brody Ever Be Clean Again?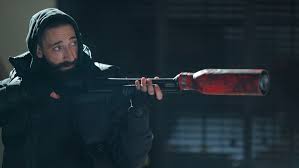 IFC Films presents a story about a garbage collector (Adrien Brody) who gets sucked into the orbit of a local crime boss, needing to face the violence of his past to find redemption in this bloody thrill ride.
Check out the trailer below:
Clean will be released by IFC Films on VOD and in theatres on January 28, 2022.
It is directed by Paul Solet and stars: Adrien Brody, Glenn Fleshler, Michelle Wilson & Richie Merritt.
What do you guys think? Does the film peak your interest? Let's discuss everything in the comments down below and on our Twitter.