Veteran Power Rangers voice actor, Campbell Cooley, shares experience voice direction the Power Rangers: Dino Fury Christmas Special "Secret Santa."
Christmas is almost upon us and with the year coming to a close, many fans in the Power Rangers community are reflecting on their favorite Christmas-themed episodes. The Christmas and Holiday season has always been a huge part of the Power Rangers franchise and fandom, ever since Mighty Morphin Power Rangers first premiered in 1993. The first season of the first Power Rangers ended with a Christmas Holiday Special Episode starring Alpha 5. The special became a huge favorite among fans and inspired the franchise to continue making Holiday-themed episodes in future seasons.
RELATED: Power Rangers Dino Fury Voice Actor Campbell Cooley Explains How His Past Role As Cosmo Royale Influenced Slyther
The recent Christmas Special "Secret Santa" was an epilogue episode for the current season of Power Rangers: Dino Fury. "Secret Santa" featured Slyther, one of the main antagonists and fan-favorite villains of Dino Fury, as the episode's main villain. The character's villainous charm, motivation, excellent fighter prowess, and cunning mastery of disguise were on full display once again as Slyther was once again voiced by veteran Power Rangers voice actor and director Campbell Cooley. At Anime Pasadena 2021, I was able to interview Cooley himself on our sister page The Morphin Network.
Morphin Network's Exclusive Campbell Cooley Interview
MORPHIN NETWORK: it's almost the Christmas season, there is a special episode of Dino Fury that featured your character, Slyther. Can you tell us what it was like doing the voice directing of that episode?
CAMPBELL COOLEY: Sure, uhm well yeah it was I mean, I don't know how to answer that. But I mean it was just more you know, we think that Slyther and Mucus are gone, and that is what I thought. I thought they were trapped in this other dimension and we are probably not going to see them for a long time. Then boom they just suddenly show up in the Christmas episode. and you know what I am perfectly happy with that.
I've had plenty of other villains that come back for the Christmas episodes. So I feel like it's a fine tradition that we need to continue. I really loved some of the dialogue for Slyther on that episode. My favorite line and I am not going to do the voice is when (laughter), I mean I will try. But it is when the giant version of him is battling the Rangers and he gets Zapped.
Then he's falling from the sky and he goes (Slyther Voice) "Tuck and Roll Giant Me, Tuck and Roll!" (laughter), but yeah we know it didn't go well. So yeah I am thrilled that he's still around, and uhm maybe will see him in Season 2 who knows.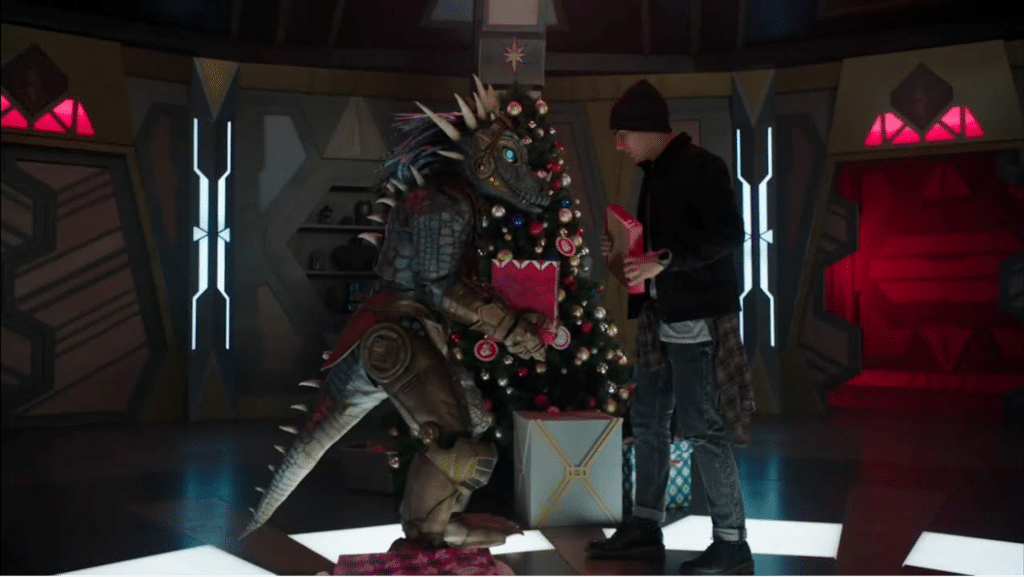 Campbell Cooley has become a huge staple and a legend in the Power Rangers fandom. His performances are Admiral Malkor, Snyde, Cosmo Royale Scrozzle, Slyther and many other villains in Power Rangers, since Ninja Storm, will always be remembered in the franchise's lore. With his humble, kind, caring and down-to-earth personality, it is easy to see why Cooley is beloved by fans in the Power Rangers fandom and community.
RELATED: Massive Potential Spoilers For Power Rangers Dino Fury Season 2 Leak Online
Also would like to point out, Campbell Cooley has been named the Stan Lee of the Power Rangers franchise due to his multiple cameos and appearances in the series since Ninja Storm. His recent live-action cameo appearance was his portrayal as Mr' Wiz, Slyther's human form in the "Storm Surge" episode of Dino Fury.
Power Rangers Dino Fury stars, Russell Curry as Zayto the Red Dino Fury Ranger, Kai Moya as Ollie Akana the Blue Dino Fury Ranger, Hunter Deno as Amelia Jones the Pink Dino Fury Ranger, Tessa Rao as Izzy Garcia the Green Dino Fury Ranger, Chance Perez as Javi Garcia the Black Dino Fury Ranger, Jordon Fite as Aiyon the Gold Dino Fury Ranger, Jared Turner as Void Knight, Campbell Cooley as Slyther, Torum Heng as Mucus, and Jo Davidson as Solon.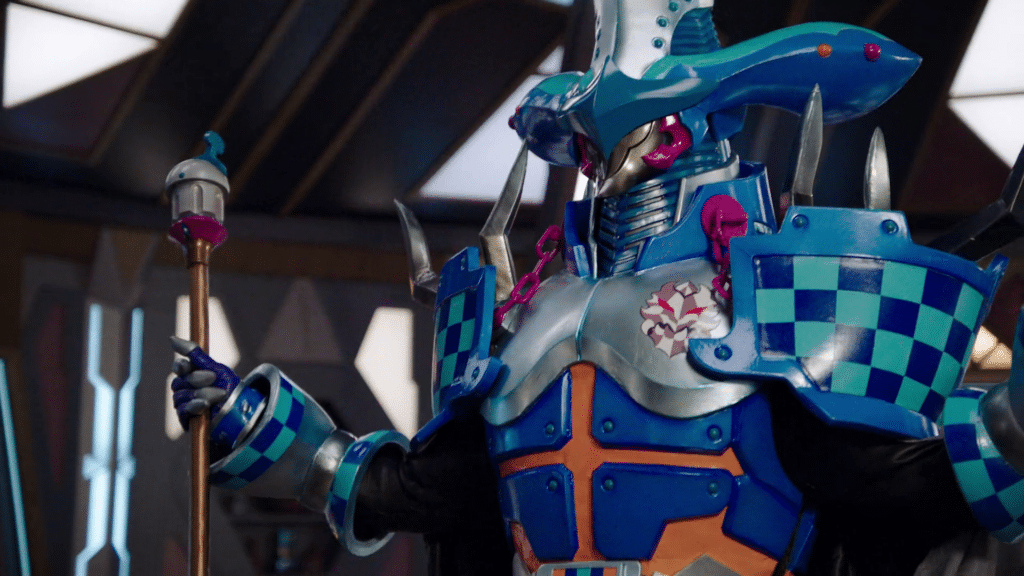 All episodes of Power Rangers: Dino Fury Season 1 are now available on Netflix with Season 2 set to premiere in Spring 2022. What did you think of this year's Christmas special? What special, of any holiday, is your favorite? What else would you like us to ask Campbell Cooley or other members of the Rangers' cast? Let us know in the comments and be sure to follow The Illuminerdi on social media for more Power Rangers content like this in the future!
Source: Morphin Network
KEEP READING: Power Rangers Universe: Exciting First Look At The New Team