Moon Knight recently released its first official trailer, featuring Oscar Isaac as the title character and Ethan Hawke as the antagonist. Ethan Hawke's secret role has officially been confirmed thanks to subtitles for the trailer.
While many rumors pointed to Ethan Hawke playing Sun King, a relatively new supervillain from the Moon Knight line of comic books, official subtitles reveal that Hawke is playing Arthur Harrow.
RELATED: ANDREW GARFIELD SAYS HE LIED TO EMMA STONE ABOUT HIS ROLE IN SPIDER-MAN: NO WAY HOME
Arthur Harrow is an incredibly obscure character from Moon Knight: Fist Of Khonshu #2, which came out in 1985. That was the ,only issue Harrow appeared in, so Ethan Hawke's version of the character will be unique by nature, and likely quite different from his comic book counterpart. In Fist Of Khonshu, which was a six-issue miniseries from Alan Zelenetz and Chris Warner, Harrow was a mad scientist with a partially paralyzed face.
Moon Knight: Ethan Hawke Will Play Arthur Harrow
He experimented on human beings, manipulating them and removing their pain receptors, making them more challenging foes for Moon Knight to face. The bearded redhead villain escaped with his life, and though Moon Knight speculated he would return, he never did. While fixing his facial paralysis was comic book Harrow's primary motivation, MCU Harrow's face appears to be unparalyzed. Ethan Hawke, star of films such as Sinister, Training Day and the upcoming The Black Phone, says that his performance was inspired by real world cult-leader David Koresh.
Speaking with Seth Meyers, Ethan Hawke said "I've based my character on David Koresh! I guess it's working. You're good, Seth. Or maybe I'm not out of character yet…I will say that he is the basis of great character inspiration…". This is bad news for Oscar Isaac's Moon Knight, because David Koresh was a real monster. He was a cult leader, and a polygamist accused of grooming young girls.
He stockpiled so many weapons in his Waco commune that the United States Government launched a 51-day siege against Koresh and his cult. The siege resulted in the deaths of women, children, and Koresh himself, who died to a mysterious gunshot wound. Whether he killed himself or was killed during the siege was never officially determined.
Moon Knight: Arthur Harrow Inspired By Real Life Cult Leader David Koresh
Koresh was known for his prophetic speeches about the book of Revelations, and other biblical tales. He believed himself to be the last prophet of his organization, something that proved to be true by the time the Waco siege was over. In the trailer for Moon Knight, Ethan Hawke's Arthur Harrow can be seen speaking to the masses, with hair and garb reminiscent of Christ himself. He seems to be a biblically inspired leader, captivated by the chaos he sees in Moon Knight. The brief depiction seen in the trailer falls more in line with David Koresh's evil than Arthur Harrows, but we won't know how comic accurate Hawke's character is until March 30th, at the earliest.
Moon Knight was originally created by writer Doug Mench and artist Don Perlin, the superhero first appeared as an antagonist in Werewolf By Night #32. Marc Spector was a mercenary who was killed under the statue of Khonshu, god of the moon. (Khonshu is the terrifying bird-mummy creature seen in the Moon Knight trailer.) Khonshu resurrected Marc as Moon Knight, he who protects the travelers of the night. Marc has several alternate personalities, including billionaire businessman Steven Grant (a version of whom is featured prominently in the trailer), street-level cab driver Jake Lockley, and the costumed detective, Mr. Knight.
Moon Knight: Ethan Hawke's Arthur Harrow Will Do Battle With Oscar Isaac's Moon Knight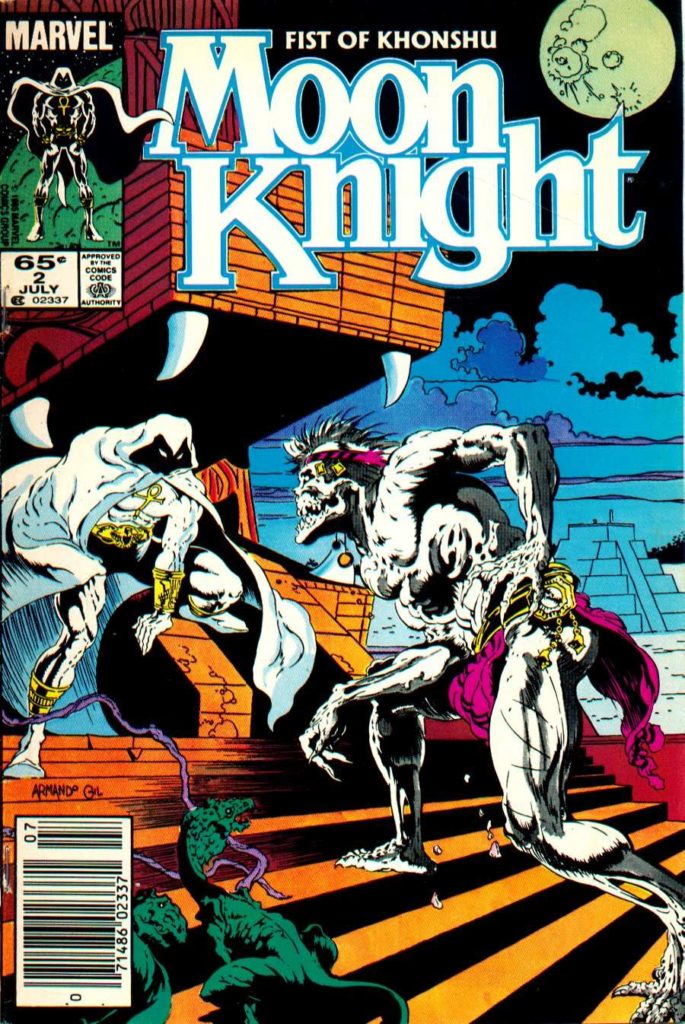 Moon Knight is a Disney+ MCU TV show directed by Mohamed Diab, Justin Benson and Aaron Moorhead, who previously directed MCU star Anthony Mackie in the mind-bending thriller, Sychronic. Moon Knight features Jeremy Slater as head writer, who has previously worked on projects such as The Umbrella Academy, The Exorcist and Fantastic Four. and stars Oscar Isaac as Marc Spector/Steven Grant/Moon Knight, Ethan Hawke as Arthur Harrow, Gaspard Ulliel as the supervillain Anton Mogart/Midnight Man, and May Calamawy in an undisclosed role. The series premieres on March 30th at 3AM EST/12AM PST.
Are you excited to see Ethan Hawke as Arthur Harrow in Moon Knight? Let us know your thoughts in the comments below or on our social media!
KEEP READING: THE BOOK OF BOBA FETT ACTOR RORY ROSS ON HOW TUSKEN RAIDERS PLAY INTO BOBA FETT'S TRANSFORMATIONAL JOURNEY
Source: The Source