The Girl On Fire is preparing her fiery debut.
Alicia Keys is one of music's most influential and legendary artists alive. The beloved musician has won multiple Grammys, sold millions of her albums, made plenty of successful music videos, and had many hit singles. She has been referred to as the Queen Of R&B, which is no surprise because Keys' is known for her beautiful R&B music. Her singles include "No One," "If I Ain't Got You," "No One," "Fallin," "You Don't Know My Name," "Empire State Of Mind," "Underdog," "Show Me Love," and her iconic song "Girl On Fire."
RELATED: BLACK PANTHER: WAKANDA FOREVER UNEXPECTEDLY HALTS PRODUCTION AGAIN 
Soon enough, Keys will be debuting her first graphic novel, which is also called Girl on Fire.
What About That Girl On Fire?
Girl On Fire by Alicia Keys is a young adult novel that focuses on a fourteen-year-old girl with unique abilities. The new graphic novel will be Keys' first introduction to the comic book world. Girl On Fire focuses on Lolo Wright, a young teenager who discovers her telekinetic powers when she has a grim encounter with police brutality. Key and Andrew Weiner will co-write the novel and Brittney Williams – who did the artwork for a.K.a. Hellcat!, Goldie Vance, Patsy Walker, and Adventure Time – will create the art for Girl On Fire.
As reported to Billboard, Keys revealed what inspired her to create a comic book novel based on her hit single. She explained to Billboard that her novel was somewhat of a passion project. She also shared that she chose her single "Girl On Fire" as inspiration for her novel because she wanted Lolo to realize her inner strengths.
Keys stated that:
"When I wrote 'Girl on Fire,' I knew I was writing it for that girl in the way back row who needed someone to tell her there's nothing you can't do, that nothing is impossible,"… "When Andrew and I came up with the idea of translating the song into a young adult graphic novel, I knew that I wanted it to be about a girl coming to realize the strength she's always had. There's a little Lolo in all of us — we all have the power inside to do what we never even thought we could — and I'm so proud and crazy excited to be able to share her story with you. You're going to fall in love with Lolo."

Billboard
With Keys' statement, it's evident that Girl On Fire is a passion project that she is very proud of creating. Key's already a highly successful musician, songwriter, and producer. Doing something like this shows she is a woman of many incredible talents. Girl In Fire is shaping up to be an exciting project for comic book fans. Based on Keys' description, Lolo looks to be a very fascinating and relatable character that fans could grow to love.
Hopefully, Girl In Fire can give us a fiery introduction once it debuts in comic stores on March 1st, 2022
THE GIRL ON FIRE OFFICIAL PLOT SYNOPSIS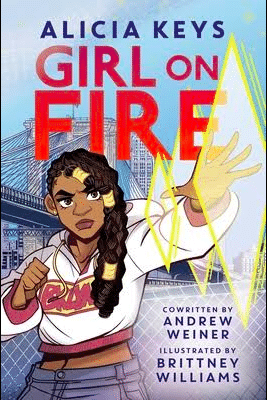 "Lolo Wright always thought she was just a regular fourteen-year-old dealing with regular family drama: her brother, James, is struggling with his studies; her dad's business constantly teeters on the edge of trouble; and her mother… she left long ago. But then Lolo's world explodes when a cop pulls a gun on James in a dangerous case of mistaken identities. Staring down the barrel, with no one else to help, Lolo discovers powers she never knew she had…"
Are you excited for the next adventure with Alicia Keys? Let us know in the comments below.
KEEP READING: SHE-HULK ACTOR TIM ROTH WAS SURPRISED BY HIS RETURN TO THE MCU AS ABOMINATION
Source: Billboard