Two brand new exclusive clips of Sony Pictures' upcoming Uncharted film have some nods and highlights to the video games. 
Fans are excited for the live-action film adaptation of one of gaming's most popular franchises. Sony Pictures' upcoming action-adventure film Uncharted is only two weeks away from its global premiere. The film will star Tom Holland as young adventurer Nathan Drake trying to find explorer Ferdinand Magellan's long-lost gold. Based on the video game series of the same name created by Naughty Dog, Uncharted looks to be one of this year's most exciting films.
RELATED: LOKI: GUGU MBATHA-RAW CONFIRMS THE RETURN OF RENSLAYER IN SEASON 2
Two new exclusive clips of Uncharted got recently released to promote the film further. What's interesting about these new clips is that there appear to be nods to the action scenes based on the video games. 
Brand New Uncharted Clips Teases The Film's Nods and Elements To The Video Games
The first clip features Holland's Drake and Sophia Ali's Chloe Frazer. In the Uncharted video games, Frazer was one of Drake's love interests. We see that Drake and Frazer are at a dance club in the clip, with Drake trying to bartend while Frazer tries to solve a puzzle piece behind him. Moncada's (played by Antonio Banderas) henchmen then approach the duo at the bar, wanting Drake's crucifix and turning the moment into a hilarious fight.
The scene then shows Drake quipping while fighting the henchmen and Sullivan solving the Crucifix puzzle piece. This clip has elements and nods to Uncharted 3: Drake's Deception because there was also a level of Drake getting involved in a bar fight. The clip also shows puzzle solving, an essential aspect of the Uncharted games.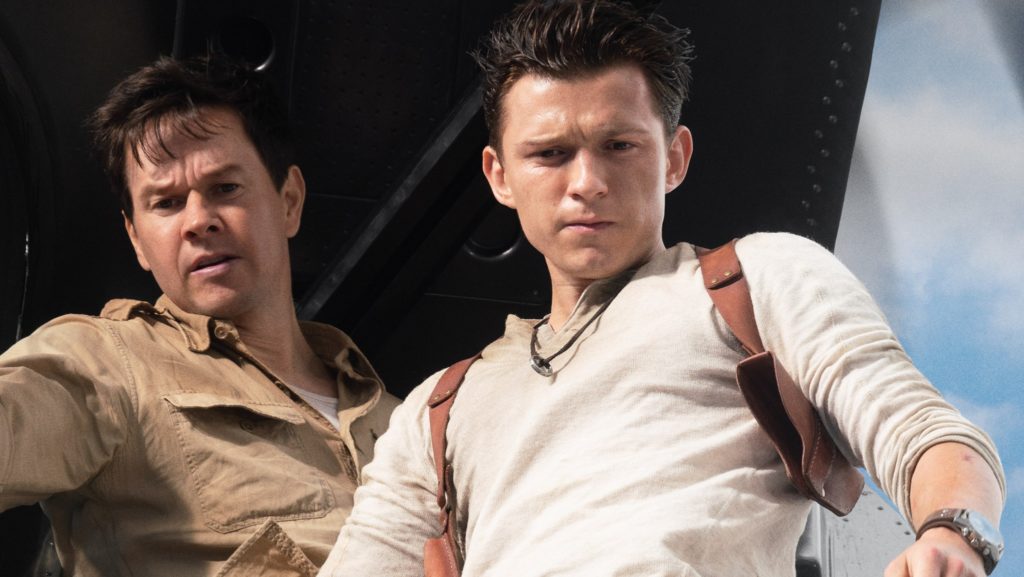 The second clip includes Holland's Drake with Mark Wahlberg's Victor "Sully" Sullivan. In the games, Sully was Drake's mentor and father figure. This clip teases the auction scene that we have already seen in almost all of the recent Uncharted trailers and TV spots.
However, this time it's an extended clip. In the clip, we see Drake and Sully communicating wirelessly in an attempt to retrieve a crucifix relating to Magellan's treasure. We see Drake getting spotted by Moncada's henchmen and getting involved in a hilarious fight. Then Drake jumps off a balcony and starts swinging on light installations.
Before he lands on the floor, Drake hilariously quips and says, "Ah, this is going to suck." These events cause a distraction for the auctioneers and guards, which in turn lets Sully retrieve the crucifix successfully. Drake is known for leaping off at high platforms or obstacles and swinging to another marked point in the games. Drake in the games is also known to quip if he gets hurt while landing. This scene is a great nod to fans of Drake familiar with the games. 
Overall Thoughts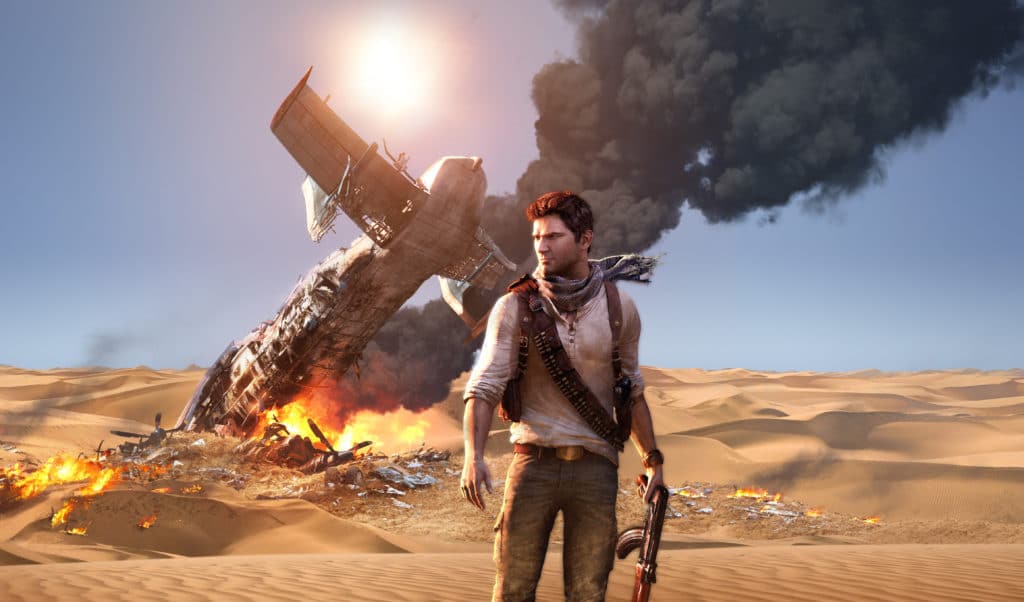 0verall, these two brand new clips of Uncharted look tremendous and give some nods to the games. These new clips show Holland doing an excellent performance as Drake, and we can tell him giving nods to his character based on the video games. Examples are his action sequences like the bar and auction fights. We also get to see more of Ali's performance as Chloe, even though it was only for a short time. Chloe is also an excellent puzzle solver in the games, as shown in Uncharted: Among Thieves and Uncharted: Lost Legacy. So it's great to see Ali's Chloe showcasing puzzle-solving in one of the new clips.
Then, of course, we get to see more of Wahlberg's performance as Sully. Even though it was brief, we get to see Wahlberg's Sully be a good strategist while hilariously using his luck and charm to get out of dangerous situations. A feature or nod to Sully from the games. Hopefully, with the upcoming film coming out, we see more of these nods and elements of the movie based on the Uncharted games. Like the incredible plane sequence shown in almost all the promotional material for the upcoming film. Tickets for Uncharted are now available
OFFICIAL UNCHARTED PLOT SYNOPSIS:
Street-smart thief Nathan Drake (Tom Holland) is recruited by seasoned treasure hunter Victor 'Sully' Sullivan (Mark Wahlberg) to recover a fortune lost by Ferdinand Magellan 500 years ago. What starts as a heist job for the duo becomes a globe-trotting, white-knuckle race to reach the prize before the ruthless Moncada (Antonio Banderas), who believes he and his family are the rightful heirs. If Nate and Sully can decipher the clues and solve one of the world's oldest mysteries, they stand to find $5 billion in treasure and perhaps even Nate's long-lost brother…but only if they can learn to work together.

Based on one of the best-selling, critically-acclaimed video game series, Uncharted introduces audiences to the young street-smart Nathan Drake (Tom Holland) and showcases his first treasure hunting adventure with wisecracking partner and mentor Victor "Sully" Sullivan (Mark Wahlberg). In this action-adventure epic that spans the globe, the duo are in dangerous pursuit of "the greatest treasure never found" while also tracking clues that may lead to Nathan's long-lost brother.

Uncharted is scheduled to premiere on February 11th, 2022 in the United Kingdom and February 18th, 2022 in the United States and Worldwide. Uncharted stars Tom Holland, Mark Wahlberg, Antonio Banderas, Sophia Ali, and Tati Gabrielle. The film will be produced by Rafe Judkins, Art Marcum, and Matt Holloway. The film will also be produced by Charles Roven, Avi Arad, and Alex Gartner. The screenplay is by Rafe Judkins, Art Marcum, and Matt Halloway. Cinematography by Chung-Hoon Chung. Editing by Richard Pearson. The film will be directed by Richard Pearson. Distribution by Sony Pictures.
Are you excited about the upcoming Uncharted film? What do you think of the brand new clips? What is your favorite moment from the Uncharted games?  Let us know what you think in the comments below or let us know on Twitter.
KEEP READING: SCREAM 6 GREENLIT "WE GOT TO CARRY ON AND PLAN THE SEQUEL!"
Source: Collider