I Want You Back is a film that we have seen plenty of times before, but manages to be an enjoyable watch nonetheless. Read more in our review below:
It is a yearly tradition. The February is set to be the month of romantic comedies and dramas ,and this year is no exception. Marry Me starring Jennifer Lopez and Owen Wilson is about to hit theatres and will stream on Peacock, Apple TV+ will release the teen drama The Sky is Everywhere, Paramount+ will have Joey King and Kyle Allen – who was just casted as He-Man in Netflix's upcoming live-action film – star together in The In Between, Netflix will have the sequel for the hit film Tall Girl, and Amazon will try to charm audiences with I Want You Back over the Valentine's Day weekend.
RELATED: REACHER REVIEW: AMAZON PRIME DELIVERS SAFE YET ENTERTAINING 1ST SEASON
Although, technically, Prime Video's latest original movie is more of a breakup story rather than a falling in love story.
I Want You Back Isn't Surprising Anyone
I Want You Back follows Peter (Charlie Day) and Emma (Jenny Slate) who both been dumped by their partners Anne (Gina Rodriguez) and Noah (Scott Eastwood), because they found someone else. Both heartbroken, they decide to help each other out and try to break up their exes with their new partners in order to get them back.
There are a ton of romantic comedies disguised as break-up movies, and if you've seen a handful of them, you will know exactly where Orley's newest directorial effort goes. There is nothing surprising or special about the screenplay, it goes exactly where you expect it to goat exactly the time you expect it to go there. It also isn't particularly funny, though there might be one or two chuckles here and there. One cameo from a frequent collaborator of director Jason Orley's, however, probably left the biggest impact in terms of humor.
The cast includes some familiar faces: Jenny Slate (Parks and Recreation) Charlie Day (It's Always Sunny in Philadelphia), Gina Rodriguez (Jane the Virgin) and Scott Eastwood (The Fate of the Furious) and it seemed like they all wanted to do the film, but they don't really have anything to do and all play the kind of typical archetypes that you need in this kind of film: the nice, goofy guy, the good looking guy, the wannabe artist… As soon as you see the characterization, you know exactly where those characters end up.
But it was enough for me to put these actors together and give them the bare minimum. It kept me entertained, and you could argue that these four do have the chemistry needed to keep the ball rolling – though it really depends on the scenes. Sometimes it works, sometimes it doesn't. While not breaking any new ground, this is the kind of feel-good movie that you can put on and enjoy, but ultimately forget about a few minutes after you've finished it. That is nothing bad, per se, but the film kind of stands and falls with its cast and its audience's desire to watch them together on screen.
If we look at I Want You Back from a filmmaking standpoint, there are some solid framing choices here and there, but overall I Want You Back is a visually uninspired film. Sure, there aren't many romantic comedies that are known for great cinematography, but there are several romcoms with scenes so memorable that they're recited back years later – when everything worked from the directing and acting to the cinematography. For example, the garden scene in Crazy Stupid Love has stayed with me since I saw it for the first time. I Want You Back didn't achieve that, but it still provided a good time.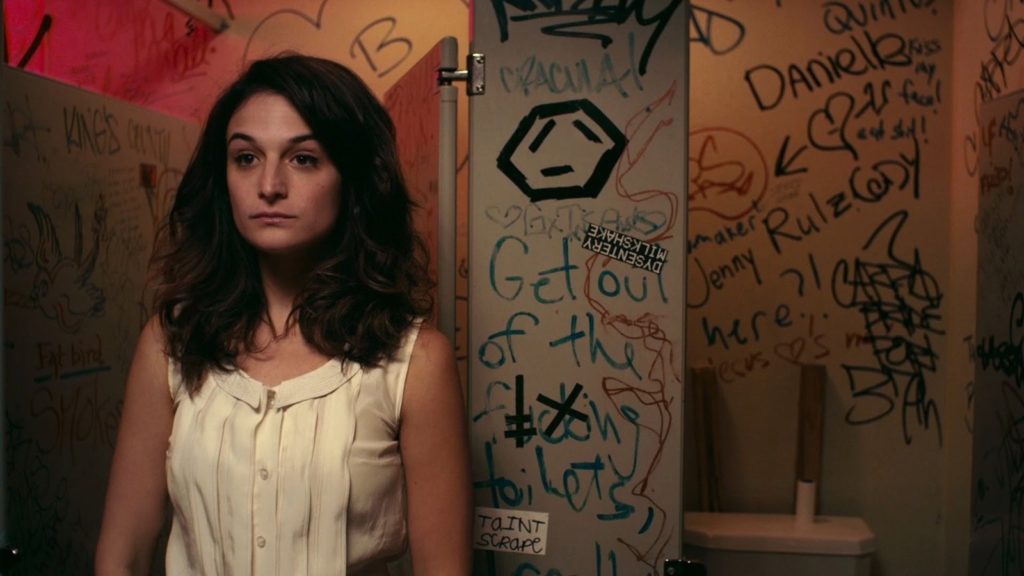 If you want a new, enjoyable romcom to watch at Valentine's Day look no further. I Want You Back doesn't reinvent the wheel, but it's an totally enjoyable watch with a familiar cast that serves its purpose.
2,5/5
I Want You Back hits Amazon Prime Video February 11, 2022.
Directed by Jason Orley (Big Time Adolescence)
Written by Isaac Aptaker & Elizabeth Berger (Love, Simon & This Is Us)
Produced by Peter Safran and John Rickard of The Safran Company, Aptaker and Berger of The Walk-Up Company
Peter (Charlie Day) and Emma (Jenny Slate) are total strangers, but when they meet, one thing instantly bonds them: they were both unexpectedly dumped by their respective partners, Anne (Gina Rodriguez) and Noah (Scott Eastwood), on the same weekend. As the saying goes, "misery loves company," but their commiseration turns into a mission when they see on social media that their exes have happily moved on to new romances, Anne with Logan (Manny Jacinto) and Noah with Ginny (Clark Backo).
Terrified that, in their 30s, they have lost their shot at happily ever after and horrified at the prospect of having to start over, Peter and Emma hatch a desperate plot to win the loves of their lives back. Each will do whatever it takes to put an end to their exes' new relationships and send them running back to their arms.
111 Minutes | Rated R
What did you guys think of I Want You Back? Are you planning to watch it? Let's discuss everything in the comments down below and on our Social Media.
KEEP READING: THE ICE AGE ADVENTURES OF BUCK WILD REVIEW: A NOT SO WILD RETURN TO THE FRANCHISE