Kollok, stylized as KOllOK, returns as a new Tabletop RPG show, but this time it is being hosted by AMC's FearHQ.
The interactive sci-fi horror live-play is centered around the mysteries within the small town of Kollok, Washington.
RELATED: NEW LIVE RPG SHOW, POWER RANGERS: DAY OF DESTINY, ANNOUNCED
The new installment is set in 2021 and follows on from the show created by HyperRPG.
What Makes Kollok Chilling?
Originally Kollok 1991, the series' first appeared as a HyperRPG Interactive Twitch production and featured a range of unexpected visuals and effects, adding to the immersive experience. The show followed Power Rangers Hyperforce's run and even featured both Meghan Camarena (Strawburry17) and Andre Meadows (Black Nerd Comedy) in the weekly Livestream.
The show uses the Kids On Bikes RPG system created by Hunters Entertainment and has a similar vibe to Stranger Things. During the original run featured on HyperRPG's Twitch channel, Kollok 1991 had 2 seasons and now begins the next adventure in a new year.
Today, leading digital media company Hyper RPG, in partnership with AMC Networks, officially announced the series premiere of KOLLOK, an interactive actual play horror series created exclusively for AMC's FearHQ, with the first episode airing TONIGHT at 6PM Pacific.
A 20-episode season airing exclusively on AMC Networks' FearHQ Twitch channel, KOLLOK takes place in a modern dystopian timeline 30 years after the last generation was born, and follows the world's youngest adventurers traversing through a wasteland ruled by a totalitarian elite group, on a quest to find the answers to fix their future and the future of mankind. Their only hope comes from the very people, hailed as heroes by some, villains by others, who caused the global crisis 30 years ago…
Kevin Dreyfuss, AMC Networks' SVP Digital Content & Gaming Studio –

"Over the past two years, AMC Networks' FearHQ has brought more than 1,000 hours of innovative live content to over 11 million unique viewers on Twitch. This success would not have been possible without Hyper RPG's technical excellence and next-level understanding of live audience interactivity."

"Today we are thrilled to continue innovating by bringing the ground-breaking streaming series, KOLLOK, to FearHQ. With the combined efforts of AMC Networks and Hyper RPG, KOLLOK promises to raise the bar for compelling audience interaction in live entertainment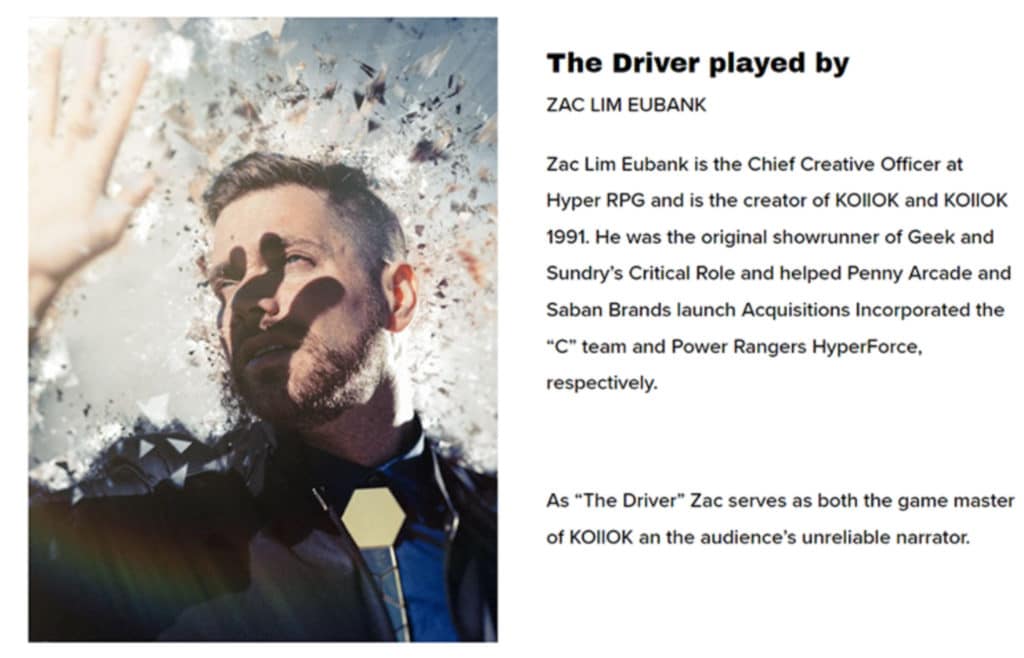 Starring Zac Lim Eubank (Hyper RPG), Ethan Nestor (CrankGameplays), Aabria Iyengar (Critical Role's Exandria Unlimited), Danielle Radford (Honest Trailers), Xu Mason (Funnyish), Elyse Willems (Rooster Teeth, Psychonauts 2), Lucas Eubank (Geek and Sundry), Mika Midgett, and "yellowspoongirl," with an incredible lineup of guest stars, including Mari "AtomicMari" Takahashi, B. Dave Walters (G4TV), Shohreh Aghdashloo (The Expanse, House of Sand and Fog) and more.
KOLLOK utilizes Hyper RPG's state-of-the-art audience engagement method, featuring a new web app that's integrated with Hyper RPG's discord server where fans can make their own characters in the world of KOLLOK, place them on a virtual map, and then interact and tell stories together. Through the app, fans can also work to uncover clues and solve mysteries that could then help the characters in the livestream. Some viewers may even see their characters appear during the show! This kind of live audience integration is what has always kept Hyper RPG at the forefront of live-streamed story-telling, and they are taking that to the next level with KOLLOK.
"This is our third iteration and continuation of our KOLLOK saga, bringing back fan-favorite characters and actors, while simultaneously introducing a new batch of adventures, all culminating in an epic tale told on a level previously unavailable to us," said series creator Zac Lim Eubank. "With the incredible support we're receiving from AMC Networks, we've been able to realize our vision of this world, and incorporate even more interactive elements, stunning visuals, and fan collaborations on a scale that's practically unheard of in the actual-play genre."
Catch new episodes of KOLLOK live every Monday at 6PM Pacific, exclusively on AMC Networks' FearHQ Twitch channel at twitch.tv/FearHQ.
All previous seasons of Kollok are also available on HyperRPG so if you wish to experience the past episodes with unique settings and effects, use the following links to watch on Twitch or YouTube.
It will be so exciting to see what HyperRPG has planned with FearHQ as the effects are beyond what anyone would expect from a Table-top RPG show. It will be interesting to find out if there will be any obvious changes occurring in the next installment, however, the viewer interactions have always been a great chaotic element that adds a level of unpredictability. The audience is sure to receive a ride on an emotional rollercoaster that no other show can provide. The fact that this show is now part of FearHQ proves just how epic this HyperRPG production is.
Will you be watching the first episode of Kollok? Are you looking forward to what the game master has in store? Have you seen Kollok 1991 seasons 1 and 2? Let us know on social media, or in the comments below, and keep following The Illuminerdi for more.
KEEP READING: 4 OF THE BEST TABLETOP GAMES FOR POWER RANGERS FANS