Texas Chainsaw Massacre director David Blue Garcia explains his vision for updating the classic slasher, and how the final girls are connected.
Texas Chainsaw Massacre stars Sarah Yarkin as Melody, Elsie Fisher as Lila, Olwen Foeure as Sally Hardesty, Mark Burnham as Leatherface, Jacob Latimore as Dante and John Larroquette as Narrator. The slasher requel is directed by David Blue Garcia (Tejano), based on a story by Fede Alvarez. The ninth film in the illustrious franchise, Texas Chainsaw Massacre (2022) ignores every other installment in the franchise except for Tobe Hooper and Kim Henkel's original masterpiece, to which this film serves as a direct sequel. 
TEXAS CHAINSAW MASSACRE INTERVIEW WITH DIRECT DAVID BLUE GARCIA
By nature of this film's status as a reboot which takes place almost 50 years after the original massacre, there is a new status quo and a new slate of poor souls who encounter Leatherface. In an exclusive interview with The Illuminerdi, director David Blue Garcia talked about how this film branches the old with the new.
TEXAS CHAINSAW MASSACRE DIRECTOR TALKS PASSING THE TORCH
"In this film we really wanted to pass the torch to the next generation. So we do follow Sally Hardesty for quite a bit of the film as she seeks to complete her story with Leatherface, and get some kind of resolution. In doing so, she meets our new protagonists. I can't spoil anything so you'll have to watch and see how it plays out, but it's always fun to see who is the last alive. "-David Blue Garcia
Melody and Lila are sisters who come to the (allegedly empty) ghost town of "Harlow", in a business venture. Melody and her business partner want to gentrify the town, in order to start over and escape the violence and trials of city living. Unfortunately, Leatherface has been hiding in Harlow since his crimes against Sally Hardesty and her friends all those years ago.
RELATED: Texas Chainsaw Massacre Exclusive Interview: Sarah Yarkin Talks Sisterhood, Gentrification & Coming Face To Leatherface
Their arrival draws the serial killer out of darkness and into an all-new bloodbath. The death brings Sally back into the fray, determined to get revenge for those she lost and to end Leatherface's killing spree once and for all. Without revealing too much, the relationship between Sally and Melody & Lila is a shockingly unexpected one, refreshingly so. 
TEXAS CHAINSAW MASSACRE CREATES A FINAL GIRLS BOND UNLIKE ANY OTHER
While Sally Hardesty may be the most obvious element of the original film brought back for Garcia's new entry, there are subtler connections woven into the story's fabric.
"The original film, the 1974 classic, dealt with the violence of its day-when they're driving through the Texas countryside, the radio is full of violent things happening around the world. Tobe Hooper even expressed that the film was sort of an allegory for the violence of Vietnam, so he was exploring a lot of issues contemporary to his time.

So when we wanted to update this film for a modern audience, we looked at "What's contemporary in society? What's an ultraviolent thing that happens?" Unfortunately all the time it is school shootings. So we have a character, Lila, who is a victim and a survivor of a school shooting. She is still dealing with her survivor's guilt, her trauma, and learning how to move on." -David Blue Garcia
TEXAS CHAINSAW MASSACRE: BALANCING FICTIONAL VIOLENCE WITH NON-FICTIONAL TRAGEDY
By all accounts, the world has not become a less violent place since the release of the original The Texas Chainsaw Massacre in the 1970s. Violent outbursts from a myriad of different hate groups, lone individuals and even elected officials have rocked our nation in recent years. But there is perhaps no issue more tragic and prevalent in the American education system than the rise in school shootings since Columbine.  
This sensitive and serious subject matter isn't the sort of thing one might expect to find in the year's latest slasher offering. But Garcia's directing, Elsie Fisher's acting, and Alvarez's story come together in unison to prove that just as Tobe Hooper addressed the challenges plaguing his era, Texas Chainsaw still speaks about timely, relevant and challenging material in the modern era.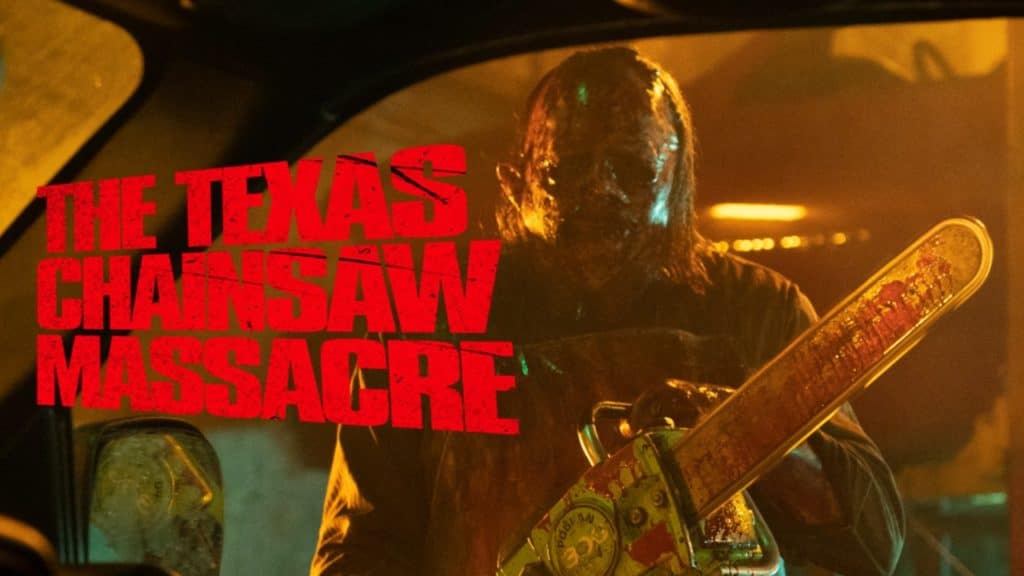 What do you think of David Blue Garcia's comments on the themes of the Texas Chainsaw Massacre? Have you already watched the film? Do you want more? Let us know your thoughts in the comments below or on our social media! 
KEEP READING: Texas Chainsaw Massacre Exclusive Interview: Director David Blue Garcia Discusses Leatherface's Uniquely Terrifying Identity