As preparations are underway to begin production on The Hunger Games prequel a working title, Butterfly, has been set and we're here to be the first ones to tell you about it.
The Hunger Games may be done telling Katniss Everdeen's story but they're just getting started telling President Snow's story. There is a ballad in the wind crammed with treachery and savagery of venomous creatures, none more venomous than President Snow as we know him now.
Lionsgate is making movements delivering President Snow's untold story in the upcoming film adaptation of The Ballad of Songbirds and Snakes.
The Butterfly Working Title And Details About The Movie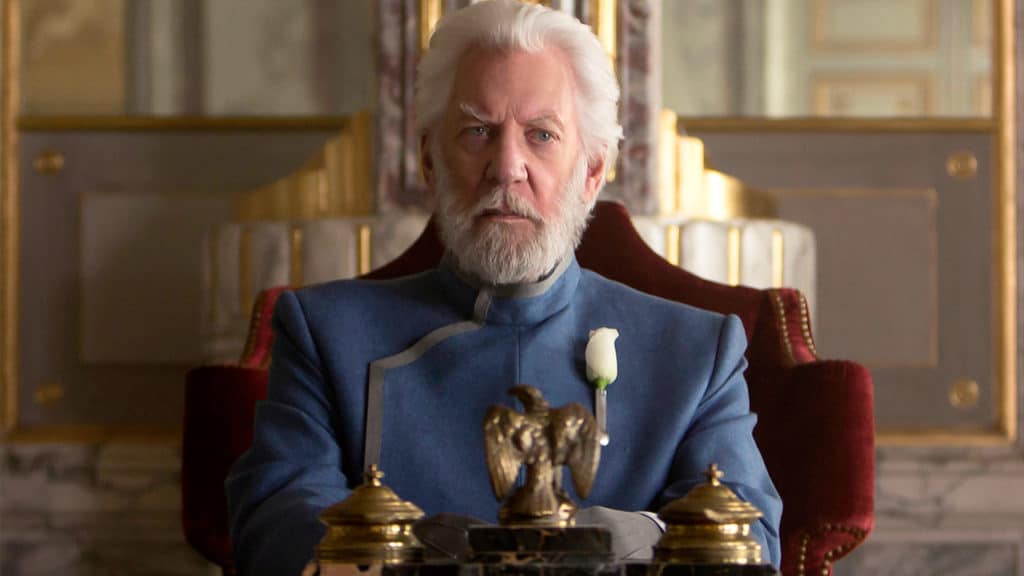 Butterfly is the working title for the movie which is expected to begin production this summer. This Hunger Games spin-off is based on the prequel novel, The Ballad Of Songbirds and Snakes by Suzanne Collins, set 62 years prior to the original trilogy, and reexamines Panem through Snow's eyes long before he became the dictatorial president we all know and loathe today.
The prequel movie will focus on Coriolanus Snow at age 18, years before he would become the tyrannical President of Panem. Young Coriolanus is handsome and charming, and though the Snow family has fallen on hard times, he sees a chance for a change in his fortunes when he is chosen to be a mentor for the Tenth Hunger Games… only to have his elation dashed when he is assigned to mentor the girl tribute from impoverished District 12.

– Deadline –
It's going to be rather interesting to see this tale told from young Coriolanus Snow's perspective and witness his backstory unfold on screen. The dynamic between him and the girl seems like a surrogate brother-sister dynamic which would undoubtedly make Coriolanus Snow feel more human as audiences may be given the opportunity to sympathize with him. Whatever direction Butterfly goes, there's going to be a surplus of tragedy and sorrow. Let's not forget that this exists in the world of Hunger Games and we all know how Snow's going to turn out.
Suzanne Collins Can't Contain Her Excitement And Neither Can We
RELATED: NEW BTS PHOTOS FROM SPIDER-MAN: NO WAY HOME TEASE TANTALIZING DELETED SCENES
This is an exciting time for fans who have been hungry for another Hunger Games movie ever since the film series ended with Mockingjay Part 2 in 2015. As excited as we may be about Butterfly, none of us is more excited than Suzanne Collins, the original author herself.
It's such a pleasure to be reuniting with Nina, Francis, and Michael to adapt the novel to the screen, and having them share their remarkable talents, once again, with the world of Panem. I look forward to collaborating with them and all at Lionsgate as we bring The Ballad of Songbirds and Snakes to theaters worldwide.

– Suzanne Collins via Deadline –
The Creative Team Behind The Show All About Snow
The Hunger Games series filmmaker Francis Lawrence would return to direct the upcoming film. Lawrence directed the last three Hunger Games movies: Catching Fire, Mockingjay Part 1, and Mockingjay Part 2. Casting has not yet been announced for Buttterfly, however, we hope to hear announcements in the near future. May the results ever be in our favor.
RELATED: TURNING RED REVIEW: AN INTROSPECTIVE RENDITION ABOUT GROWING UP DONE RIGHT
Also returning are franchise producers Nina Jacobson and Brad Simpson. Collins wrote Butterfly's treatment. Michael Lesslie is also onboard adapting the literary artwork. He was a showrunner on AMC's The Little Drummer Girl and adapted Macbeth for Justin Kurziel. Michael Arndt, the Oscar-winning screenwriter of Little Miss Sunshine, was previously adapting after serving as one of the writers of Catching Fire. Collins also will serve as an EP.
What do you think of the Butterfly's working title? Would you rather see Jennifer Lawrence return as Katniss Everdeen? Share your thoughts on Butterfly with us in the comments below. If you like what you read and want to see more Hunger Games-related content like this, make sure to follow us on Twitter or Facebook so you don't miss out on anything like this in the future.
KEEP READING: RED SONJA IS LOOKING FOR A NEW STAR AFTER HANNAH JOHN-KAMEN FALLS OUT: EXCLUSIVE