Wrestling star Chris Jericho breaks down what he sees as the biggest differences between working for WWE versus other promotions like AEW and NJPW.
Chris Jericho has one of the most storied careers of anyone still wrestling today. He has worked for almost every major wrestling promotion in the world including WCW. The bulk of his wrestling career has been spent in WWE. However, in 2018 he left after spending 20 years off-and-on with the promotion.
RELATED: TONY KHAN EXPLAINS WHY HE DIDN'T TRY TO EXTEND CODY RHODES' CONTRACT
After leaving WWE he wrestled for NJPW and has spent the last few years wrestling for the new, but insanely popular AEW as one of their top stars.
Jericho sat down with Kurt Angle on the latest episode of The Kurt Angle Show which is currently only available to early access subscribers. Jericho talked about starting his first post-WWE feud with Kenny Omega in NJPW and what the biggest difference he saw with NJPW was:
"I went to New Japan between WWE and AEW and the first match I had was with Kenny Omega in the Tokyo Dome and I remember when we did the beatdown angle for it, Kenny got color [bled] and I was like, because we can't do color in WWE, this needs this type of intensity," Jericho said.

"When you get blood it's not a blood bath, it's the intensity that it adds to the performances of the players in the ring and the people watching. Then when we had the match, very similar to the Shawn [Michaels WrestleMania match], I had the whole ending, Kenny had the beginning. I thought who do we have to tell this to, who do we have to talk to? And Kenny said 'what are you talking about?' I said 'Well who's the agent?' Kenny said 'There's no agents here. This is the match, this is what we're doing. Gedo is the booker, we tell Gedo the finish and then we do it.'

I was like, 'are you kidding me? Really? Creative control.' More importantly, they trusted me to be an artist and let the artists be artists. You've got Kenny Omega who is the top guy in New Japan, you've got Chris Jericho who's coming in, business went through the roof when the match was announced. So that kind of made me fall in love with wrestling again, the creative element of it. It was like flying live without a net, not everything is connected, you don't have to tell the cameraman, nobody knows what you're going to do. No one knows what you're going to say."

– H/T To Wrestling Inc. For Transcription –
I Don't Have To Ask For Permission Here?
This must have been such a mind blower for Jericho to come into and be able to do. Vince McMahon and WWE run a pretty tight ship. Almost everything has to be run through McMahon or a higher up. One of the big critiques of WWE is that wrestling evolves and WWE doesn't always evolve with it.
Wrestlers may have ideas and want to try something new or unique, but WWE may not be so keen on taking that kind of risk on a wrestler's idea. To be fair most of the ideas are probably stupid. Plus WWE may be thinking long-term and how storylines interact with each other.  
I Like This New Guy
Jericho would probably be one of the few wrestlers WWE would be able to trust with new ideas, but to hear even he didn't get the kind of freedom NJPW gives their wrestlers or at least their top guy like Omega is surprising.
"When AEW first came up as a concept, I was like I've heard this a million times before, this is never going to work," Jericho said. "Then I talked to Tony Khan and realized like we have a chance here. I talked to Kenny [Omega] and The [Young] Bucks because I got really close to Kenny and The Bucks and Cody [Rhodes] working in New Japan. I was there for two years before AEW started and I thought this might work.

Low and behold, it got off the ground really quickly and we were a part of it. It was my company because I knew if this works, this adds to Chris Jericho's legacy. If it doesn't, then I figure out what I'm going to do but I really want to take a chance. The biggest difference is creative freedom, not creative control, nobody has that. Tony Khan has never given that to anybody, but the creative freedom to be a pro. Tony gives you the space to be an artist and it feels like it's our company and I think the fans feel that too."
Creative Freedom Is The Name Of The Game In AEW
When Jericho joined AEW it gave the new promotion a lot of credibility. Other wrestlers like Omega, The Young Bucks, and Rhodes were already signed on and big names. However, Jericho is a legend and if he is willing to take a chance on this new promotion, then it just might work out. He would probably never admit it, but one of the reasons AEW became successful is because he signed on.
The general American audience doesn't know who Omega, The Young Bucks, Christopher Daniels and guys like that are. They do know who Rhodes and Jericho are; that familiarity made people willing to check it out and give it a chance.
RELATED: AEW'S POWERHOUSE HOBBS NAMES WCW TAG TEAM AS HIS FAVORITE GROWING UP
Khan's willingness to give young and experienced wrestlers alike creative freedom to explore their ideas makes wrestlers want to wrestle for the promotion. It made the promotion the hot place to be and is probably the first place newly released WWE Superstars call when they are looking for a new place to wrestle.
For good and bad WWE doesn't offer that kind of creative freedom to its Superstars. This has caused wrestlers to go to AEW over WWE.
Jericho also went into why AEW has continued to be successful and why fans and AEW wrestlers have a special connection with the promotion:
"We're in this together and my analogy is that I started listening to Metallica in 1984 when no one knew who they were and I stuck with them until they became the biggest band in the world, till they became the new Rolling Stones," Jericho said.

"I'll always feel a special closeness to them and a loyalty to Metallica because we started it together. I think our fans in AEW feel the same way, they're not just watching a show, they're a part of a show and they believe in it. As more people come to watch, there's a different vibe. We let artists be artists."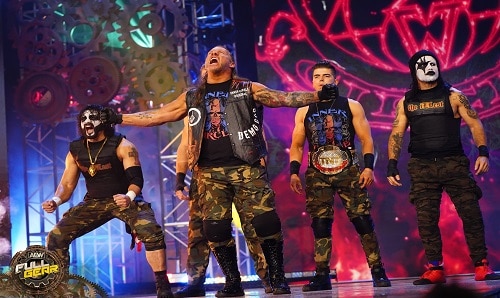 Like Watching A Kid Grow Up
Seeing a new promotion spring up and become insanely popular like AEW is rare. For them to stay relevant years down the line is even more rare. They usually fall apart and die like Lucha Underground or just lose almost all relevance like IMPACT. In a bit of irony, the only reason IMPACT has gained relevance again recently is because they have partnered with AEW.
Seeing AEW grow and improve has been exciting. It is like seeing a little band grow in popularity like Jericho said. For the people behind AEW it must seem like watching a child grow up. Hopefully AEW will continue to grow and challenge WWE enough for them to step up their game in order to take on AEW.
Do you think AEW will still be around in five years? Will it be as popular as WWE or more so? What do you think is the reason AEW has been so successful? Leave a comment below and on social media and let us know what you think is the biggest difference between AEW and WWE as a fan.
KEEP READING: ERIC BISCHOFF'S GENUINE 2 CENTS ON TONY KHAN BUYING RING OF HONOR
Sources: The Kurt Angle Show, Early Access Subscribers, Wrestling Inc.