Moon Knight director Justin Benson recently explained why MCU humor is essential and how the project constantly evolved throughout production.
Moon Knight is barely a week away, and so the cast and crew have been hitting the press circuit to promote the upcoming MCU Disney+ series. As a wonderful result, MCU fans have been blessed with a myriad of juicy tidbits on the upcoming series.
RELATED: WEDNESDAY: THE ADDAMS FAMILY ALUM CHRISTINA RICCI JOINS THE CAST
Khonshu hype is reaching an all time high, and early critical reactions to Moon Knight (or at least the first four episodes) have been generally positive. With all that in mind, let's dive into the latest information we've gleaned.
WHO IS MOON KNIGHT ANYWAYS?
For those unfamiliar with the character, Moon Knight was originally created by writer Doug Mench and artist Don Perlin. Before becoming a hero/anti-hero (depending on who is writing), Moon Knight fought the titular lycanthrope in Werewolf By Night #32. An origin for the new breakout character, clad in white followed shortly thereafter. Marc Spector was a mercenary, brutally butchered under a statue of Khonshu, god of the moon. 
Khonshu resurrected Marc as Moon Knight, his avatar, destined to protect the travelers of the night. Marc has several alternate personalities as a result of his dissociative identity disorder,  including (but not limited to) billionaire businessman Steven Grant and street-level cab driver Jake Lockley. 
This new MCU TV series promises to bring something fresh and unfamiliar to the world's most illustrious mega-franchise. But can the series live up to the incredible levels of excitement beginning to boil over? Only time will tell of course.
JUSTIN BENSON EXPLAINS HOW COMEDY IS THE KEY TO UNLOCKING HUMANITY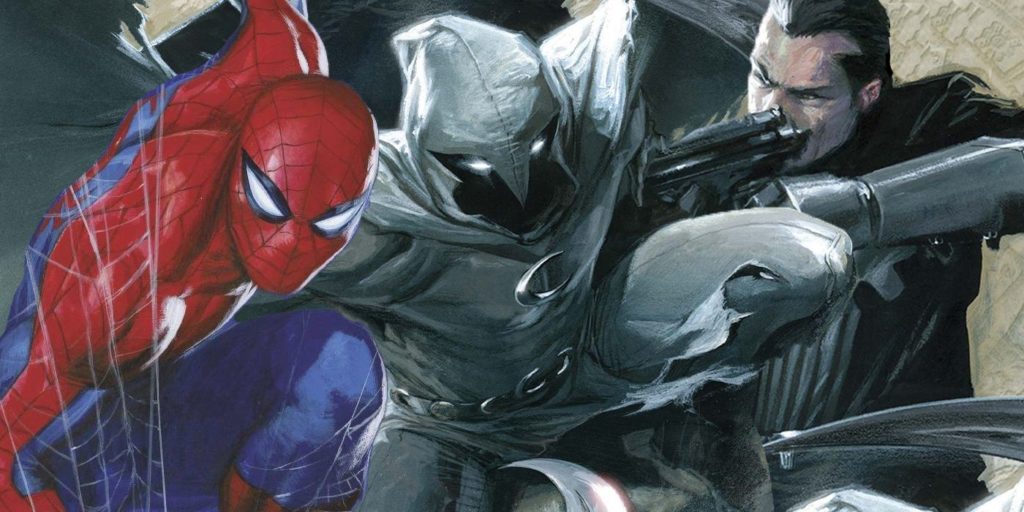 For now, let's dig into the comments of Moon Knight directors Justin Benson and Aaron Moorhead and start speculating. 
In everything we do, our cheat to finding the humanity in characters is to have them crack a joke in a stressful situation. Moon Knight, through decades of storytelling has been somewhat defined by that-at least in some of our favorite runs. Like the Lemire-Smallwood run, which goes from one page with something brutal, to half a page later, and there is a punchline, there's a joke. -Justin Benson
There's been a great deal of chatter on the subject of MCU humor in the world of film/TV criticism over the past few years. In my opinion, those complaints have been much ado about nothing. Sure, the MCU occasionally crosses the line from comedic to cringey, from campy to crass, from silly to stupid, but in general, the comedy in this franchise usually hits the spot. Not just for me, but for general audiences as well.
RELATED: KING GHIDORAH TIKI MUG BY MONDO ON SALE NOW
If that wasn't the case, Thor: Ragnarok wouldn't be almost universally considered the best of the trilogy, and Guardians Of The Galaxy might still be D-list characters unbeknownst to anyone outside of the most dedicated Marvel Comics patrons. Comedy brings life into the dull moments, brings relief to the stressful parts, and can even compound darker emotions like sadness and anger when handled properly.
MOON KNIGHT WILL CARVE OUT ITS OWN NEW BRAND OF MCU HUMOR
Moon Knight is a character who, while not quite on the level of Spider-Man and Deadpool, often quips while doing battle with his foes. Furthermore, the character has consistently used dark humor as a means of avoiding and addressing the immense pressure, anxiety and stress which is almost always bearing down on Marc's shoulders.
No Moon Knight fans want to watch his live-action debut turned into a straight-up comedy, and they don't need to worry. The creative team (an ardent group of dedicated Moon Knight comic fans) has been upfront about the many genres bleeding into this show, such as horror, action, drama, and of course comedy. In the comics, Marc Spector's life is terrifying, action-packed, deeply dramatic, and occasionally hilarious. Shouldn't it be the same in the Marvel Cinematic Universe?
Sometimes, when things are at their darkest, a hearty laugh is the only way out. Mr. Knight has known this for years, and hopefully his new TV show will spread the message of salvation through laughter to the masses.
Moon Knight is a Disney+ MCU TV show directed by Mohamed Diab, Justin Benson and Aaron Moorhead. That duo worked with MCU star Anthony Mackie on Synchronic, a surreal, reality-bending project that would feel right at home in the world of Moon Knight. Additionally, Moon Knight features Jeremy Slater (The Umbrella Academy, The Exorcist, Fantastic Four) as head writer, stars Oscar Isaac as Marc Spector/Steven Grant/Moon Knight, Ethan Hawke as Arthur Harrow, Gaspard Ulliel as the supervillain Anton Mogart/Midnight Man, and May Calamawy in an undisclosed role. The series premieres on March 30th at 3AM EST/12AM PST.
Are you excited to watch Moon Knight on Disney+? Let us know your thoughts in the comments below or on our social media! 
KEEP READING: DIRECTOR MOHAMED DIAB REVEALS ETHAN HAWKE SIGNED ONTO THE NEW MARVEL PROJECT WITHOUT READING A SCRIPT
Source: Collider