Funko will be hosting an exciting beach bash-themed event featuring a notable mascot, exclusives, and a special D.J. this weekend's Wondercon 2022.
Comic Conventions are the holy grail or the meccas of pop culture media, celebrity appearances, and exclusive collectibles, especially everyone's favorite Pop dolls. After all, this is a brand notable for always making a huge splash at large well-known Comic Conventions and Expos.
RELATED: MOON KNIGHT: 7 THINGS WE HOPE TO SEE IN THE EXCITING NEW MARVEL SERIES
Funko announced that they would be returning to this year's Wondercon and having a three-day special event. This special event is called Freddy's Beach Bash.
Party With Funko At Pop Pier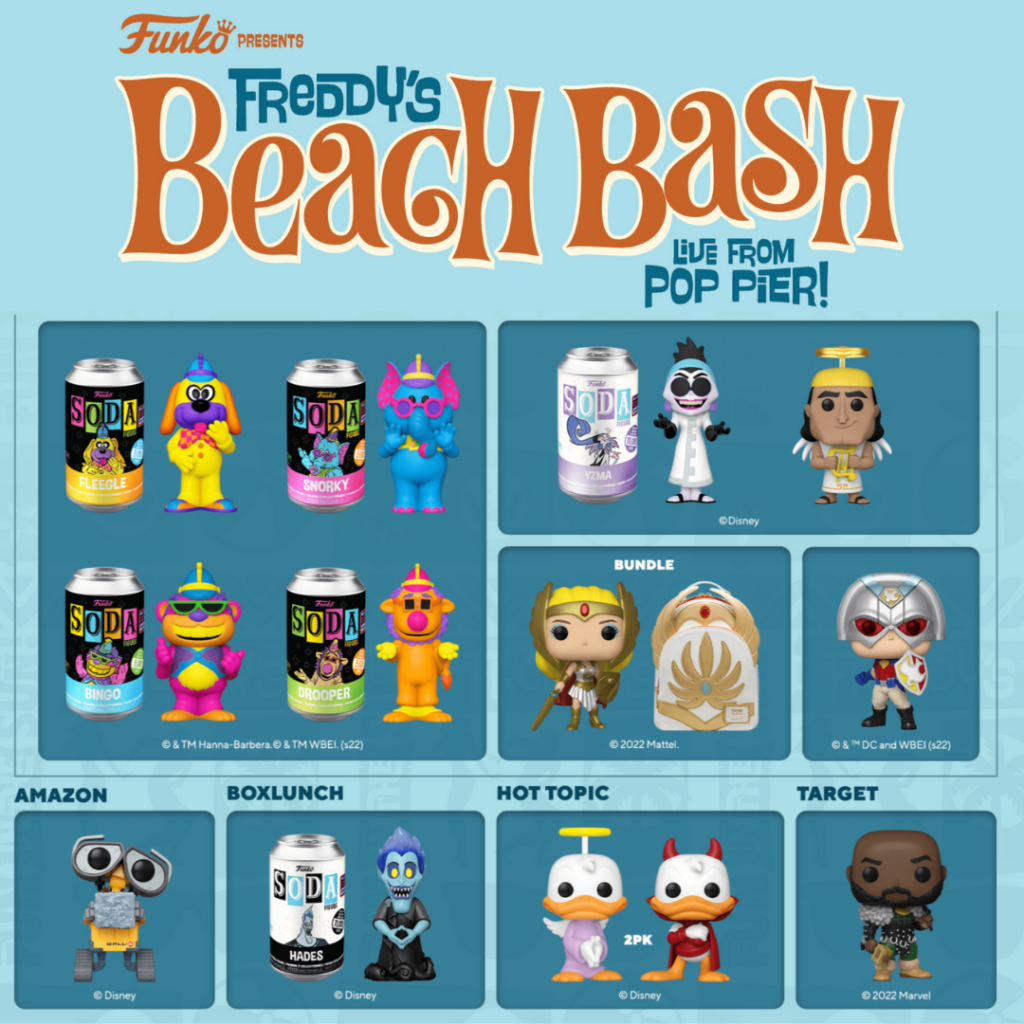 Toy collector Mike Becker founded the company then sold it in 2005. Since Becker sold the brand, the company has expanded to the highly successful company we know today. The brand has made manufactured many recognizable themed merchandises. Those merchandises include licensed accessories, plush, apparel, action figures, bobbleheads, and Vinyls.
This weekend, attendees visiting Wondercon can purchase some of these licensed and exclusive merchandise. Even joining a beach bash!
Get Your Wondercon 2022 Exclusive Pops and Merchandise At The Beach Bash!
Many exclusive Pops will appear during the Beach Bash. Those Pops include D.C.'s Peacemaker, Donald Duck's Shoulder Angel & Devil, Wall-E, She-Ra, Kronk, and Boastfall Loki. Brand new Funko Pop Can Sodas (not actual sodas, mini-figures are inside) will also be available. Those exclusive new sodas include Yzma, Hades, Snorky, Bingo, Drooper, and Fleegle. The toy corporation will also unveil a She-Ra-inspired cosplay backpack. 
RELATED: THE BATMAN DIRECTOR GIVES DETAILED BACKSTORY FOR BARRY KEOGHAN'S JOKER
The Wondercon Beach Bash event will also include an appearance from the brand's mascot Freddy Funko. Attendees who attend the event will have a unique chance to play games and win special prizes by random selection. Limited edition tote bags featuring a Freddy Fukno beach bash design will be available to receive. Included in the exciting event is a 20-foot inflatable Tiki. Besides the Wondercon exclusives, other Funko inspired merchandise from legendary franchises will be available. Then finally DJ Chino will make a special appearance.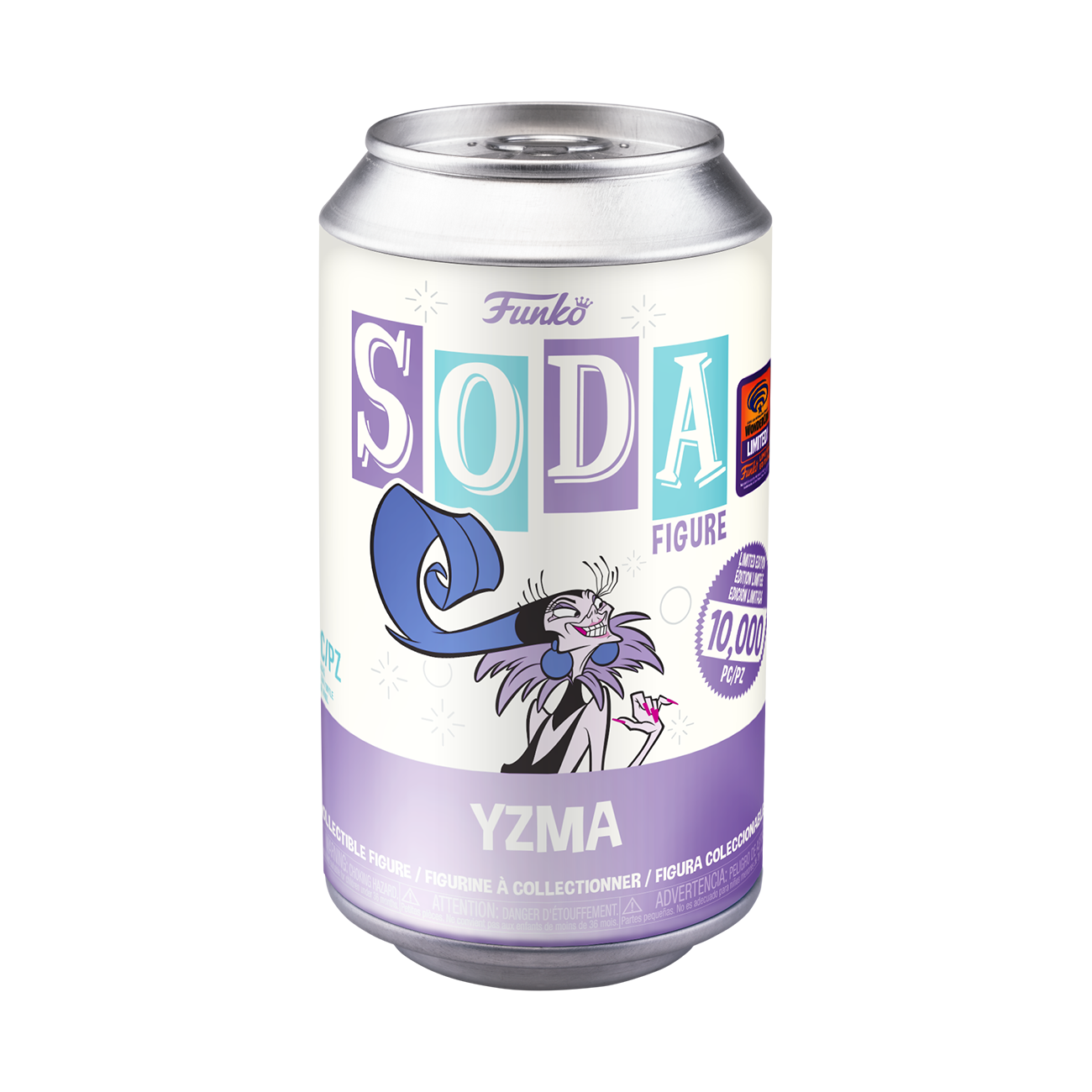 Since I am attending Wondercon this weekend, I can't wait to visit and possibly participate in the Funko Beach Bash. Or, of course, purchase more Funkos Pop as I am an avid collector (especially the Disney-themed Pop Vinyls). That Wall-E Pop vinyl would look nice with my collection of Disney Pops. I hope they don't get sold out once I arrive there! Wondercon 2022 is this weekend April 1-3.
Official Wondercon 2022 Event Press Release 
It's official! Leading pop culture lifestyle brand Funko will be heading to WonderCon® 2022 in Anaheim, California on April 1 through April 3. The weekend-long event will be filled with giveaways, livestreams and a special appearance from DJ Chino.
This year, Funko will be hosting an exclusive Beach Bash live from Pop Pier with the brand's iconic mascot, Freddy! Stop by to catch a wave with Freddy, check out the 20″ inflatable Tiki, and grab the limited-edition Freddy Beach Bash-themed tote bag. Stay tuned for more information on how fans can enter the booths. Funatics in the convention spirit will also be randomly selected to play games and win prizes.
Funko will be unveiling all-new figures, available exclusively at WonderCon and Funko.com. The WonderCon 2022 exclusive products will consist of Pop! products, Sodas, and t-shirts. Lucky fans can shop a variety of items across legendary franchises, such as DC, Disney, Hanna-Barbera, Marvel and Masters of the Universe. These shared exclusive Pop figures and Soda figures will also be available via their respective retailers.
For more information on Funko and WonderCon® 2022, fans can follow Funko on Twitter, Facebook and Instagram.
WHERE: Anaheim Convention Center: 800 W Katella Ave. Anaheim, CA 92802
WHEN: April 1, 2022 – April 3, 2022
Will you be attending Wondercon 2022? If yes, will you be attending the Funko Beach Bash? Do you collect Funko Pops? If yes, Can you tell us your favorite Pop Vinyl in your collection? Let us know what you think in the comments below, or let us know on Twitter.
KEEP READING: UNCHARTED TO RELEASE ON DIGITAL APRIL 26TH AND 4K ULTRA HD, BLU-RAY, AND DVD MAY 10
Source: Wondercon